Oct. 19, 2017
LEXUS Launches All-new 'LS'
Flagship Sedan Symbolizes Lexus with
Innovative Styling, Emotional Driving and Advanced Technologies
Daring coupe silhouette with a designed-to-be-driven aura achieved by use of the GA-L platform
Interior that fuses a driving-focused cockpit and a relaxing space suitable for a flagship sedan
Newly developed 3.5-liter, twin-turbo V6 engine and other new technologies for emotional yet elegant driving
Comfort features for distinctive Lexus Omotenashi hospitality
Lexus Safety System + A active safety package and other advanced safety technologies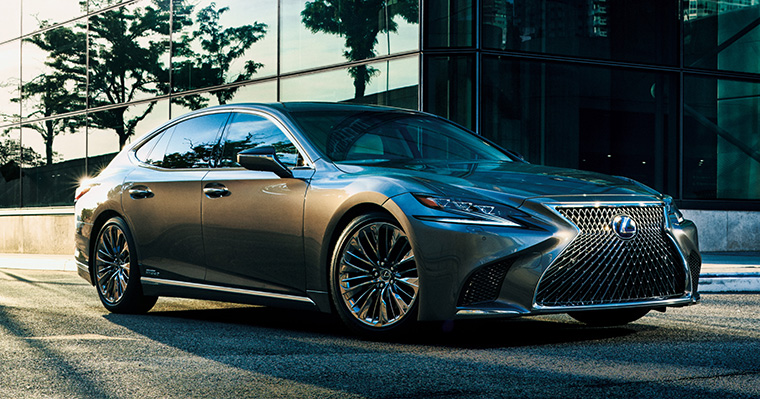 LS 500h "version L" (with options)
Tokyo, Japan (October 19, 2017)―Lexus began sales in Japan today of its all-new 'LS' flagship passenger sedan through Lexus dealers nationwide*1.
The all-new LS carries forward the LS's enduring DNA for smooth and powerful performance and exceptional quietness and comfort passed down through successive generations since the debut of the first model, which set a new standard for luxury vehicles with its debut in 1989. In addition to styling that achieves a daring coupe silhouette while preserving ample interior space, the new, fifth-generation LS offers an emotional driving experience and is equipped with numerous cutting-edge technologies, achieving monumental advances in innovation as the symbol of the Lexus brand.
The all-new LS is priced from 9,800,000 yen to 16,800,000 yen (including consumption tax) *2.
Main features of the all-new LS
A daring coupe silhouette with a designed-to-be-driven aura achieved by use of the GA-L platform
Application of the GA-L (Lexus Global Architecture―Luxury) platform has resulted in low, poised-to-pounce styling, while large-diameter tires create a commanding presence. To produce a daring coupe silhouette that sets the new LS apart from hitherto four-door sedans, Lexus employed a six-light cabin design*3 coupled with a body form in which the fenders dynamically project from a sharp outline that flows from front to rear. Additionally, flush-surface windows, which reduce the unevenness between the side-window glass and the door frames, create a smoother and more beautiful body line.
The front displays a highly spatial form resulting from a low hood height and accentuated fenders and employs an elaborate yet powerful Spindle Grille and cross-cutting front bumper for a stunning stance that expresses the dignity of a flagship model.
The rear features a continuous form that envelops from the sides and expresses unconstraint, while a low center of gravity and a sense of width are highlighted by an overall spindle theme centered on the rear combination lamps.
Body colors number 13, including "Manganese Luster", which creates the impression of machined metal, and "Sonic Agate", which achieves shadows that have both vividness and depth.
The "F SPORT" version dons in its grille mesh and side grilles the new "F" mesh pattern, which, as the evolutionary form of the inherited Lexus vertical-pattern mesh, is being introduced throughout the Lexus brand. It also features a grille frame plated in black chrome and 20-inch aluminum wheels painted in "Dark Premium Metallic" for sporty and aggressive styling.

LS 500 "EXECUTIVE" (with options)
Interior that fuses a driving-focused cockpit and a relaxing space suitable for a flagship sedan
Up front, delicately refined air vents that seemingly flow all the way from the gauge display shroud on the driver's side to the full width of the passenger side create, along with other elements, the air of a broad expanse, while the styling of the lower half of the front cabin space is underlined by substantial door armrests that are visually integrated with the front seats. This contrasting yet complimentary styling of the upper and lower domains of the cabin provides a sense of both vastness and comfortable security. And, keeping the driver at the center of the design, an operational layout was conceived that minimizes changes in driver posture and line of sight, allowing the driver to focus on driving.
In the rear, aimed at achieving a continuous spatial realm that envelops its occupants, the door trim and outside edges of the seatbacks connect in a seamless fashion, while a sense of openness provided by leg space that is among the best in class and soft console armrests that are just as prominent as the ones in front create a relaxing atmosphere.
Fusion of Takumi craftsmanship and advanced technologies
The techniques of skilled Japanese Takumi craftsmanship have been applied to the decorative finishes of the door trim. This can be seen in the use of Art Wood*4, which presents artistic touches to natural wood, Hand Pleats*5, characterized by L-shaped folds done by hand, and tempered glass that has been finished in the fashion of Kiriko (Cut Glass)*5. The result is a unique interior based on Japanese aesthetics that represents the fusion of traditional techniques and the latest production technologies.
Delicate touches throughout, such as in the meticulous craftsmanship applied to the leather-wrapped steering wheel and shift knob, result in an elegant finish that has a sense of depth, and a spacious and elegant atmosphere is created by ambient illumination―soft indirect lighting inspired by Japanese paper lanterns.
LS 500h "version L" (with "White" interior and options)
Steering wheel with genuine wood finish and leather

Shift knob with real leather
Newly developed 3.5-liter, twin-turbo V6 engine and other new technologies for emotional yet elegant driving
Along with the new LS inheriting the LS's DNA for quietness and comfort, an emotional driving experience was pursued through efforts to improve steering responsiveness and steering stability, to achieve a comfortable driving operation rhythm and to produce a comfortable acceleration sound. Specifically, in addition to using the GA-L platform, which forms the foundation of Lexus' front-engine, rear-wheel-drive lineup, a newly developed 3.5-liter, twin-turbo V6 engine and 3.5-liter V6 Multi-stage Hybrid System, both with high-level output and environmental performance, were selected as powertrains suitable for a flagship sedan.
3.5-liter, twin-turbo V6 engine
Lexus' first 3.5-liter, twin-turbo V6 engine is exceptionally quiet yet provides exhilarating acceleration based on its linear torque characteristics. Rapid combustion has been achieved by such measures as optimizing the bore-and-stroke ratio, improving air intake and strengthening airflow within the engine's combustion chambers. And world-class thermal efficiency, made possible by combining the engine with high-efficiency twin turbochargers, results in world-class thermal efficiency for high output and excellent fuel efficiency.
The Direct Shift-10AT automatic transmission provides world-class rhythmical gear changes due to its gear-changing speed and performance that responds directly to accelerator pedal operation, made possible by actively selecting the optimal gear by reading driver intention based on driver operation.
3.5-liter V6 Multi-stage Hybrid System
The Multi-stage Hybrid System is a breakthrough technology that combines stepped gears and the Lexus hybrid system newly developed for the LC 500h luxury coupe. It provides strong driving force from low speeds for powerful performance by controlling the output of both the high-revolution 3.5-liter V6 engine and the electric drive motor. Additionally, by selecting an operating point for high system efficiency from the low-speed range to the high-speed range and, thus, expanding the range of EV driving, the system achieves both an emotional driving experience and highly fuel-efficient and pleasant cruising.
Adjustments in engine revolutions faithfully in line with the intentions of the driver and highly responsive motor assist are made possible by 10-gear-change control regardless of the driving situation, creating a direct acceleration sensation perfectly linked to pedal operation. The result is a new hybrid system in which engine revolutions match the feeling of acceleration for stress-free and smooth driving performance.
3.5-liter, twin-turbo V6 engine and Direct Shift-10AT

Multi-stage Hybrid System
With the GA-L platform as the foundation, efforts were made to achieve the ideal inertia factor. While aluminum was extensively used, heavy components such as the engine were positioned near the center of the vehicle body and weight was distributed throughout the front and rear, with the overall aim of achieving lightness and the ideal height of the center of gravity for a sedan. Furthermore, superb steering response and maneuvering stability were achieved by placing emphasis on high rigidity, such as by increasing the torsional rigidity of the vehicle body.
The characteristics of the bushings used in the high-mount, multilink suspension (front) and multilink suspension (rear) developed for the GA-L platform have been improved and a newly developed air suspension has been used for superb maneuvering stability and high-quality riding comfort.
The quietness for which the LS is known has been further advanced by the use of, among others, a hood silencer featuring a new type of urethane material and a three-layer dashboard silencer, the optimal placement of sound-absorption and sound-proofing materials, and the use of flush-surface windows, which reduce the unevenness between the side-window glass and the door frames.
To achieve driving performance that only the "F SPORT" can offer, Vehicle Dynamics Integrated Management integrates control of Variable Gear Ratio Steering*6, Electric Power Steering and Dynamic Rear Steering*6. In addition to use of the Lexus Dynamic Handling system*6, coordinated control of active stabilizers*7 allows enhanced integrated control of both vehicle roll and upward and downward movement. This results in a level vehicle posture and a high-quality riding comfort and provides superb steering response and peace of mind regardless of the driving situation.
Exclusive 20-inch ventilated disc brakes and 20-inch wheels with run-flat tires (with different sizes for the front and the rear*8) provide superb maneuvering stability.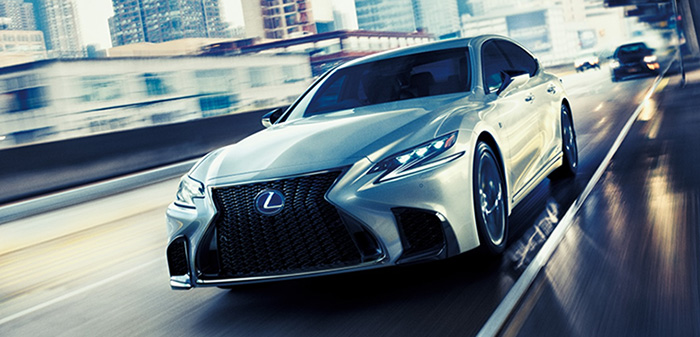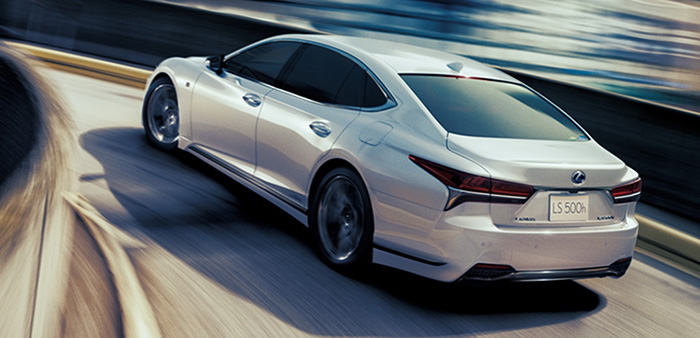 LS 500h "F SPORT"
Comfort features for distinctive Lexus Omotenashi hospitality
The seats provide a refresh function*9 in the form of built-in air bladders that press on the back and thighs, with an available selection of pressing strength and patterns helping refresh the mind and body. Additionally, the rear seats come with an exclusive heater*10 that enables area-specific heating for relaxing comfort. And aiming at comfort during even long drives, while offering high-level holding characteristics regardless of the physique of the driver, a 28-way adjustable front power seat*11, for each the driver and the passenger, allows minute adjustments for optimal support.
In the rear, an ergonomically designed 22-way adjustable rear power seat*12 with a footrest can be minutely adjusted for a relaxing position as well as for ease of ingress and egress. Furthermore, the hitherto control switches have been incorporated into a touch-sensitive, rear multi-operation panel*13 built into the rear center armrest that includes audio, air conditioning, seat, relaxation and lighting controls with easy-to-understand graphics for a direct operational feel.
The Lexus Climate Concierge, which conducts integrated control of heating and cooling by detecting the body temperatures of vehicle occupants, now features infrared sensors that measure body surface temperatures in the front seats*13, as opposed to only in the left and right rear seats as was the case before, to provide the most-comfortable interior climate conditions for each vehicle occupant.
The electronically controlled air suspension, by raising the vehicle as much as 30 mm during ingress and egress, makes it easier to get in and out of the vehicle. The front seats feature easy-access buckles*13 for smooth vehicle entrance and exit by raising the receiving end of the seatbelt buckle when the door opens and lowering it once the seatbelt is fastened.
The Hybrid Navigation System, which features an ultra-wide 12.3-inch display, uses both onboard and data cloud-based resources for when searching for driving routes. Optimal routes for the shortest traveling time to designated destinations, based on the latest traffic information from the associated data center, are sent to the onboard navigation unit. A hybrid voice-recognition function automatically assigns recognition of verbal commands to either the onboard unit or the data cloud depending on the situation in which they are given for a more-natural operational experience. And a new-generation touch-sensitive remote control provides a high level of operability.
The sound system produces life-like vocals and abundant and strong bass. An optional newly developed Mark Levinson Reference 3D Surround Sound System*14 has 23 speakers, including ceiling speakers, achieving the realistic sensation of being in a concert hall.
In addition to a hands-free power trunk lid*11, which allows the trunk to be opened and closed even when both of the user's hands are occupied by slipping a foot underneath the rear bumper and withdrawing it, for added convenience, a shift-lever-operated, rear seat automatic reclining (rearward visibility) function*13 allows the driver to keep the eyes on the road while reclining the rear seats to expand rearward vision when the rear seats are not occupied.
Lexus Safety System + A active safety package and other advanced safety technologies
As a flagship pioneering a new age and aiming for the best safety performance in the world, the new LS unstintingly employs the latest in active safety technologies. Not only have improvements been made to the Pre-Collision System, Lane Departure Alert, Dynamic Radar Cruise Control, and other features of the Lexus Safety System +*15 active safety package, which is based on the Integrated Safety Management Concept*16 and has a proven track record, grouped together with such are the latest active safety technologies and Lexus CoDrive, which is an advanced driving assist technology. Furthermore, a large head-up display (HUD) and a multi-information display notify the driver of assist status, making support intuitively easy to understand.

Lexus Safety System + A*17 system configuration*18
New advanced active safety technologies
Pre-Collision System (with Pedestrian Alert and Active Steering Assist) *18
In addition to the conventional Pre-Collision System, which supports collision prevention and damage reduction through alerts, Pre-collision Brake Assist and Pre-collision Braking, the new LS is equipped with the world's first*19 large, color HUD that specifies the direction of the presence of pedestrians for more-intuitive pedestrian alerts, as well as with Active Steering Assist, which automatically controls steering and braking.
Active Steering Assist determines when there is a high possibility of collision with a pedestrian in the lane of travel or with a continuous structure, such as a guardrail, and if the system also determines that it is difficult to avoid a collision with brake control alone but that it might be avoided with steering control, the system assists in collision prevention or damage reduction through automatic steering control in addition to activating an alert and applying the brakes.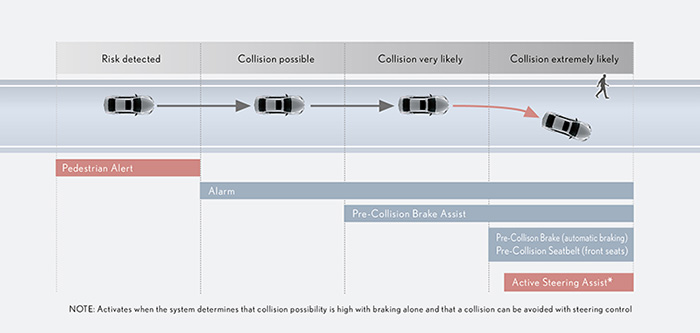 Lexus CoDrive advanced driving assist technology that can lead to automated driving*18
Lexus CoDrive adds Lane Change Assist to the basic functions of Dynamic Radar Cruise Control and Lane Tracing Assist to provide steering support that is in line with the intentions of the driver and lane-changing support on highways or motor-vehicle-only roadways. By providing seamless driving support on roads with many curves or in traffic jams, Lexus CoDrive largely decreases driver burden. It coordinates with the LS's large HUD and multi-information display to clearly notify the driver of the state of support provided.
Lane Tracing Assist*18
Lane Tracing Assist provides lane-keeping support by way of steering control when Adaptive Cruise Control is in operation. In addition to lane line detection by way of a camera, tracing of the path of the vehicle ahead enables assistance even when lane lines cannot be recognized, such as in low-speed driving in congestion when there is little distance to the preceding vehicle. If the speed of entering a curve is found, based on navigation data, to be too fast, the driver is alerted by way of the LS's HUD and multi-information display, and the vehicle is automatically slowed down.
Lane Change Assist*18
Lane Change Assist, which uses driver manipulation of the turning signal as a cue to activate, supports lane changes by monitoring the surrounding road environment and, at the appropriate timing, controls steering, as well as acceleration and deceleration.
Driver Emergency Stop Assist (coordinated with Lane Tracing Assist) *18
If non-operation by the driver continues during use of Lane Tracing Assist on a motor-vehicle-only roadway, Driver Emergency Stop Assist supports the driver through audio and visual alerts and gentle deceleration. It then activates the vehicle's hazard lamps and horn to alert those outside the vehicle to help prevent or reduce damage to the vehicle or to others, while slowing and eventually stopping the vehicle within its lane. After stopping, it unlocks doors and activates an automatic HELPNET connection for a rescue request, contributing to early driver rescue.
Two-stage Adaptive High-beam System*18
With eight LED lights at the top and 16 below (on each side), the Two-stage Adaptive High-beam System provides optimal lighting by way of separate on/off control of each row of LEDs, enabling finer control of light strength and distance compared to the existing LED-based Adaptive High-beam System. This allows higher frequency of high-beam driving and the illumination of road signs without blinding preceding or oncoming vehicles, thus contributing to improved nighttime visibility. It also provides excellent lateral visibility by simultaneously turning on the left and right LED cornering lamps when the vehicle is traveling at low speeds, such as during departure, thus supporting confirmation of the presence of pedestrians.
Front Cross Traffic Alert*18
To help prevent collisions at intersections, Front Cross Traffic Alert is meant to detect forward cross-traffic vehicles. It uses forward direction radar and is the first in the world*19 to alert drivers of the direction from which a cross-traffic vehicle is approaching the immediate intersection. Alerts are displayed using the LS's large HUD. If the vehicle proceeds regardless of the presence of an approaching vehicle in cross traffic, warnings are also issued by a buzzer and the LS's multi-information display.
Road Sign Assist acquires road sign information using a camera and navigation maps and then displays such using the LS's HUD and multi-information display, thus reducing driver failure to recognize signs and encouraging safe driving.
Other active safety technologies
Parking support brakes (stationary objects, vehicles approaching in the rear, pedestrians in the rear) *18
Parking support brakes in the form of low-speed braking support systems aim to prevent the various types of accidents that can occur when parking, during which considerations include moving vehicles and pedestrians, walls and other stationary objects, perimeter checks and complicated driving operations. The already commercialized Intelligent Clearance Sonar and Rear Cross Traffic Auto Brake are meant to help reduce damage from collisions with walls and other stationary objects, as well as with vehicles approaching from the rear. Additionally, in the new LS and as a world's first*19, braking support is provided to help prevent accidents involving pedestrians behind the vehicle. In this new feature, a rear camera is used to detect pedestrians, and, in the case of a possible collision, alerts are issued and the brakes are controlled to help minimize damage.
Panoramic View Monitor (with side clearance view and cornering view functions) *20
Side clearance view and cornering view functions have been added to the Panoramic View Monitor, which supports periphery safety checks. Side clearance view produces an image on the LS's ultra-wide 12.3-inch display of the area in front of the car as if it were seen from an elevated point at the rear of the car, helping the driver confirm safety on the sides of the vehicle when passing by another vehicle on a narrow road or when moving toward the shoulder of the road to allow passage. When side clearance view is in operation, cornering view automatically produces an image of the vehicle as viewed from the rear at an angle in line with driving operation during cornering. These assist in confirming safety when making left or right turns on narrow roads and in preventing the driving up onto curbs when departing the roadway.
Digital Rear-View Mirror*21
The Digital Rear-View Mirror, which shows the image captured by a rear camera on a display in the rear-view mirror, was developed as a driving support device. Operation of a lever switches the display between optical mirror mode and digital mirror mode. In addition to making rear safety checks possible by producing an image without objects that obstruct the view, such as the heads of rear-seat passengers, etc., it contributes to helping maintain visibility at night, as well as when the rear-window sunshade is in use, and to protecting the privacy of rear-seat passengers.
*1The LS 500 is scheduled to start sales on December 18.
*2Manufacturer's suggested retail price, excluding recycling fees
*3Styling that features three windows on each side of a vehicle for a total of six side windows
*4Art Wood (Organic) is optional on the "EXECUTIVE", "version L", and "I package" grades; Art Wood (Herringbone) is optional on the "EXECUTIVE" and "version L" grades.
*5Optional on "EXECUTIVE" grade
*6Standard on 2WD versions
*7Standard on 2WD version of LS 500 "F SPORT"
*8Front: 245/45 RF20; rear: 275/40 RF20
*9Standard on "EXECUTIVE" grade (front/rear) and "version L" grade (front)
*10Standard on "EXECUTIVE" grade
*11Standard on "EXECUTIVE", "version L" and "F SPORT" grades
*12Standard on rear left seat on "EXECUTIVE" grade; 16-way adjustable power seat without footrest standard for rear right seat
*13Standard on "EXECUTIVE" and "version L" grades
*14Standard on "EXECUTIVE" grade; optional on standard specifications of "version L", "F SPORT" and "I package" grades
*15Standard on standard specification vehicles
*16The concept of integrating a vehicle's individual safety technologies and systems to provide a more-advanced level of support to drivers in all driving situations
*17Standard on "EXECUTIVE", "version L", "F SPORT" and "I package" grades
*18Road conditions, operational status and weather can lead to system non-activation.
*19As of October 2017 (according to Lexus survey)
*20Three-dimensional objects such as people and obstacles can appear differently than their actual state. Vehicle operation should be done in coordination with direct confirmation of vehicle peripheral safety and without overreliance on images shown on the display monitor.
*21Standard on "EXECUTIVE" and "version L" grades; optional on "F SPORT" and "I package" grades
Manufacturer's suggested retail prices
(Unit: Yen)
Engine
Transmission
Drive
Price*
(incl. consumption tax)
LS 500
"EXECUTIVE"
V35A-FTS (3.5-liter, twin-turbo V6 engine)
Direct Shift-10AT
2WD (FR)
15,000,000
AWD
15,400,000
"version L"
2WD (FR)
13,200,000
AWD
13,600,000
"F SPORT"
2WD (FR)
12,000,000
AWD
12,100,000
"I package"
2WD (FR)
10,420,000
AWD
10,820,000
2WD (FR)
9,800,000
AWD
10,200,000
Engine
Transmission
Drive
Price*
(incl. consumption tax)
LS 500h
"EXECUTIVE"
8GR-FXS V35A-FTS (3.5-liter V6 engine)
Multi-stage Hybrid Transmission
2WD (FR)
16,400,000
AWD
16,800,000
"version L"
2WD (FR)
14,600,000
AWD
15,000,000
"F SPORT"
2WD (FR)
13,100,000
AWD
13,500,000
"I package"
2WD (FR)
11,800,000
AWD
12,200,000
2WD (FR)
11,200,000
AWD
11,600,000
*Prices in Hokkaido differ. Prices do not include recycling fees.