Jan. 13, 2014
Daring Toyota Coupe Concept Debuts at 2014 Detroit Show
Toyota City, Japan, January 13, 2014―Toyota Motor Corporation (TMC) announces that its daringly designed new sports coupe concept, the "Toyota FT-1"
*1
, made its world premiere at the North American International Auto Show in Detroit, the United States, which runs from January 13 through January 26
*2
. The Toyota FT-1 is a study model that signals the direction of Toyota's future sports car designs.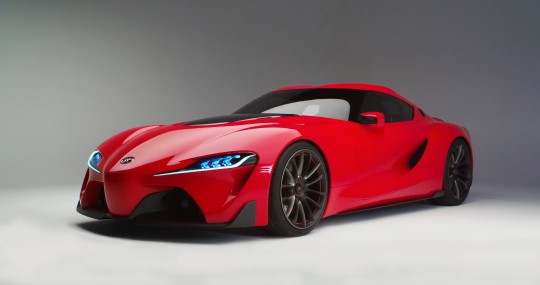 Toyota FT-1 Exterior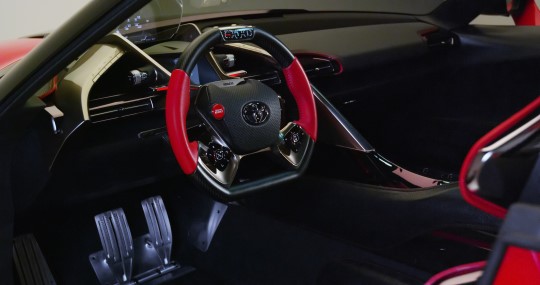 Toyota FT-1 Interior
The Toyota FT-1 aims to show what can be achieved when the focus is creating a sports car design that will truly excite. A team at Calty Design Research, Inc. (Calty), Toyota's design center in California, U.S., channeled their passion into the vehicle as they retraced Toyota's sports car heritage all the way back to the 2000GT coupe, released in 1967. The Toyota FT-1 represents the pinnacle of a long-running endeavor by Calty, which marked its 40th anniversary last year, to create the ultimate sports car.
The exterior design, with a powerful racecar look emphasizing the beauty of curvilinear form, is aimed to turn heads. The front features a boldly shaped fender and a sharpness suggesting powerful performance. Dynamic air-intakes at the front and exhaust ports and a retractable wing at the rear give physical form to the Toyota FT-1's optimum aerodynamic performance.
The front engine rear-wheel drive configuration locates the cockpit far rearward within the wheelbase to improve weight distribution and to help create classic sportscar proportions. Meanwhile, cockpit's wraparound windshield and side glass openings are a distinct nod to the design of the legendary Toyota 2000GT.
The Toyota FT-1's interior design, via an ergonomic cockpit that capitalizes on the vehicle's low center of gravity, is aimed to enable the driver to focus on and enjoy the driving experience. A delta-shaped display zone surrounds and integrates the driver to provide an exhilarating feeling of connectedness with the vehicle. The driver-focused environment is further enhanced by an F1-inspired steering wheel and a color heads-up display with vital information projected just above the steering wheel, thus keeping the driver's attention on the road. Furthermore, the A-pillars have been positioned as far back as possible to provide increased cornering visibility.
Traditionally, Toyota's design decisions have been driven by consensus among a large group of stakeholders. As part of a companywide movement to invigorate Toyota products with energy, passion and
waku-doki
(Japanese word meaning "a heart-pounding sense of anticipation and excitement"), the design approval process has been streamlined. The new approach aims to produce cars that connect more deeply with customers, generating a more satisfying ownership experience that complements Toyota's legendary reputation for quality, dependability and reliability.
*1Press days: 13-14; invitation-only days: 15-16; charity preview day: 17; public admission: 18-26
*2"FT" stands for "Future Toyota", and "1" signifies "the ultimate"