May. 20, 1986
TOYOTA ANNOUNCES NEW TERCEL, CORSA AND COROLLA II
Two-box models available in three body types featuring new, high-performance engines
Minor changes also announced for three-box models of Tercel and Corsa
Toyota City―TOYOTA MOTOR CORPORATION is introducing full model changes to two-box models of the Tercel, Corsa and Corolla II for nationwide release from today. Minor changes have also been made in the three-box, four-door sedan models of the Tercel and the Corsa.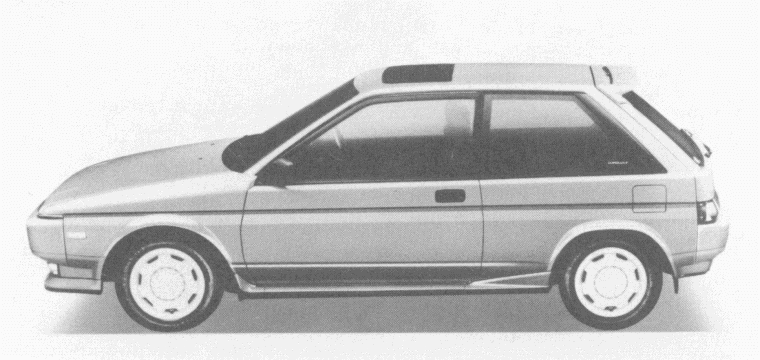 COROLLA II 3-DOOR RFTRA 1.5 SR
Customers of two-box cars have increasingly been calling for improved quality and performance along with more individuality, sportiness, fashionability and economy. With the new Tercel, Corsa and Corolla II, Toyota offers a more comprehensive product lineup to meet users' changing demands.
Exterior Styling

The new two-box Tercel, Corsa and Corolla II are available in three body styles: three-door with and without retractable head lamps, and a five-door model.

Engine

The following three high-performance engines are available for the new Tercel, Corsa and Corolla II: the new 1.5-liter, 12-valve 3E and 1.5-liter, 1N diesel turbo, and a 1.3-liter, 12-valve 2E.

3E Engine

The 1.5-liter, 4-cylinder, 12-valve 3E engine is a version of the 2E with a longer stroke. With its three valves―two for intake and one for exhaust―and V-type carburetor, this lightweight, compact engine produces maximum output of 79 ps (net) at 6,000 rpm.

1N Diesel Turbo

The 1.5-liter, 4-cylinder, 1N Diesel Turbo is also a lightweight, compact engine, and has been developed especially for FWD passenger cars. This superior diesel engine achieves outstanding fuel economy of 38.2 km/1 at a constant 60 km/h. The engine owes its low vibration and quiet running to computer-assisted structural analysis, which has allowed optimum design of its major parts.

Drive train

Suspension

The suspension employs MacPherson struts at the front and a trailing twist-beam at the rear with a new built-in stabilizer. This combination ensures improved handling and running stability.

Automatic Transmission

Three types of automatic transmission are offered: 4-speed with 2-way overdrive, 3-speed with 2-way, and 3-speed.

Interior

For the new Tercel, Corsa, and Corolla II, the following features are available as either standard or optional equipment depending on grade.

Dual-slide seat

This specially designed driver's seat comfortably accommodates drivers of all statures. This has been achieved through a "dual-slide" function in which the seatback moves horizontally along the seat cushion as the seat position itself is adjusted. This affords better seating position and greater visibility.

Shoulder-belt guide

Designed to conform to the stature of the driver, the guide on the center pillar allows the shoulder belt anchor to be adjusted up or down. This provides a more comfortable, snug fit of the belt over the driver's shoulder.

Changes to the 3-Box Models of the Tercel and the Corsa Minor changes to the 3-box versions of the Tercel and the Corsa include detailing changes to the front grill, dashboard and interior decor.

More models have joined the 4WD lineup. In addition, the Toyota Electronic Modulated Suspension (TEMS) is now available for 4WDs.