Aug. 28, 2017
Toyota Announces Toyota Safety Sense and ICS Safety Support Technologies that Together Reduce Rear-End Collisions by 90%
Toyota Promotes Widespread Adoption of Safety Technologies and Conducts "Support Toyota" Safety Awareness Activities for Customers Nationwide
Toyota City, Japan, August 28, 2017―Toyota Motor Corporation (TMC) has announced plans to expand adoption of safety support technologies to further reduce the rate of collisions and announced an expansion of safety awareness activities for customers.
Rear-end collision reduction effects of Toyota Safety Sense1 collision avoidance support packages and Intelligent Clearance Sonar2 (ICS) plus expanded adoption of ICS
Toyota performed independent calculations based on accident data from the Institute for Traffic Accident Research and Data Analysis (ITARDA) and determined that vehicles equipped with the Toyota Safety Sense package experience an approximately 50% reduction in rear-end collisions compared to vehicles without the safety package, while vehicles with both the Toyota Safety Sense P package and ICS (Intelligent Clearance Sonar) experience an approximately 90% reduction compared to vehicles without either feature. Vehicles equipped with Toyota Safety Sense P and ICS are classified in the "wide" Safety Support Car S (or Sapo Car S) category, are recommended particularly for older drivers, and adhere to the Safety Support Car recommendation of a public-private partnership that includes the Ministry of Economy, Trade and Industry (METI) and the Ministry of Land, Infrastructure, Transport and Tourism (MLIT)3. Toyota will increase vehicles equipped with Toyota Safety Sense and ICS, which have proven safety enhancement effects, to approximately 90% of all vehicles sold, including compact cars, by the end of FY2018.
Rear-End Collision Survey Results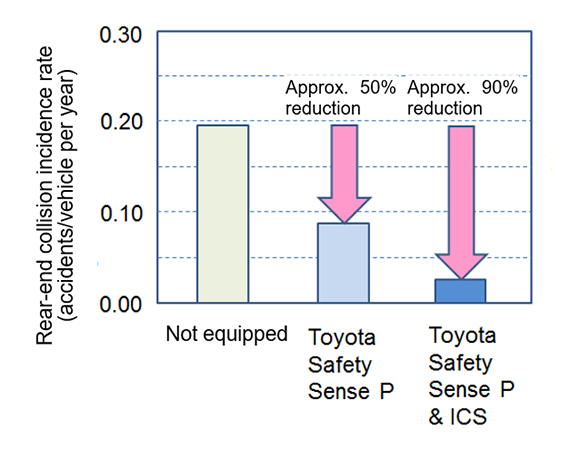 The accident incidence rate is calculated by dividing the number of accidents by the number of vehicles in operation (converted from the number of vehicles sold based on the timing of sale).
Subject vehicle series

Prius

Survey period

December 2015 - December 2016

Survey subjects

approximately 247,000 vehicles, of which approximately 84,000 were equipped with Toyota Safety Sense P, and approximately 121,000 were equipped with Toyota Safety Sense P and ICS
In addition to expanding the adoption of safety support technologies, Toyota is increasing programs to educate drivers, pedestrians, and others about safety.
"Support Toyota" programs are being conducted in collaboration with dealerships and other organizations with the aim of enhancing customer safety and assurance.
In addition to further expansion of ICS test ride events, which started this year at dealerships, Toyota plans to extend the experience of the automated braking feature in Toyota Safety Sense at dealerships, as well. All participating dealership staff will enroll in a licensing program to ensure safe operation and provide thorough information to customers. Toyota wishes to provide opportunities for more customers to experience safety features, and believes that by reaching out to more customers, safety features will be more accurately understood. Initially, Toyota will create a structure for implementation of ICS test rides with the 280 Toyota dealerships nationwide this year. By June 2018, Toyota aims to implement the program at all dealerships that can secure space for the ICS test rides.
Toyota will continue the City Firefly Project4, a traffic safety awareness program launched last year with dealerships, and take measures to reduce nighttime accidents.
Toyota will conduct other traffic safety awareness programs as part of "Support Toyota" activities.
To develop a safe transportation society, it is necessary to conduct safety-related activities based on the following three pillars: vehicle-based initiatives that lead to the manufacture of truly safe vehicles by incorporating a cycle of activities including accident surveys, analysis of accident causes, and development and commercialization of countermeasure technologies; human-based initiatives such as educational programs for drivers and children; and traffic environment-based initiatives including ITS (Intelligent Transport Systems) measures. To contribute to the elimination of traffic fatalities and injuries―Toyota's ultimate goal―Toyota will continue its three-pillar approach to efforts addressing people, cars, and the traffic environment.
| | |
| --- | --- |
| 1 | Introduced in stages starting in 2015 as a package designed to help prevent or mitigate collisions across a wide range of vehicle speeds at price levels set to encourage widespread use. Adoption of Toyota Safety Sense on nearly all passenger cars in Japan, North America, and Europe will be completed this year. |
| 2 | Helps prevent collisions caused by pedal misapplication in parking lots and garages, which account for approximately 30% of all accidents. Also supports collision avoidance and damage mitigation during low speeds regardless of accelerator or brake operation. |
| 3 | The Safety Support Car (Sapo Car) category includes vehicles equipped with automated braking systems. The Safety Support Car S (Sapo Car S) category includes vehicles that are additionally equipped with a pedal misapplication prevention system and is recommended all drivers including the elderly. The Sapo Car S category is composed of 3 sub-categories (varying by automated braking features), one of which is the "wide" sub-category. The "wide" sub-category includes the following features: automated braking system (pedestrian collision prevention); pedal misapplication prevention system; lane departure warning system; and advanced lights (including automatic anti-glare headlights). |
| 4 | Termed the City Firefly Project to brighten dark streets in order to prevent accidents. To prevent accidents involving pedestrians in low-light evening conditions and at night, when the incidence of fatal traffic accidents is higher, the project encourages the effective use of high-beam headlights, which can expand visibility to more distant areas, and encourages pedestrians to wear reflective materials to make themselves more visible to drivers. |