Nov. 23, 2015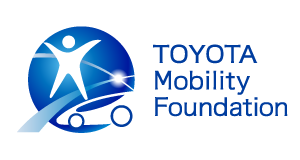 Toyota Mobility Foundation and Chulalongkorn University Celebrate
Innovative Project to Alleviate Traffic in Bangkok
Bangkok, Thailand, November 23, 2015―Today, the Toyota Mobility Foundation (TMF) joined with Chulalongkorn University (Chula) to celebrate an ongoing project to combat Bangkok's traffic congestion. The project is targeting the Sathorn District, one of Bangkok's busiest and best-known thoroughfares―using park-and-ride lots, shuttle buses, and advanced traffic-control systems to move people more quickly and easily to their destinations.
It is the first project undertaken by the Toyota Mobility Foundation, which was created by Toyota in 2014 to combine its mobility know-how and resources with the wisdom of partners to advance the freedom of mobility for people everywhere. TMF and Chula launched the project in April, 2015.
The event, which occurred at Chula University, featured remarks from

Shigeru Hayakawa, President of Secretariat, Toyota Mobility Foundation and Senior Managing Officer, Toyota Motor Corporation;
Kyoichi Tanada, President, Toyota Motor Thailand;
Professor Pirom Kamolratanakul, President of Chula; and
H.E. Mr. Shiro Sadoshima, Ambassador extraordinary and plenipotentiary of Japan to Thailand.
Additionally, the event included a panel discussion on how the government and private sector in Bangkok could better collaborate to address traffic, as well as how to increase resident usage in the new shuttle buses and park-and-ride system. In addition, government leaders, companies and local schools showed their strong interest in the action plans recommended by the recent business roundtables focusing on how private organizations could contribute to the mitigation of traffic congestion in Bangkok.
"The Toyota Mobility Foundation seeks to create a more truly mobile society so that people can move, grow and explore," said Mr. Hayakawa. "We know that people in Bangkok are often greatly constricted by traffic congestion. Leaning on the expertise and ingenuity of our partners, we believe that together we can create solutions that help move more people to the places they want to go."
The Sathorn district is home to a high concentration of schools, office buildings, hotels and shopping centers, as well as a public transportation hub. The area's rapid economic and population growth have contributed to significant congestion, especially during morning and evening commutes. The project, which will take an estimated year and a half to complete (April 2015―December 2016) and a 110 million Thai baht (approximately 400 million Japanese yen) investment, is addressing this with a plan to manage better traffic control and flow, focused on six areas:
Providing sustainable shuttle bus,
Developing sustainable park and ride schemes,
Designing information systems to quantify the benefits of multi-modality (or the regular use of multiple modes of transportation) to encourage people to change their behaviors;
Identifying bottlenecks and evaluating measures by utilizing a traffic simulation model; and
Optimizing traffic signal operations by partnering with local police who now manage them manually.
Introduction of flexible working time
This project is an expansion of the Sustainable Mobility 2.0 Bangkok Project (Sathorn Model) implemented by the World Business Council for Sustainable Development (WBCSD) with the support of the Bangkok Metropolitan Administration, the Ministry of Transportation, and the Metropolitan Police Bureau of the Royal Thai Police.
Through this expansion, the project aims for the future dissemination of the Sathon model, which will serve as a roadmap for traffic control throughout Bangkok encompassing the public and private sectors, citizens, as well as the Thai government.
The project participants are optimistic the community will quickly start to use the new system and which will benefit all of Bangkok.
Overview of the Project to Alleviate Traffic Congestion in Bangkok
Project Duration
1 year and 9 months (from April 2015 to December 2016)
Grantee
Chulalongkorn University
Project Budget
110 million Thai Baht (approximately 400 million JPY)
Purpose

Mitigate the severe traffic congestion problem in Bangkok and achieve smooth and efficient movement by people through traffic and demand management, as well as by offering diverse modes of transportation.
Using the high-traffic flow concentration Sathorn district as a model, prepare a roadmap for traffic control for Bangkok as a whole that encompasses the public and private sectors, as well as ordinary citizens.
Aim for the future dissemination of the Sathorn model through proposals to the Thai government.

Action

Developing sustainable shuttle bus schemes, as a measure of traffic-demand control;
Developing sustainable park & ride schemes, as a measure of traffic-demand control;
Designing information systems to quantify the benefit of using multiple modes of transportation to encourage people to change their behaviors;
Identifying traffic bottle necks and evaluating measures by using a traffic simulation model;
Supporting improvement of traffic signal operations by working with the local police who now manage them manually; and
Introduction of flexible working time