May. 30, 2016
Toyota to Exhibit at Smart Community Japan 2016
Toyota City, Japan, May 30, 2016―Toyota Motor Corporation will exhibit at Smart Community Japan 2016, to be held at Tokyo Big Site, for three days from June 15 to 17. The star attraction from Toyota will be the unveiling of the Japanese version of the new model Prius PHV.
At this exhibition, Toyota will highlight initiatives for the realization of a low carbon society. One of these initiatives―responding to the diversification of fuel resources―will be exemplified by exhibiting the Japanese version of the new Prius PHV (scheduled for sales launch in autumn 2016). It is a slightly modified version of the Prius Prime, which was first shown at the New York International Auto Show in March 2016.
The Smart Community exhibition vehicle to be unveiled for Japan will feature an advanced solar recharging system installed on the roof (Japanese and European specifications only). Toyota will introduce the more advanced PHV system, with improved fuel economy and other eco-friendly upgrades. Among these features is a limited solar recharging system, a rapid recharging function (Japanese specifications only), and a navigation system featuring a large 11.6 inch display.
A Mirai fuel cell vehicle with a cut-away body will also be on display to exhibit the size and configuration of the FCV technology inside. At the same booth, Toyota will have an interactive display of fuel cells that demonstrates the mechanism by which fuel cells generate electricity. Another exhibit will introduce the current services and future potential of telematics services for use as big data, compiling various information acquired from vehicles in motion. , This will become indispensable for safe and comfortable mobility as technology advances.
Toyota aims to fulfill the goal of creating a smart mobility society focused on safety and peace of mind, linking people, cars, and cities. Moving forward, Toyota will continue to engage in development and initiatives for a range of products and services.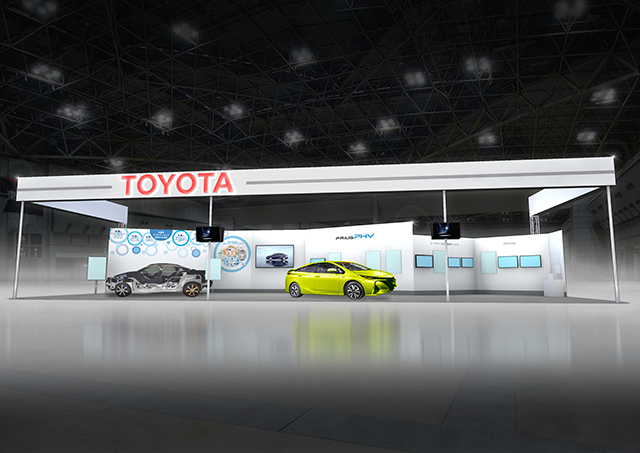 Main Displays
New model Prius PHV (Japanese specifications)

Fitted solar recharging system
Rapid recharging function
Navigation system with an 11.6 inch display, etc.

Mirai fuel cell vehicle (with a cut-away body)
Interactive display of fuel cells

An interactive session (approximately 15 minutes, five to six times daily) explaining the mechanism by which a fuel cell generates electricity using an experimental kit and a model Mirai (1/10th scale)

Information services utilizing big data

Big data traffic information service (map of roads traveled)
TransLog* telematics service, etc.
*A customer service that gathers data such as vehicle location, driving information, and video footage, which is then analyzed and processed to assist safe and comfortable driving with the use of such services as "eco driving."