Jul. 05, 2016

Partial Redesign of the Toyota '86' Based on Race Experience
Main Features
The partially redesigned "86" boasts superior driving enjoyment as a result of a variety of several enhancements, including that of linear torque from low engine speeds through improved intake and exhaust systems (manual transmission models), and outstanding steering stability due to reworked shock absorber valve structures
The exterior design of the 86 has prioritized improved aerodynamics from the front to the rear of the vehicle
The cockpit of the 86 makes the driver feel more connected to the vehicle than ever before, and features the smallest-diameter steering wheel ever made by Toyota as well as a 4.2-inch TFT color multi-information display (equipped as standard on the GT Limited and GT models)
Toyota Motor Corporation will launch the partially redesigned 86 at Toyota, Toyopet, Toyota Corolla, and Netz dealers nationwide on August 1. The model boasts revamped driving characteristics based on knowledge gained through participation in races, including the 24 Hours of Nürburgring.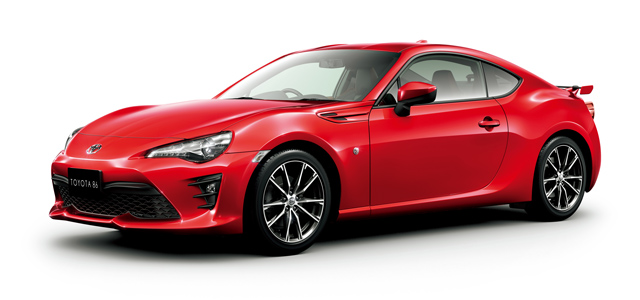 86 GT Limited
Toyota City, Japan, July 5, 2016―As this partial redesign of the 86 indicates, Toyota Motor Corporation is engaged in the creation of ever-better cars so that as many people as possible can experience the joy of driving and so that the number of car fans will grow. Toyota believes that motorsports offers a crucial means of conveying the excitement of driving and, through Toyota GAZOO Racing, the company is focused on developing both personnel and cars.
First launched in 2012, the 86 has featured in various motorsports activities, including the 24 Hours of Nürburgring, and competitive 86/BRZ races and rallies, which customers themselves participate in and enjoy. This vehicle has helped to put smiles on the faces of many Toyota customers.
The 86 was developed as a unique rear-wheel-drive vehicle, with intuitive handling, that embodies the essence of driving enjoyment. Featuring the world's only1 horizontally opposed (D-4S2) engine and an ultra-low center of gravity rear-wheel drive package, it achieves driving enjoyment on an entirely different level to existing sports cars. The 86 is cherished by car-loving customers because it delivers the innate excitement cars have to offer.
The partial redesign of the 86 has focused on its further evolution as a sports car. Toyota has created a vehicle that specializes even more in driving performance and thereby aims to increase the number of sports car fans.
Chief Engineer Tetsuya Tada, who is currently in charge of development on the 86, commented: "We overhauled everything―primarily as a result of technological feedback from the 86's participation in the 24 Hours of Nürburgring―and repeatedly tested the vehicle on roads all over the world as we manufactured every single part. The new 86 has been perfected to such an extent that, from the moment the steering wheel is gripped and the vehicle accelerates away, every driver will be able to recognize its evolution."
1As of July 2016, according to Toyota Motor Corporation
2D-4S

Direct injection 4 stroke gasoline engine Superior version
Vehicle Outline
Further evolutions in driving performance, the essence of a sports car
Driving Performance
Improvements to the intake and exhaust system parts (in manual transmission models), such as the intake and exhaust manifolds, have led to the further evolution of the horizontally opposed D-4S engine. Maximum torque can be generated at a wide range of engine speeds, while torque has also been improved at low rpms.
86 Engine Key Specifications
Displacement
Transmission
Maximum output
Maximum torque
FA-20
1,998 cc
6-speed manual
152 kW [207 PS]/
7,000 rpm
212 N.m [21.6 kgf.m]/
6,400―6,800 rpm
6 Super ECT
147 kW [200 PS]/
7,000 rpm
205 N.m [20.9 kgf.m]/
6,400―6,600 rpm
Steering response and comfort
Improved suspension and increased body rigidity due to an increase in the number of spot welding points on the rear pillars have resulted in excellent steering response and riding comfort
The addition of optional SACHS absorbers contribute to even more outstanding steering response and comfort
Evolutions in the external design prioritize driving performance
The pursuit of aerodynamic performance
From the front to the rear of the 86, down to the finest details, enhanced aerodynamic performance has been prioritized in the establishment and improvement of different features; this has resulted in an exterior design with superior road holding and turning performance

A wing-type rear spoiler is equipped as standard on the GT Limited model, contributing to outstanding aerodynamic and handling performance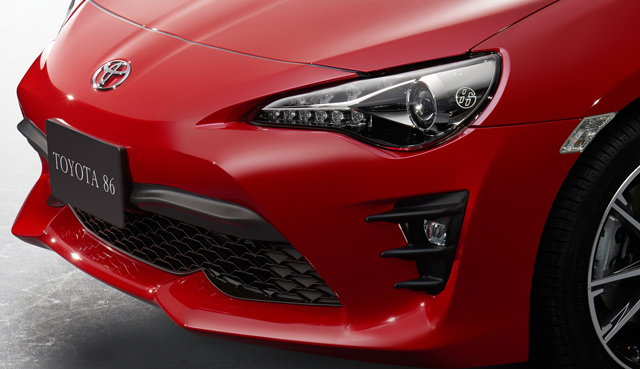 Nose fins, fog-lamp bezel fins, and canards
Superior sensation of nimbleness and a low center of gravity
With a lower nose and horizontally expanded grill opening compared to the previous model, the 86's front view emphasizes a low, wide stance

Bi-Beam LED headlamps are equipped as standard on all models while LED front fog-lamps (equipped as standard on the GT Limited and GT models) have also been utilized, underscoring the vehicle's fearless, cutting-edge nature
The 86 features 17-inch aluminum wheels (equipped as standard on the GT Limited and GT models) with machine-cut highlights and gun-metallic paint. The design of the slender, twisted spokes and aluminum wheels accentuate the nimble-looking side view.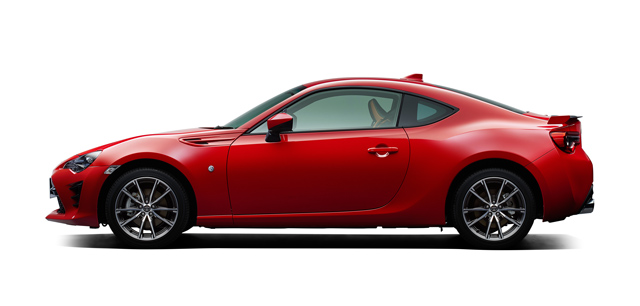 The black section of the rear bumper has been horizontally expanded to create a wide, trapezoid stance

The rear combination lamps now utilize LEDs and their horizontal positioning creates a smart impression
An ideal cockpit for a sports car
Features
The 86 features a steering wheel with a diameter of 362 mm―the smallest ever used in a Toyota―with a cross-sectional shape that provides an optimal grip, offering superb maneuverability and steering wheel comfort
The three-cluster meter built around the tachometer equipped as standard on the GT Limited and GT models) has been modified so that the very top of the meter reads 7,000 rpm, the engine speed around which the vehicle generates maximum output
The vehicle is equipped with a 4.2-inch TFT color multi-information display (equipped as standard on the GT Limited and GT models). In addition to current fuel economy and cruising distance, it displays a variety of accurate information in real time including G force, power/torque curves, and a stopwatch.
Design
The instrument panel and door trim of the 86 utilize Grand Luxe®1 (standard in GT Limited models). In addition to improved interior textures, this material limits the glare of light reflected from the outside, helping to create an environment in which the driver can focus on driving.
The standardized black interior color provides a relaxing interior space, while the door switch bases and heater control panel (both equipped as standard on the GT Limited and GT models) utilize T-mesh carbon-print for a higher quality cabin
Perforated Alcantara®2 (standard in GT Limited models) is used as the surface material for the seats
1Grand Luxe® is an artificial suede-like material and a registered trademark of Seiren Co., Ltd.
2Alcantara® is a registered trademark of Alcantara S.p.A.
Sales Outline
Sales locations

Toyota, Toyopet, Toyota Corolla, and Netz dealers

Monthly sales target for Japan

500 units
Assembly Plant
Main Plant, Gunma Manufacturing Division, Fuji Heavy Industries Ltd.
Manufacturer's Suggested Retail Prices
Grade
Engine
Driveline
Transmission
Price1
G
FA20
(2.0-liter)
Front engine, rear-wheel drive
6-speed manual
2,623,320 yen
6 Super ECT2
(6-Speed SPDS3)
2,647,080 yen
GT
6-speed manual
2,981,880 yen
6 Super ECT
(6-Speed SPDS)
3,048,840 yen
Limited
6-speed manual
3,183,840 yen
6 Super ECT
(6-Speed SPDS)
3,250,800 yen
1Includes consumption tax, and does not include recycling fees. Prices differ in Hokkaido and Okinawa.
26-Speed ECT

Super intelligent, electronically-controlled, six-speed automatic transmission
36-Speed SPDS

6-Speed Sport Direct Shift
Link to the "86" webpage (Japanese only)