Apr. 04, 2012
Kanto Auto Works, Ltd.
Toyota Motor Tohoku Corporation
Central Motor Co., Ltd.
Toyota Motor Corporation
Overview of New Toyota Technical School Announced
Manufacturing Foundation in the Tohoku Region to be Strengthened through
Medium- to Long-term Human-resource Development
Central Motor Co., Ltd. (Central Motor), Toyota Motor Tohoku Corporation (Toyota Tohoku), Kanto Auto Works, Ltd. (Kanto Auto Works) and Toyota Motor Corporation (TMC) today announce an overview of the Toyota East Japan Technical Skills Academy, an in-house training school of Toyota Motor East Japan, Inc. (Toyota Motor East Japan).

Toyota Motor East Japan, scheduled to be formed from a merger of Kanto Auto Works, Central Motor and Toyota Tohoku in July, is tasked with creating and providing the world's most attractive compact vehicles and will form part of a trilateral framework for Toyota production bases in Japan. In turn, Toyota Motor East Japan's in-house training school is being established based on the principle that "manufacturing is about developing people", and with the aim to strengthen manufacturing foundations in the Tohoku region through medium- to long-term human-resource development. Applications for the inaugural class will begin in July this year, with classes to begin in April 2013.

Toyota East Japan Technical Skills Academy's founding concept is to be a school that will cultivate future strength based on three pillars: "human resource development", "environmental and energy management" and "coordination with local communities".

1. Human Resource Development
The academy will be equipped with all the necessary training equipment requisite for education concerning production technology and manufacturing equipment. With an enrollment limit of 30 students, instructors with real-world experience will cultivate students over the one-year training course to become core manufacturing-personnel, in line with accredited vocational training based on Japan's Human Resources Development Promotion Law. Approximately 10% of the 1,760 hours of lessons held over the year will be lectures, while 60% will be practical skill training and 30% general education for the body and mind. Students will learn about the origins of Tohoku manufacturing and receive other education that will take advantage of the characteristics of the region. There are also plans for programs such as training drills, club activities and local volunteer work.

2. Environmental and Energy Management
The school will aim to reduce energy consumption through methods including the introduction of various energy-saving measures such as highly insulated structures that help reduce the use of heating systems in winter, motion-sensor-activated lighting and the creation of biotopes in surrounding areas.

In addition, the academy will be aligned with the "F-Grid"* as part of a new smart community in an attempt to create an arrangement that improves the efficiency of energy supply and demand through the use of power generation and storage facilities. This will involve equipping the school with photovoltaic power generation facilities, installing secondary batteries and connecting to Central Motor Miyagi Plant's cogeneration system. This means that in addition to using power accumulated with photovoltaic power generation during the day, power accumulated overnight from the cogeneration system will also be used.

Furthermore, a building energy management system with which power consumption and CO2 emissions can be analyzed will be introduced and energy-saving activities will be promoted through the participation of students and instructors.

3. Coordination with Local Communities
The academy's facilities will open to the public and the academy will work to support the development of human resources in manufacturing in the region through workshops for elementary and junior high school students and through short, technical skills courses for members of the public.

Further, so that the academy can be used as an information base for the region during times of disaster, in addition to the electricity generated from the photovoltaic system and the cogeneration system, the academy will have other useful equipment and facilities including plug-in hybrid vehicles fitted with power outlets, chargers for satellite phones and cellular phones and also information monitoring equipment.
Overview of Toyota East Japan Technical Skills Academy
| | |
| --- | --- |
| Location | Chuodaira 1, Ohira-mura, Kurokawa-gun, Miyagi Prefecture |
| Main target | New technical high school graduates from the Tohoku region |
| Class size | 30 people |
| Curriculum focus | Manufacturing equipment, others |
| Class term | 1 year |
| Foundation (planned) | April 2013 |
| Facilities | Academy building, PR building |
| Site area | 31,500 m2 |
Toyota East Japan Technical Skills Academy
(artist's rendition)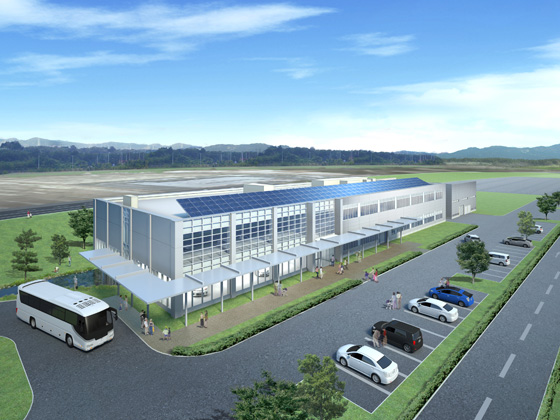 *Concept of "inter-plant and plant-region" comprehensive energy management currently under consideration for implementation in the Second North Sendai Central Industrial Area in Ohira, Miyagi Prefecture. Further information: here