Apr. 12, 2017
Toyota Launches Rental Service for the Welwalk WW-1000
Rehabilitation Assist Robot in Japan
Tokyo, Japan, April 12, 2017―Toyota Motor Corporation will launch a rental service for the Welwalk WW-1000 robot from the fall of 2017. The Welwalk WW-1000 is designed to aid in the rehabilitation of individuals with lower limb paralysis as a result of stroke and other causes.
The Welwalk WW-1000 comes with a range of rehabilitation support functions based on motor learning theory, including the ability to adjust the difficulty level to suit the patient, and to provide feedback about the patient's gait characteristics. The robot's simple construction and functions, such as easy fitting and central touch panel operation, ensure the ease of use in clinical settings.
Toyota began installing industrial robots in the 1980s, and since then has applied automobile production and developmental technologies to the advancements of Partner Robot technology, where the robots can be viewed as companions to provide support and to also co-exist with people.
In line with the vision of the Partner Robot technology, of "freedom of mobility for all, and the joy of self-reliance" as well as taking into consideration Japan's growing aging population, Toyota is developing Partner Robot technologies that relates to the four main areas of Senior Life Support, Medical Support, Personal Life Support, and Welfare Support. The development will help to provide assistance to the elderly by enabling them to live more independent lives and to also provide support for their caregivers.
Development of rehabilitation robots in the field of Medical Support began at the end of 2007 with the collaboration with Fujita Health University Hospital in Toyoake, Aichi Prefecture. Since 2011, pilot testing has been conducted at the hospital's medical facilities. Between 2014 and the end of March 2017, Walk Training Assist robots have been installed in 23 medical facilities throughout Japan for clinical research.
Feedback from patients and healthcare persons involved in the clinical research indicates that this robot has the potential to aid in lower limb recovery, and as a result, the use of the robot as a medical device has been officially approved and certified. Toyota hopes to rent 100 units of the Welwalk WW-1000 robots to medical facilities beginning in the fall of 2017.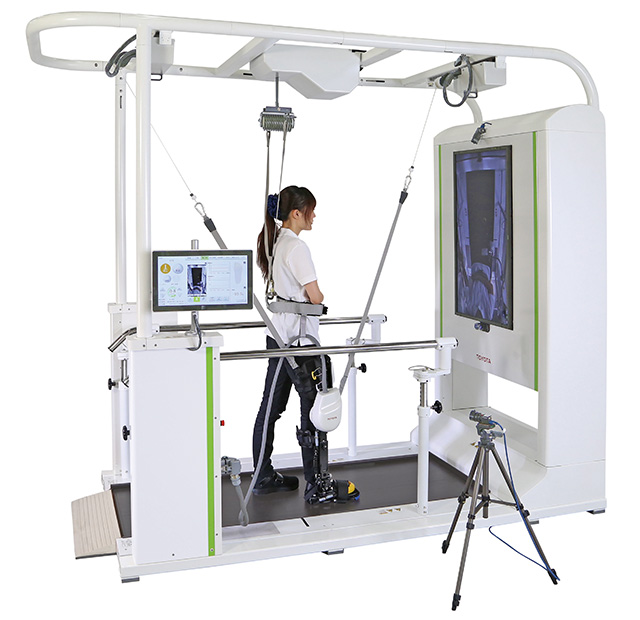 Overview of the Welwalk WW-1000
Generic name
Active extension, flexion and rotation movement device
Registered name
Welwalk WW-1000
(Certified medical device number: 22800BZX00438000)
Composition

Main body

Overall system including treadmill and monitor

Robotic leg

Fitted onto individuals with lower limb paralysis to assist in knee bending and stretching movements

Features

Rehabilitation support functions based on medical motor learning theory

Adjustable level of assist to suit the patient

It allows for the support of a natural walking style from the start and ensures a certain level of exercise, which in turn also provides support for the caregiver.

Multiple types of feedback via monitor, voice, etc.

The ability to confirm gait characteristics in real time and record objective quantitative data

Ease of use in clinical settings

Simple construction and functions, including easy fitting and central touch panel operation

Size and weight

External dimensions

1,200 mm (width), 2,710 mm (depth), 2,380 mm (height)

Weight

approx. 800 kg (main body); approx. 6 kg (legs)

Suggested Rental Rates

Initial fee

JPY 1,000,000

Monthly fee

JPY 350,000
Details on the Rental System
Toyota will consign rental service planning and management to Good Life Design Inc., which will rent the robots to customers through four companies that will be in charge of renting the robot.
Toyota and Good Life Design Inc. will consign services such as robot set up and maintenance to Paratechno Co., Ltd.
Downloads (PDF)