Mar. 31, 2017
Toyota to Conduct Hybrid Boat Feasibility Study in Tokyo
Toyota City, Japan, March 31, 2017―Toyota Motor Corporation (hereinafter, Toyota) has developed Japan's first leisure craft with a parallel hybrid system. Subsequently, Toyota will conduct a feasibility study of hybrid boats from July 2018 to March 2021 in Tokyo.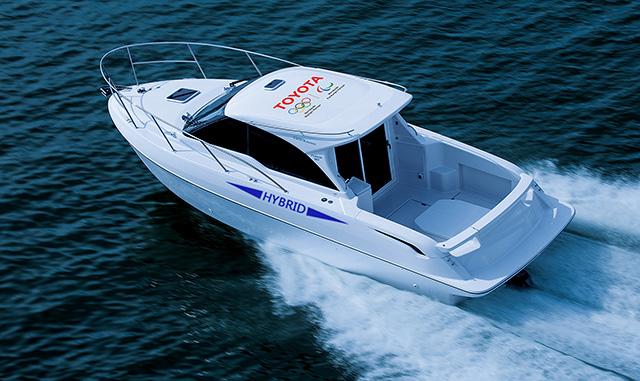 Hybrid Boat (Image)
Specifically, Toyota will loan the hybrid "PONAM-28V" model to the Tokyo Metropolitan Government with no charge. In addition to its use for the maintenance of piers and other port facilities at the Port of Tokyo, the Tokyo Metropolitan Government will use the PONAM-28V for visits to Tokyo 2020 Olympic and Paralympic Games* venues along the Tokyo Bay waterfront by the relevant parties. In addition, the PONAM-28V will also be utilized for canal tours at the Port of Tokyo for Tokyo residents and visitors.
By adopting the parallel hybrid system in a leisure craft, Toyota is striving to assure customers of the cruising range by utilizing two types of power generators―the engine and electric motor. Furthermore, the EV(Electric Vehicle) mode cruising realizes low emissions, high fuel efficiency, and low noise levels. The Tokyo Metropolitan Government will provide the hybrid boat's operational data to Toyota, to help validate the overall performance of the hybrid system, and to verify the convenience and improvement areas of hybrid boats.
Toyota has thus far released the 35-foot "PONAM-35", 31-foot "PONAM-31", and 28-foot "PONAM-28V". Toyota will continue to work on its marine business, developing appealing mobility products in the nautical field so as to attain the goal of providing our customers with a fulfilling lifestyle.
Main Specifications of the Hybrid System
Engine
Emissions
[cc]
2,982
Maximum Output
[kW(PS)/r.p.m.]
191(260)/3,600
Electric Motor
Maximum Output
[kW]
36
Maximum Torque
[N・m]
350
Drive Battery
(Lithium-ion Battery)
Voltage
[V]
304
Capacity
[Ah]
40
Total Battery Capacity
[kWh]
11
*Toyota is a worldwide partner of Olympic and worldwide partner of Paralympic