Oct. 03, 2017
Lexus to Exhibit All-new 'LS' Flagship and to Premiere Concept Car
at Tokyo Motor Show 2017
Tokyo, Japan, October 3, 2017―Lexus plans to exhibit its soon-to-be-launched, all-new "LS" flagship sedan among 11 production models it intends to display at the 45th Tokyo Motor Show 2017, where it also plans to hold the world premiere of a new concept car.
The LS is to be joined by the "LC" luxury flagship coupe, which launched in March symbolizing the dawn of a new era for Lexus, the partially redesigned "CT" compact hybrid hatchback, and the "NX" luxury crossover, among others. Complete details of the new concept car are to be revealed at the motor show venue and through a press release on October 25.
Outline of the all-new LS
Since its initial launch in 1989, the LS has earned a reputation for smooth and powerful performance, as well as for exceptional quietness and comfort. Now in its fifth generation, in addition to taking on a daring coupe silhouette while preserving ample interior space and providing a more-emotional experience, the all-new LS, as Lexus's flagship model, is equipped with a number of advanced technologies, achieving monumental advances in innovation as the symbol of the Lexus brand.
Main LS features
Daring coupe silhouette made possible by the Lexus GA-L global architecture for luxury vehicles
Interior that fuses a driving-focused cockpit and a relaxing space suitable for a flagship sedan
Newly developed 3.5-liter, twin-turbo V6 engine and other new technologies for emotional yet elegant driving
Comfort features for distinctive Lexus omotenashi (hospitality)
Lexus Safety System + A active safety package and other advanced safety technologies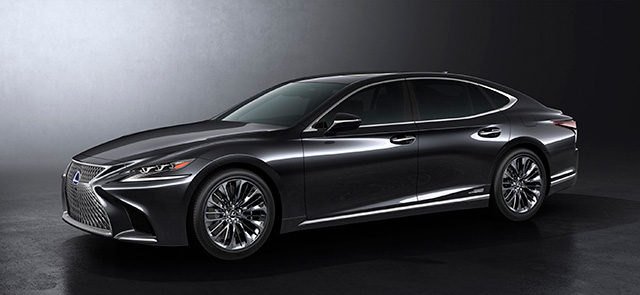 LS 500h
| Vehicle name | Length | Width | Height | Wheelbase | Occupancy |
| --- | --- | --- | --- | --- | --- |
| LS 500 / LS 500h | 5,235 mm | 1,900 mm | 1,450 mm | 3,125 mm | 5 |
For reference
LS 500 press release at the 2017 North American International Auto Show in Detroit
LS 500h press release at the 2017 Geneva Motor Show
The 45th Tokyo Motor Show 2017 is to be held at Tokyo Big Sight in Tokyo's waterfront area from October 25 through November 5, with press days on October 25 and 26, a special-invitation day on October 26, a preview day on October 27 and general-public days from October 28 to November 5. To find out more, visit: http://www.tokyo-motorshow.com/en/.