Nov. 22, 2017
Toyota Launches Sales of "Kirobo Mini" Nationwide
Orders for the compact communication partner being accepted from today at Toyota vehicle dealers
Kirobo Mini can do the following
Engage in casual conversation, backed by gestures and the ability to respond to user emotions
Learn and provide tailored companionship by remembering user preferences and past events
Fit in the palm of your hand with a seated height of only 10 cm and be taken just about anywhere
Enhance its conversational ability using information from the vehicle and home
Toyota City, Japan, November 22, 2017―Toyota Motor Corporation (Toyota) launched sales*1 of its compact and cuddlesome Kirobo Mini communication partner today through Toyota vehicle dealers across Japan.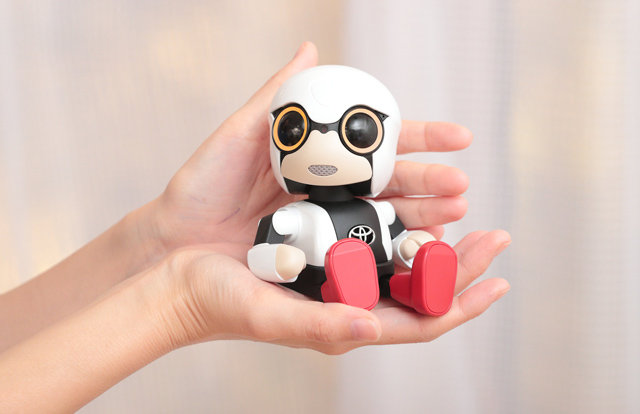 Kirobo Mini
Kirobo Mini is a miniature communication partner developed to provide companionship. It fits in the palm of the hand and is only 10 cm high when seated. It turns its head toward the person speaking and engages in casual conversation*1 while moving its head and hands. Its compact size means it can be taken just about anywhere.
Presales were launched at designated dealers in Tokyo and Aichi Prefecture in May 2017, commencing with customers looking to interact with communication partners such as Kirobo Mini. The presales launch also targeted a wide variety of users including those who have a fondness for adorable products, are passionate about trying new products, and enthusiastic about enjoying Kirobo Mini in different ways.
One feature of Kirobo Mini is the ability for users to share their Kirobo Mini experience with other users on the official communication website "With Kirobo Mini Friend Park." This well-received website allows users to share personal moments with their own Kirobo Mini and exchange information to help others discover the charm of the Kirobo Mini.
"With Kirobo Mini Friend Park" website
Furthermore, in tandem with this nationwide rollout, Kirobo Mini can now communicate based on information acquired from the cars and homes of users.*2 Details are as follows.
Kirobo Mini's new abilities*3

Coordination with cars*4*5

As Kirobo Mini grows up, it learns to converse based on information from connected cars.


Coordination with homes*6

As Kirobo Mini grows up, it learns to converse based on TOYOTA HOME smart house information.

*1Unlike online orders in the presales launch in May 2017, customers can now place orders for Kirobo Mini at Toyota vehicle dealers (including Toyota, Toyopet, Toyota Corolla, and Netz stores).
*2Using standard Japanese
*3The same function is available in Kirobo Mini purchased during presales by updating the dedicated app.
*4When Kirobo Mini grows up to a certain level through communication with its users, it will be able to engage in these kinds of conversations.
*5An 11.6-inch T-Connect SD navigation system (DCM package) must be mounted on a Prius PHV (from February 2017). DCM contract is also required.
*6TOYOTA HOME's smart house (HEMS installation and TSC-HEMS service required)
Manufacturer's Suggested Retail Price
Price excluding tax / Price including tax

Kirobo Mini main unit

39,800 yen / 42,984 yen*

Carry case with chair (optional)

5,950 yen / 6,426 yen

(The main unit in the photo is not included in the price.)
*A monthly fee of 350 yen (including tax) for use of the dedicated app is required.
For details on Kirobo Mini
Kirobo Mini press release issued October 3, 2016