Apr. 20, 2014
Toyota Celebrates 50 Years in China at Beijing Motor Show
It's been 50 years since Toyota first entered the Chinese market with the Crown in 1964. Befitting of any Golden Anniversary, Toyota is celebrating in style at the Beijing Motor Show with its joint-venture partners FAW Group Corp. (FAW) and Guangzhou Automobile Group Co., Ltd. (GAC) with a booth over 3,000 m2 large featuring a total of 38 vehicles and concepts.
Main Event
The two main stars of the booth are the all-new Corolla produced by FAW and Levin produced by GAC. Representative of Toyota's pursuit of Waku-Doki and excitement, these two cars were designed to help fulfill the dream of China's customers to move freely.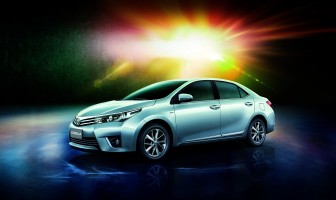 Corolla 卡罗拉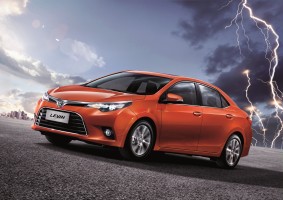 Levin 雷凌
Beyond this, the Corolla and Levin represent Toyota's commitment to China. At a press conference at the show, Toyota EVP Yasumori Ihara gave his word that the two models would: "from next year, be available as hybrid models with major hybrid components produced in China." This represents the first-time ever Toyota will make hybrid cars with hybrid components produced outside Japan. Ihara also expressed his hope to one day sell 2 million vehicles annually in China.
Get Going Campaign
Toyota is also using this opportunity to present its "Get Going" campaign, spearheaded by international superstar Beyoncé. During this campaign, Toyota will offer support to lucky youth and help their dreams come true. By helping youth get motivated and actively pursue their life-long ambitions, Toyota hopes to grow closer to and in step with the future of China. Find out more about the campaign through the videos below. Featured is Li Ke, the first lucky girl being helped along to her dream of being a fashion model.
The Beijing Motor Show runs through April 29, please be sure to explore what Toyota has in store for China at the Toyota Booth in Hall E3 at the China International Exhibition Center.
Overview of Toyota Booth at Beijing Motor Show 2014
Location
E3, China International Exhibition Center (CIEC) Beijing
Duration
April 20 - 29, 2014 (Press day: April 20)
Toyota
Theme
GET DREAM GET GOING
Display area
Approx. 3000 m2
No. of display vehicles
38
Main display vehicles
New Corolla and Levin

Toyota FV2, FCV Concept, Camatte Sakura,
TS030 Hybrid, Yundong Shuangqing II, FT-EV III, NS4

Crown, Reiz, Vios, Prius, Land Cruiser 200, Prado, RAV4, Camry LE,
Camry Hybrid, Yaris L, Highlander, EZ
Venza, 86, Previa, Alphard, FJ Cruiser

Presentation on HV technologies in the "Shuangqing Theater", etc.
Note: Underlined vehicle names indicate China premiere
2014 Beijing Motorshow―Toyota Executive Vice President Ihara's Speech
 Dà jiā hǎo (hello, everybody), I'm Yasumori Ihara. Thank you for coming to the Toyota booth today. I have been in charge of our Chinese business since last year, and it's a great pleasure for me to be here today, at the biggest motor show in the world.
 Though my first name, Yasumori, means conservative, my strategy for China is anything but. In fact, we think our strategy is quite innovative, and will result in great things for Toyota's future in China.
 Since I took charge of our Chinese business, I have tried to learn a little of the language and find out more about this wonderful country. I was particularly impressed by the Chinese principle of shí shì qiú shì. The phrase means seeking truth based on facts. At Toyota, we call it genchi-genbutsu, meaning "going to the see the situation on the ground", and it's a principle that I hold dear.This principle underpins our approach to our Chinese business. For our Chinese business to grow, we must seek truth based on facts, promote localization and truly become part of China.
◆◆◆
 Toyota has a long history in China: we first exported the Crown to China in 1964. China is one of our most important markets.In China, we aim to become the No.1 Japanese automobile maker and have the third largest by-brand market share.
 We've already made a lot of progress: our sales target for this year is an unprecedented 1.1 million-plus vehicles, up from 920,000 vehicles sold last year. My personal hope is that one day we achieve sales in excess of 2 million vehicles per year. As part of our efforts to achieve this, we plan to launch more than 15 new models here by the end of 2017. At the same time, we will strengthen our production operations here.
 More specifically, to make our products more attractive to Chinese consumers, we aim to focus on launching highly desirable new models in the compact vehicle segment, which accounts for 60% of the Chinese market. For example, last year Toyota launched two China-specific models: the Vios and the Yaris L. Both have been well-received by consumers.
 This year, to further strengthen our compact car lineup, we are planning to launch an all-new Corolla through FAW Toyota, and an all-new Levin through GAC Toyota. In short, we're going to give our all in the compact car market, with our environment-friendly and stylish compact car lineup. You can expect great things from us in the future.
 As you just saw, we recently launched the "Get Going" marketing campaign last month which features Beyoncé, a global superstar. The main aim of this campaign is to connect with millenials, who are fast becoming the core of modern China. By supporting their dreams and their ambitions, we hope they will feel closer to us and our brand.
Through these and other activities, we aim to focus on the young people of today, the China of tomorrow.
◆◆◆
 We strongly believe that environmental technologies are the main way for Toyota to contribute to China's future.
 The 1997 Prius was a milestone in the evolution of our environmental technologies. Since 1997, we have sold more than 6.4 million hybrid vehicles worldwide. In essence, there is a very close link between the history of Toyota's environmental technologies and the history of our hybrid technologies.
 Last year, we started preparing for fully localized production of hybrid vehicles here – a first for Toyota outside Japan. We wanted to bring the benefits of hybrid vehicles―and Toyota's environmental technologies―here by localizing development and production.
 We have already established TMCAP, a manufacturer of hybrid transaxles and CVTs. Progress has been made on localized production of inverters. And we've set up battery production companies. All of these steps are challenging, and represent firsts for Toyota, but we are well on our way to producing hybrid vehicles here.
 Naturally, such an ambitious project can present challenges from time to time. But I knew we were doing the right thing when I saw Chinese Toyota engineers working side by side with engineers from FAW and GAC to develop a Chinese-produced hybrid at TMEC. The car was built in Changshu last autumn, and it reaffirmed my commitment to our strategy, ambitious and ground-breaking as it is.
 So, I give you my word here today: the Corolla and Levin models to be unveiled shortly will, from next year, be available as hybrid models with major hybrid components produced in China.
◆◆◆
 Our goal is to truly become part of China. That means responding to the needs of Chinese consumers and Chinese society by working closely together with the employees of our partners, affiliates, dealers and suppliers.
Please continue to watch our progress.
 Now, let me unveil this year's new models: the all-new Corolla, and the all-new Levin!
 "Bù bù xiàng qián" ("Step by step progress!"), "Mǎ dào chéng gōng" ("Prompt success!")! "Xiè xie" ("Thank you!")