Oct. 17, 2001
Toyota Motor Corporation
Daihatsu Motor Co., Ltd.
Toyota and Daihatsu to Present "New Dream-filled Mobility"
―35th Tokyo Motor Show Concepts to Include Super Fuel-saving ES3 and UFE―

Tokyo―TOYOTA MOTOR CORPORATION (TMC) and DAIHATSU MOTOR CO., LTD. (Daihatsu) plan to exhibit 85 vehicles at the coming 35th Tokyo Motor Show (Oct. 27-Nov. 7) in Makuhari, Chiba, under the inspiring theme "New Dream-filled Mobility".
While giving full play to the genuine automotive allures of the joy of mobility and the excitement of driving, TMC and Daihatsu will showcase innovative environment-benefiting and other technologies in everything from minicars to large passenger vehicles.
The scheduled display lineup, comprised of 29 concept cars and 56 production vehicles from 40 vehicle series, can mostly be classified into one of the following categories: ecology, sports, new concept and motorsports. TMC and Daihatsu will also present numerous exhibits concerning the environment, safety, information technology (IT) and Intelligent Transport Systems (ITS).
Main Display Vehicles
Ecology
Ultra-high fuel efficient vehicles: ES3, UFE
Fuel cell hybrid vehicles: FCHV-4, FCHV-5, MOVE FCV-K-II
Hybrid vehicles: ATRAI HYBRID-IV
Sports
Two-seater roadsters: FXS, COPEN
4WD off-road sports car: RSC
New Concept
IT-based concept cars: pod, WiLL VC
Cars offering new value: DMT, ist, Voltz, FF Ultra Space, MUSE, U4B
Motorsports
F1 test car: TF101
CART car: Toyota RV8F/Reynar
(In addition to the above 19, TMC and Daihatsu will display 10 other concept vehicles.)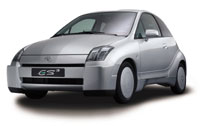 Toyota ES3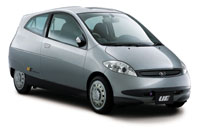 Daihatsu UFE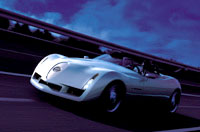 Toyota FXS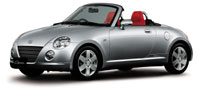 Daihatsu COPEN
Ecology
TMC and Daihatsu will demonstrate their efforts to make cars that reflect concern for the global environment by presenting ecology-minded vehicles featuring revolutionary environmental technologies for easy recycling, cleaner emissions, high fuel efficiency and reduced CO2 emissions.
Toyota ES3 (E-S cubic)
The ES3 is a four-seater concept that brings together technologies centered on providing high recyclability and low emissions, while realizing an ultra-high fuel efficiency of 47 km/liter (in the 10-15 Japanese test cycle in in-house tests). Its name is intended to indicate its multidimensional approach to being a car full of "Eco Spirit."
Ultra-high fuel efficiency
A lightweight aluminum and resin body keeps curb weight down to only 700 kg, while an outstanding aerodynamics Cd value of 0.23 decreases running resistance. Further fuel savings are made by combining a high-performance 1.4-liter direct-injection diesel turbo engine with a continuously variable transmission (CVT).
Two key hybrid technologies―"idling stop" and regenerative braking―help cut down on energy waste. With "idling stop", the engine automatically shuts off when the vehicle comes to a rest. Meanwhile, regenerative braking is used to recover energy during deceleration.
Cleaner emissions
TMC's proprietary Diesel Particulate-NOx Reduction System (DPNR), a new catalytic converter technology, makes emissions from the ES3's diesel engine just as clean as those from J-LEV (Japan-Low Emission Vehicle)-level gasoline-powered vehicles.
Recycling
Improved Toyota Super Olefin Polymer (TSOP), which boasts excellent recycling properties, and biodegradable plastics made from natural fibers, among other advanced materials and processes, provide a high recyclability rate. Efforts have also been made to greatly reduce the amount of substances of environmental concern.
Superb aerodynamic exterior styling and futuristic interior
With a roof line that flows gently toward the rear, rear side panels that taper around to the back and a smoothed underfloor, the exterior flaunts a sporty effect that reflects its superior aerodynamic performance.
For a futuristic sensation, brought into play are an instrument panel with aluminum reinforcements, a translucent center meter and a new switch system that keeps important controls at the fingertips.
Toyota fuel cell hybrid vehicles
Two different types of fuel cell hybrid vehicles (FCHVs) featuring the Toyota FC Stack and energy regeneration will be displayed: the FCHV-4, which uses high-pressure hydrogen storage tanks, and the FCHV-5, which features a clean hydrocarbon fuel (CHF) reformer.
While the FCHV-4 is based on the premise of a future pure-hydrogen society, the FCHV-5, out of consideration that certain regions may experience delays in the expansion of a hydrogen infrastructure, is fueled by CHF, which can be obtained not only from petroleum, but also from natural gas, coal and other sources. The FCHV-5's on-board creation of hydrogen from reformed CHF allows it to immediately contribute to wider use of fuel-cell-powered vehicles. At the same time, because clean-burning CHF can also be used in conventional internal combustion engines, it can play an important role in making internal combustion engines more Earth-friendly.
FCHV-4
The FCHV-4 is a zero-emission vehicle fueled by hydrogen stored in high-pressure tanks (as described above).
A total of seven FCHV-4s are currently undergoing public road tests―five in Japan, after having obtained Minister of Land, Infrastructure and Transport-certified license plates, and two in California.
FCHV-5
The FCHV-5, equipped with TMC's new and independently developed CHF reformer (as described above), is currently undergoing test-course evaluation.
The compactness and optimal layout of the CHF reformer's vaporizer, reforming catalyst unit, CO reduction elements (its high temperature shift catalyst, low temperature shift catalyst and CO selective oxidation unit) and other components enable the system to be installed below the vehicle floor without compromising interior cabin space.
Development is continuing toward achieving high performance, and efforts are being carried out to make the FCHV-5 more practical by reducing further the size of its reformer's components, shortening startup time and addressing a number of other issues.
Daihatsu UFE
The UFE (which stands for "Ultra Fuel Economy") is a four-seater hybrid minivehicle that achieves an ultra-high fuel efficiency of 55 km/liter (in the 10-15 Japanese test cycle) and features an Advanced Safety Vehicle (ASV) system.
Ultra-high fuel efficiency
An ultra-lightweight aluminum and resin body results in a curb weight of only 630 kg, while an aerodynamics Cd value of 0.25 keeps running resistance to a minimum.
The hybrid system is comprised of a 660cc direct-injection gasoline engine, two motors and a nickel-metal hydride battery.
ASV system
The UFE's ASV features are: braking for reducing collision impact, full-range speed control for following a proceeding vehicle, speed control for curve negotiation and a lane-deviation warning system.
Superb aerodynamic exterior styling and flowing interior
The body style features a highly aerodynamic cut-tail teardrop silhouette combined with the latest body component technologies for a super aerodynamic form.
Lines that continue out from the outer reaches of the UFE's bird-wing motif instrument panel toward the rear lounge seat, which blends into the interior sides, create a streamlined cabin space.
Daihatsu MOVE FCV-K-II
Following up on the world's first fuel-cell-powered (methanol-reformer type) minivehicle, which it displayed at the 1999 Tokyo Motor Show, Daihatsu presents the MOVE FCV-K-II, the world's first four-seater fuel-cell minivehicle that uses a high-pressure hydrogen storage tank system. (The "K" in its name comes from the Japanese word used to denote minivehicles.)
At the heart of the MOVE FCV-K-II's fuel-cell system is a 30 kW version of the high-performance Toyota FC Stack, which is installed beneath the floor at the rear of the vehicle. The car also has a nickel-metal hydride secondary battery, as well as an electric motor and a CVT, and achieves a high rate of energy regeneration.
Daihatsu ATRAI HYBRID-IV
The ATRAI HYBRID-IV is a four-seater hybrid minivehicle that links a 660cc gasoline engine with an electric motor and incorporates TMC's hybrid technologies to achieve high fuel efficiency and a significant reduction in emissions.
Equipped with an "idling stop" function and regenerative braking, the ATRAI HYBRID-IV gets about 30% better fuel economy than conventional minivehicles. Its emissions levels comply with ULEV (ultra low emission vehicle) standards.
Sports
Under the concept of sports come TMC and Daihatsu new-type sports cars that pursue the true appeal of automobiles: beautiful styling and the joy of driving.
Toyota FXS
The FXS (short for "Future Experimental Sports") is a two-seater V8 roadster with a six-speed sequential manual transmission and plenty of sex appeal.
A simple and sexy form with a sense of presence
The FXS's wide and low body expresses beauty on wheels by contrasting areas of brilliant luster against those of elusive shade. Its massively rich interior is highlighted by touches of chrome and bluish-white illuminated meters set against a deep-blue theme.
Pursuit of high performance
A highly rigid open body, a 4.3-liter V8 engine, a six-speed sequential manual transmission and a four-wheel double wishbone suspension come together for driving and handling fun.
Toyota RSC
The RSC (short for "Rugged Sport Coupe") is a crossover 4WD off-road sports car that merges a "two-plus-two" sports car with an SUV and features a rugged, rally car-minded style. Its impressive "mechanical form" exterior styling brandishes clear cut edges and muscular wheel flares paired off with large-diameter tires. A sequential shift lever and full bucket seats with carbon frames give the RSC a simple but functional interior.
Daihatsu COPEN
The COPEN (coined from "compact" and "open") brings new excitement to the minivehicle arena by being the first mini-roadster with an electrically operated hard top. Its two-seater silhouette with an original cabin-in-forward design creates a rich feeling, while its performance is honed through a quick-response 660cc twin-cam four-cylinder turbo-charged engine and a precisely tuned suspension for an exciting and direct-sensation driving experience. The retractable aluminum top enables an active driving experience regardless of the weather or season.
New Concept
Representative of new concept vehicles will be TMC and Daihatsu cars meant to enhance the inherent value of automobiles through the inclusion of IT-enabled communication and other functions suitable for the new century.
Toyota pod
Developed in collaboration with Sony Corporation, the pod is a near-future, IT-centered vehicle that proposes new relationships between cars and people. It takes the car from being just a tool, to being a partner―as the car-user relationship deepens, both the automobile and the people using it can grow.
The pod (the name of which is based on the concept of gently enveloping and protecting the car's occupants) is personified to help it detect the feelings of the driver and to express itself. It comes with a portable terminal that can be used to start the ignition before even entering the car. Using various sensors that detect and store information on the drivers' preferences at home and at work, driving conditions, etc., the car can gauge the driver's level of skill*
1
and degree of huriedness*
2
and provide feedback, thereby contributing to driver growth.
The pod also proposes a new driving operation method, by packaging the steering, accelerating and braking controls on a single "drive controller" for easy hands-only drive-by-wire operation.
*1 Determined from the smoothness of steering wheel, accelerator and brake operation
*2 Determined from the difference with regular driving conditions, as well as the driver's pulse and degree of perspiration
Toyota DMT
The DMT (short for "Dual Mode Traveler") is a minivan-sized special-purpose vehicle that has appeal, both in motion and at rest.
Drive mode
The cabin, with its cruiser-style high eye-point for excellent visibility, and a wide-opening roof offer unprecedented driving pleasure.
The DMT boasts several ITS attributes, including an advanced radar cruise control system that maintains vehicle-to-vehicle distance even during crawl-pace traffic jams, as well as an ability to automatically pay parking fees and road tolls.
Stay mode
The simple but highly space-efficient box-style design with a low, flat floor gives the DMT an interior with room to spare. This interior can be customized to perfectly suit the use intended by the driver upon arrival at the targeted destination.
Toyota ist
The ist is a new-genre compact car that combines the active feel of an SUV, the utility of a station wagon, the stylish sense of a specialty car and the essence of a premium-class automobile.
On the outside, large-diameter tires―and the emphasis placed on them by the exterior styling―put forth an active feel, while the ist's cab-forward form and the visual effects of its windows blend smoothly into the rear to express solidity.
On the inside, the ist (which gets its name from the suffix "-ist" indicating someone who creates or performs) comes with a show-window-like internally lit "illumination multi-box" storage space in the center cluster, as well as, among other touches, instrument panel and door trim featuring a geometric motif and finished in metallic paint for a sense of luxury.
The rear floor space was designed for ease of use―it features a "two-way deck box" for item separation and storage.
Toyota Voltz
Equipped with a high-utility luggage area, the Voltz (from the word "voltage") is a new class of vehicle―small "SU wagon"―that combines the powerful style of an SUV and the sportiness of a coupe for a versatile and electrifying experience.
An impressive front grill and sporty SUV-like bumpers and fender flares combine with unique window play to provide an agile side view.
The Voltz's rear seat can be folded away to create a flat, spacious luggage area with a resin deck floor. A bicycle rack, table or storage box can be attached to the floor rails, making multipurpose use possible. A glass hatch on the back door makes loading and unloading certain items easier.
WiLL VC
The WiLL VC is a five-door hatchback based on the WiLL* concept of "a sense of fun and authenticity" and equipped with an innovative "G-Book" information terminal to achieve the creation of a new mobile space suitable for the IT era.
The WiLL VC can be hooked up to network services such as Internet access, e-mail and real-time navigation. It also comes with such features as SD (secure digital) memory audio and provides non-intrusive two-way voice support that allows for voice-recognition operational commands, the reading aloud of received information and hands-free phone operation.
Exterior styling revolves around a "cyber capsule" theme, while the interior design seeks to evoke a sense of attachment by repeating the use of circular elements.
*A 21st century-minded inter-industry marketing project initiated in 1999 by TMC and four non-auto companies. It now has seven member companies offering a wide range of products under the unified WiLL brand.
Daihatsu FF Ultra Space
The FF Ultra Space is a front-engine, front-wheel-drive next-generation new-concept car that provides a personal zone for relaxation in a minivehicle-size package. On the outside it presents a unique and stirring "one-motion" form, while the interior takes on a bright and open-space ambiance thanks to a full glass roof.
Passenger car-like easy ingress and egress and riding comfort, combined with station wagon-like interior spaciousness, create a new level of value and economy for minivehicles.
Daihatsu MUSE
The MUSE (coined from "magic" and "use" to denote a car with magical appeal) is a next-generation premium minivehicle ideal for people with their own concept of taste.
Its trapezoid shape, with stately, sturdy, high-quality doors, provides a sense of stability.
Its universal design makes handling easy for just about anyone, and on-board IT devices fast-forward the present to the near future. All in all, the MUSE's quality and comfort make it a pleasure to own and drive.
Daihatsu U4B
The U4B (short for "Urban 4x4 Buggy" is a stylish four-wheel drive minivehicle with a new sensibility that merges the comfort of a passenger car and the functionality of an SUV.
An endearing and massive round form creates an exterior that emphasizes harmony with nature. At the same time, a high-quality modern-yet-casual atmosphere prevails on the inside.
The U4B's compact body and large-diameter tires provide nimble and sure-footed handling during off-road maneuvers.
Motorsport
With motorsports in mind, TMC will highlight its efforts to meet the challenges of the world's greatest car races.
Toyota F1 test car TF101
In gearing up for participation in Formula One World Championship Racing (F1) in 2002, Toyota has been independently developing both the engine and chassis of its F1 machine. Under the name "Panasonic Toyota Racing" the Toyota team is actively conducting test runs to hone performance for its scheduled March debut.
Toyota RV8F/Reynard CART car
Toyota is supporting the development and provision of a new type of engine―the RV8F―for five teams participating in the CART (Championship Auto Racing Teams) Series.
For more information on TMC and Daihatsu's exhibits, please refer to Appendixes 1-3, or contact:
TMC Public Affairs at (03) 3817-9161/9178
Daihatsu Public Relations at (03) 3279-0815 (Tokyo); (0727) 54-3047 (Osaka)
For general information on the show, please note the following:
| | |
| --- | --- |
| Event | The 35th Tokyo Motor Show ―Passenger Cars and Motorcycles―(2001) |
| Dates | Press Days: Oct. 24-25; Special Guest Day: Oct. 26; Public Days: Oct. 27-Nov. 7 |
| Venue | The Nippon Convention Center (Makuhari Messe), Chiba, Chiba Prefecture |
| Website | http://www.motorshow.or.jp/show2001/ENGLISH/index.html |
Category
Maker
Model
Length
(mm)
Width
(mm)
Height
(mm)
Powertrain
Seating
Capacity
Ecology
Toyota
ES3
3,520
1,630
1,460
FF
4
FCHV-4
4,735
1,815
1,685
FF
5
FCHV-5
4,735
1,815
1,685
FF
5
Daihatsu
UFE
3,395
1,475
1,475
FF
4
MOVE FCV-K-II
3,395
1,475
1,670
FF
4
ATRAI HYBRID-IV
3,395
1,475
1,775
FR
4
Sports
Toyota
FXS
4,150
1,870
1,110
FR
2
RSC
4,115
1,850
1,550
4WD
4
Daihatsu
COPEN
3,395
1,475
1,260
FF
2
New Concept
Toyota
pod
3,930
1,800
1,860
FF
4
DMT
4,850
1,825
2,030
FF
2
ist
3,855
1,695
1,530
FF
5
Voltz
4,365
1,775
1,600
FF
5
WiLL VC
3,695
1,675
1,535
FF
5
Daihatsu
FF Ultra Space
3,395
1,475
1,720
FF
4
MUSE
3,395
1,475
1,510
FF
4
U4B
3,395
1,475
1,570
4WD
4
SUPPLEMENTARY CONCEPT VEHICLES

TMC will also display the:
PREMIO medium-class sedan
ALLION medium-class sedan
VOXY minivan
NOAH minivan
MARK II BLIT station wagon
Lexus SC 430
Lexus ES 300

Daihatsu will also display the:
TERIOS LUCIA
NAKED F
MOVE SaRD SPECIAL
APPENDIX 2
TECHNOLOGY EXHIBITS


ENVIRONMENT
Introducing TMC and Daihatsu's various environmental preservation technologies for energy conservation, low emissions, recycling and other measures
Energy
Conservation
&
Low
Emissions
HYBRID SYSTEMS
Prius (THS*1)
TMC
Estima Hybrid (THS-C*2 + E-Four)
TMC
Crown (THS-M*3)
TMC
GASOLINE ENGINES
BEAMS*4 V8 4.3L (3UZ-FE) for ultra-low emissions
TMC
BEAMS D-4 in-line 6-cylinder direct-injection 3.0L (2JZ-FSE)
TMC
BEAMS D-4 in-line 4-cylinder direct-injection 2.0L (1AZ-FSE)
TMC
BEAMS in-line 4-cylinder 2.4L (2AZ-FE)
TMC
BEAMS in-line 4-cylinder 1.8L (1ZZ-FE)
TMC
BEAMS in-line 4-cylinder 1.5L (1NZ-FE)
TMC
BEAMS in-line 4-cylinder 1.0L (1SZ-FE)
TMC
TOPAZ*5 GI in-line 3-cylinder direct-injection 660cc for ultra-low emissions
Daihatsu
TOPAZ U-LEV in-line 3-cylinder 660cc (EF-VE) for ultra-low emissions
Daihatsu
DIESEL ENGINES
D-4D*6 2.0L compact direct-injection turbo (with common rail)
TMC
D-4D 1.4L light, compact direct-injection turbo (with common rail)
TMC
DPNR
TMC
TOPAZ DI in-line 2-cylinder direct-injection 660cc, two-cycle, capable of meeting Japan's new long-term diesel regulations
Daihatsu
CNG ENGINE
TOPAZ CNG in-line 3-cylinder 660cc for ultra-low emissions
Daihatsu
TRANSMISSION
Next-generation CVT dry (direct-tension) multi-belt system
Daihatsu
Recycling
Plant-based biodegradable plastics (bioplastics)
TMC
*1 Toyota Hybrid System
*2 Toyota Hybrid System-CVT
*3 Toyota Hybrid System-Mild
*4 Breakthrough Engine with Advanced Mechanism System
*5 "Top from A to Z"; an engine designed to be the best in all areas, from power to ecology to reliability
*6 Direct Injection 4 Stroke Common Rail Diesel Engine

SAFETY
Introducing the latest safety technologies in terms of both preventive and collision safety
Preventive Safety
&
Collision Safety
Toyota's latest safety technology
TMC
Advanced TAF*1 & SOFI*2
Daihatsu
ASV (Advanced Safety Vehicle) system
Daihatsu
*1 Total Advanced Function body
*2 Safety-Oriented Friendly Interior
IT & ITS
Introducing advanced IT & ITS technologies that are either currently being developed or are already commercialized and are aimed at creating a next-generation mobile society through the provision of car multimedia and car intelligence
Car Intelligence
NAVI AI-SHIFT control
TMC
Radar cruise control
TMC
Backup guide monitor with voice guidance
TMC
Car Multimedia
Toyota's MONET*1 information and communication network
TMC
Emergency call service HELPNET*2
TMC
Town-use IT
Daihatsu
Facilities
ETC (Electronic Toll Collection System)
TMC
Transport
Friendship i system
Daihatsu
*1 Short for "MobileNetwork"
*2 A trademark of Japan Mayday Service Co., Ltd.
APPENDIX 3
PRODUCTION VEHICLE EXHIBITS


TOYOTA (39 vehicles)
| | |
| --- | --- |
| 1. Celsior | 21. Corolla Runx |
| 2. Crown Royal Saloon (mild hybrid) | 22. Corolla Runx (Modellista version) |
| 3. Crown Royal Saloon Welcab | 23. Corolla Spacio |
| 4. Brevis | 24. Corolla Spacio Welcab |
| 5. Brevis Welcab | 25. Allex |
| 6. Soarer | 26. bB |
| 7. Mark II | 27. bB OPEN DECK |
| 8. Mark II (Modellista* version) | 28. bB OPEN DECK Welcab |
| 9. Verossa | 29. FunCargo Welcab |
| 10. Verossa (Modellista version) | 30. Vitz |
| 11. Camry | 31. Estima Hybrid |
| 12. Altezza Gita | 32. Estima Hybrid (Modellista version) |
| 13. Opa (Modellista version) | 33. Ipsum |
| 14. Prius | 34. Ipsum Welcab |
| 15. MR-S | 35. Ipsum (Modellista version) |
| 16. MR-S Caserta by Modellista | 36. Hilux |
| 17. MR-S ZAGATO by Modellista | 37. Kluger V |
| 18. WiLL VS | 38. Kluger V (Modellista version) |
| 19. Corolla | 39. RAV4 J |
| 20. Corolla Fielder | |
*TOYOTA MODELLISTA INTERNATIONAL, a car customizing specialty company
| | |
| --- | --- |
| 1. MAX (3units) | 7. TERIOS KID |
| 2. Mira | 8. YRV |
| 3. MOVE (3 units) | 9. storia |
| 4. Opti | 10. Atrai 7 |
| 5. NAKED | 11. TERIOS |
| 6. Atrai wagon (2 units) | 12. MOVE Sloper |