Sep. 01, 2003
Toyota Launches All-new Prius
―Marking the Dawn of a New Age of Hybrid Vehicles―
Tokyo―TOYOTA MOTOR CORPORATION announced today the nationwide launch of the all-new Prius hybrid passenger vehicle through "Toyota" and "Toyopet" dealers.
The Prius, first launched in 1997 as the world's first mass-produced hybrid passenger car, has earned a strong reputation worldwide for its innovative character, setting new global benchmarks for automotive environmental performance and becoming the world's leading hybrid vehicle with cumulative sales of over 120,000 units.
The new Prius is equipped with the next-generation Toyota Hybrid System (THS II), developed around the concept of Hybrid Synergy Drive that represents a sophisticated fusion of ecology and power. It not only attains a world-leading level of environmental performance, extremely high fuel efficiency of 35.5 km/liter and ultra-low emissions, but also greatly heightens the "fun to drive" quotient through the further evolution of hybrid power.
Its emphasis on universal design is reflected in operational controls and advanced functions and in styling and packaging that aim to redefine the passenger vehicle category, creating an innovative passenger vehicle at the forefront of its age and worthy of the name "Prius" (Latin for "to go before").
The next-generation hybrid system (THS II), features control-system advances including a variable voltage system for the motor and generator, and other improvements to produce a motor output 1.5 times greater than that of the previous system, meaning a smoother, more-responsive and dynamic hybrid experience.
The new Prius achieves outstanding maneuverability and cruising stability by adopting the world's first* Steering-assisted Vehicle Stability Control system (S-VSC), based on Toyota's cutting-edge hybrid control technology.
A new five-door package realizes an advanced aerodynamic exterior that envelops a spacious, comfortable cabin and a high-utility cargo space.
The Electroshiftmatic, an electronically controlled gearshift and a push-type ignition switch are among the innovative electronic controls that revolutionize the human-machine interface.
Among the advanced electronic control systems, the new Prius also boasts the world's first* Intelligent Parking Assist system, to guide steering in curbside parking and similar situations, and the world's first* EV drive mode.
An electric inverter-controlled automatic air-conditioning (with humidity sensor) realizes improved fuel efficiency and high levels of comfort.
All grades achieve the world's highest level of fuel efficiency at 35.5 km/liter and ultra-low emissions.
In consideration of enhanced recycling, assessment of environmental impact over the entire lifecycle, from production to disposal, was implemented.
The new Prius will be released first in Japan and then successively in the United States, Europe and other markets.
| | |
| --- | --- |
| * | Toyota survey as of August 2003 |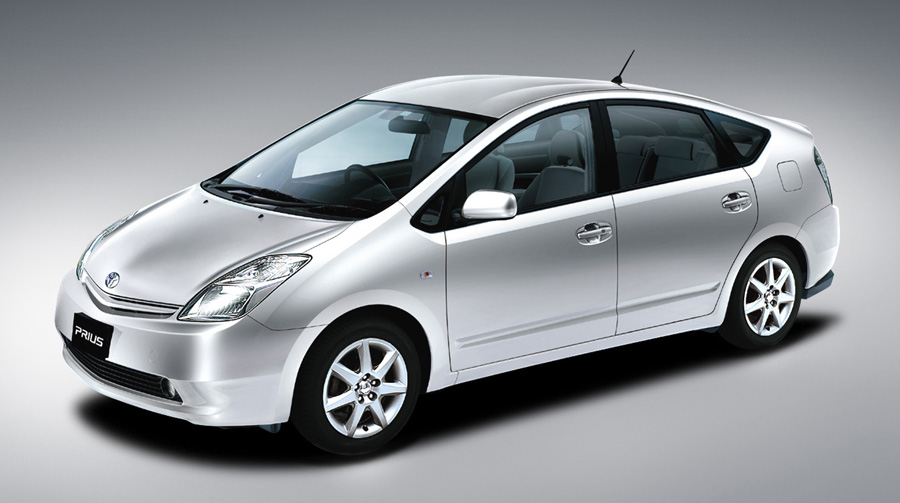 Prius G "Touring Selection" (with options)
---
Sales Channels
Sales outlets: "Toyota" and "Toyopet" dealers nationwide
Monthly sales target: 3,000 units

---
Innovative Driving Performance
The radically improved hybrid system (THS II) greatly enhances system output. Acceleration performance is raised to a new level, while the adoption of the new Steering-assisted Vehicle Stability Control system (S-VSC), that features the latest in electronic-control technology, makes for outstanding maneuverability and stability.

Dynamic performance
The next-generation hybrid system (THS II) greatly enhances the synergy between the motor and the engine.

Control-system advances, such as the adoption of a high-voltage electrical system for the motor and generator, and other improvements, produce a motor output 1.5 times greater than that of the previous system, which significantly boosts the system's output and torque when combined with a 1.5-liter high-efficiency engine.

These improvements add up to a big advance in dynamic performance compared to the earlier model, giving the new Prius startup and overtaking acceleration performance equal to or greater than a conventional vehicle fitted with a 2.0-liter engine, superior shift shock-less acceleration performance, and other features that make for the kind of acceleration feel found only in a hybrid vehicle.

Vehicle dynamics
World's first vehicle movement control system S-VSC
Coordinated control is provided by the combination of the vehicle movement control system, which uses the best of hybrid control technology to seamlessly integrate VSC (Vehicle Skid Control) with ABS, ECB (Electrically Controlled Brake system), which provides efficient wheel-by-wheel hydraulic brake control independently and in a linear fashion to all four wheels, a TRC (Traction Control System) motor, which controls drive power, and the new EPS (Electric Power Steering), which assists steering (G grade).

This combination ensures improved driving stability during acceleration from start, steering, braking and other driving situations.

Basic design for improved driving performance
Use of aluminum
Use of aluminum in the hood, rear door and bumper reinforcements decreases vehicle body mass in the front and rear ends and reduces the yaw moment of inertia for excellent responsive steering and ideal weight distribution.

Wider wheel tread
Adoption of a wider wheel tread (30mm wider at the front), longer wheelbase (150 mm longer) and low center of gravity for the power train provides excellent maneuverability and driving stability in straightforward driving and turning.

Newly developed suspension
Aluminum steering knuckles and brake calipers, together with measures to achieve geometrical optimization, reduce mass below the springs for excellent maneuverability and driving stability and high-class riding comfort.

The S Touring Selection and G Touring Selection are fitted with a specially tuned suspension for a sportier driving feel.

High rigidity body
A highly rigid body has been created through reinforced linking of the body frame and suspension mountings, using the drive battery case as part of the body frame, and effective positioning of cross members and other reinforcing structures.

The S Touring Selection and G Touring Selection feature 195/55R16 tires.

Effective placement of sound absorbing materials throughout the vehicle body achieves reduction of engine noise, road noise and wind noise for excellent cabin quietness.

Innovative styling and packaging
An advanced aerodynamic exterior envelops a spacious, comfortable cabin and a high-utility cargo space to create a new 5-door package.

Advanced aerodynamic form
A triangular design theme centered on the cabin, emphasizes the long wheelbase and high rear end to create an advanced aerodynamic form.

The roof has a unique shape marked by a low central section in consideration of improved airflow from the front to the rear, while the side window with its curved 3D surface and a flatter vehicle bottom achieve excellent aerodynamic characteristics (Cd value 0.26).

Highly futuristic and individualistic styling
The front view is marked by a distinctive shape formed by the raised area around the emblem and a front bumper with a protruding central area that together strike a progressive note.

The rear view includes a sub-window below the rear spoiler for excellent rear visibility and reflective LED brake lights on either side to create an individualistic style.

Package
The new Prius boasts cabin space rich in amenity and utility.

An advanced 5-door style allows for increased interior cabin length and width, making the cabin more spacious and achieving a distance of 950mm between the hip points of the front and rear seats, resulting in more comfortable seating in the rear.

Positioned throughout the cabin are features such as a multifunctional large-size console box that doubles as a front armrest and a glove compartment divided into an upper and a lower section that together make for storage space with great design and practicality.

The luggage space is both ample and versatile.

Advanced ITS features and optimized functions
Incorporating the concept of universal design, the new Prius features a control system that revolutionizes driving functions and a variety of other innovative devices and functions.

Human-machine interface (drive system and display system)
The instrument panel emphasizes user-friendliness as well as a futuristic design centered on a combination of vertical graphics in a metallic tone and satin effect.

In addition to a push-button starting switch for activating the hybrid system, the new Prius (G grade) features Smart Entry and Start technology that enables automatic door locking and unlocking and vehicle ignition.

The Electroshiftmatic system (electronically controlled shift stick and parking position switch) allows fingertip control of the gears (first of its kind in Japan, as of August 2003, according to Toyota data).

Viewpoint movement and refocusing are reduced by a new center instrument readout panel that is setback and raised. An elliptical steering wheel helps make the readout easier to see and also adds to ease of ingress and egress.

Steering wheel-mounted switches make it possible to operate the air conditioner, audio, navigation and other systems without letting go of the steering wheel.

The Electromultivision uses a 7-inch large multi-information display touch-panel screen to assist visual clarity and ease of operation of the energy-flow monitor, air conditioner and audio system.

Innovative devices and functions
Intelligent Parking Assist
ITS functions based on application of electrically operated power steering and backup guide monitor technology help drivers during curbside parking and when reversing into parking spaces (world's first; optional on DVD navigation system-fitted vehicles)

EV drive mode(world's first)
By simply operating a switch, the driver can select motor-only operation for cleaner operation and reduced noise, suitable for early morning or late night driving.

Automatic air conditioning
The automatic air conditioning with electric inverter-compressor is completely powered by the drive battery. As well as allowing heating, cooling and dehumidifying even when the engine is stopped, the highly responsive and effective compressor control, based on temperature and humidity sensors, improves fuel economy during use of the air conditioner and contributes to throat and skin comfort by preventing the cabin from becoming overly dry.

G-BOOK compatible navigation system
The DVD voice navigation system (optional), when connected to communications equipment (mobile telephone or an optional communications module) allows hands-free communication functions, and is compatible with the G-BOOK information network service, which provides news and traffic information and allows the sending and receiving of e-mail. (The high-definition screen DVD navigation system is compatible with new Bluetooth wireless technology standards, meaning that selected Bluetooth-compatible cell phones slated to be marketed soon will eliminate the need for a hands-free kit.)

LAN (Local Area Network)
Expanded adoption of a system that achieves coordinated control by using a single communication wire to link the engine ECU, hybrid ECU, ECU for ECB and the many other control units, improves the accuracy of and achieves a reduction in weight by eliminating the use of a wire harness.

Other functions and features
In order to prevent vehicle theft, an optional engine immobilizer prevents the engine from starting except when the valid key with a registered ID code is used.

A JBL premium sound system (nine speakers), renowned for clear sound, is optional on the G Touring Selection.

All windows use UV-filtering glass that also reduces ultra-violet rays by 90% or more.

In addition, the windshield glass cuts infrared rays to reduce skin irritation from sunlight-caused heat and to help limit the heating up of such fixtures as the steering wheel.

The "Radio-wave Clock" automatically adjusts the time.

Safety
Preventive safety
The new vehicle movement control system S-VSC (G grade) achieves seamless integration and control of the VSC, EPS, ABS, ECB and motor TRC systems for excellent emergency avoidance performance in conjunction with the superior basic functions of the body and chassis.

Discharge headlights with an automatic leveling function and even higher luminosity are used to enhance visibility (S Touring Selection and G Touring Selection)

Collision safety
The advanced collision-safety body GOA construction has been further evolved by incorporating the concept of compatibility, which considers the fate of both vehicles in situations where passenger vehicles of differing weights collide, as a means of promoting crash safety for both cars in a collision with a vehicle of up to the 2-ton range. In omni-directional collision tests carried out using the Celsior (sedan) and Land Cruiser Prado (SUV) as the other vehicle to simulate the conditions of collision with a heavy vehicle (50% offset frontal collision test at 50km/h, side collision test at 50km/h, 50% offset rear-end collision test at 50km/h), Toyota's independent targets for survival space and test dummy injury were all met.

Other safety features include a pedestrian-injury-lessening body, dual-stage SRS airbags for both front seating positions and optional front seat SRS side airbags and SRS curtain shield airbags for both front and rear seats.

Advanced environmental features
The new Prius not only attains world-leading levels of fuel efficiency and qualifies as an ultra-low emission vehicle, but also achieves a world-leading level of environmental performance through the use of environmentally considerate recyclable materials.

World-leading levels of fuel efficiency and ultra-low emissions
World-leading levels of fuel efficiency at 35.5 km/liter (10-15 Japanese test cycle) have been achieved in all grades except the S grade S Touring Selection.

In terms of improved fuel efficiency, the next-generation hybrid system (THS II) significantly reduces loss during energy transmission for enhanced energy regeneration during deceleration and braking, further reduces friction and improves system efficiency, thus realizing optimal energy management for the entire car.

Excellent aerodynamic characteristics (Cd value 0.26) reduce driving resistance, contributing to improved fuel efficiency, particularly at high speeds.

Reduction in weight
The optimal design of the engine, chassis and other body parts, the compact size of the hybrid system, the use of aluminum in the hood, hatch door, other body parts, the steering knuckles and brake calipers, as well as the adoption of a resin fuel tank avoid an approximate 140kg weight increase that would have resulted from use of the old design, further contributing to fuel efficiency.

All models have achieved a 75% reduction in emissions from the 2000 standards under the Ministry of Land, Infrastructure and Transport's Approval System for Low-emission Vehicles. (All models qualify for incentives under the Japanese government's Green Taxation System and subsidies to offset the costs involved in introducing clean energy vehicles.)

Recycling
Use of recyclable resources and materials
Toyota Eco-Plastic, a new material made from lactic acid derived from plants is used for the floor mats (an option available from dealers).

Toyota Super Olefin Polymer (TSOP) thermoplastic materials with their excellent recyclability are used in exterior and interior parts including front and rear bumpers and door trim.

Recycled materials are used for the floor undercover, fender protector and other parts.

RSPP*, a highly functional soundproofing material made from the automobile shredder residue of end-of-life vehicles is used in the dashboard silencers.

*Recycled Sound Proofing Products

Design for Recycling
In order to increase the efficiency of the dismantling of major components, improved dismantling labeling is used and an easy to dismantle structure is adopted for body parts.

Reduction of substances of environmental concern
With use of lead eliminated in the radiator, heater core, wire harness coverings, fuel tanks and elsewhere, Toyota has met ahead of schedule the Japanese automotive industry's voluntary environmental target for January 2006 and thereafter of reducing overall lead usage in vehicles to one-tenth or less of 1996 levels.

Toyota has also developed and adopted a halogen-free wire harness that does not use PVC or bromide-based retardants in the cover (first of its kind, as of August 2003, according to Toyota data).

Materials that are relatively easier to recycle than polyvinyl chloride (PVC) are also widely used in parts such as the undercoat, thereby reducing overall PVC usage to one-tenth or less of conventional vehicles.

Reduction of environmental impact over the entire lifecycle
Life Cycle Assessment
Besides achieving targets in the use and disposal stage, emissions of CO2 and other atmospheric pollutants have been reduced over the entire life cycle of the new Prius, including in the development stage.

Welcab―Specially equipped vehicles with factory-installed features for the disabled

Welcab Rotating and Sliding Passenger's Seat model
Designed for elderly and disabled people, these models (Type A, Type B) come with a front passenger's seat that features both a rotating and sliding function. The seat rotates 70 degrees, slides about 70mm outside the vehicle and can also slide forward and back inside the vehicle. Type B has a motorized wheelchair storage device that makes it easy to load and unload a manual wheelchair to and from the rear cargo space.

Welcab Friendmatic Seat model
This model allows for the installation of a specialized driver's seat and devices that facilitate driving. It features as standard a special power steering system (installed by a specialty manufacturer) that reduces the required steering force by 50%, enabling persons without use of their legs to drive with only their hands.