Oct. 11, 2005
Toyota to Display Fuel Cell Hybrid and Personal Mobility
Concept Vehicles at Tokyo Motor Show
Tokyo ― TOYOTA MOTOR CORPORATION (TMC) announced today that it plans to exhibit seven Toyota-brand concept vehicles and 16 production vehicles, as well as display various technologies, at the 39th Tokyo Motor Show. Among the concept vehicles planned for display are the Fine-X, a new fuel cell hybrid vehicle, and the i-swing, a new personal mobility vehicle. The Tokyo Motor Show is open to the public from October 22 to November 6 at the International Convention Complex (Makuhari Messe) in Makuhari, Chiba.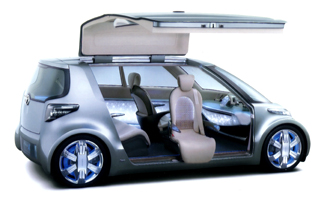 The Fine-X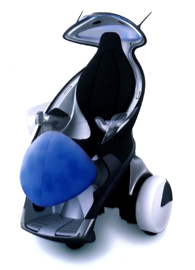 The i-swing
Toyota views the Tokyo Motor Show as an opportunity to highlight new, automotive possibilities. Over the years, Toyota has used this occasion to unveil a wide variety of concept vehicles and groundbreaking technologies.

This year, the Toyota exhibit retains the same theme as last year―"Ecology & Emotion"―featuring its initiatives for creating vehicles that pursue both environmental consideration and the essential emotional appeal of a car by being fun to drive and a pleasure to use.

Additionally, alongside the Fine-X and i-swing, Toyota will display the ESTIMA HYBRID CONCEPT, a next-generation hybrid minivan with improved performance, as well as other concept vehicles and technology exhibits. A complete list of the concept cars to be shown is as follows:

1. A new concept fuel cell hybrid vehicle: The Fine-X*
2. A new-generation hybrid minivan: The ESTIMA HYBRID CONCEPT
3. A new personal mobility vehicle: The i-swing
4. A new category Flexible Saloon Concept: The FSC
5. A music player in the shape of a car: The bB CONCEPT
6. A new small SUV: The RAV4 CONCEPT
7. F1 racing car: The TF105
* "Fine-X" is derived from "fuel cell innovation emotion experiment".
Outline of Toyota concept vehicles to be shown at the 39th Tokyo Motor Show
Vehicle name
Total length
(mm)
Total width
(mm)
Total height
(mm)
Seating
capacity
Fine-X
3,860
1,750
1,550
4
ESTIMA HYBRID CONCEPT
4,820
1,800
1,760
7
i-swing (Using two wheels/three wheels)
985/1,275
800
1,800/1,710
1
FSC
4,670
1,800
1,520
6
bB CONCEPT
3,915
1,690
1,620
5
RAV4 CONCEPT
4,335
1,855
1,720
5
TF105
4,530
1,800
950
1
I. Concept Vehicles
The Fine-X
A revolutionary, new concept and a glimpse of the automobile's future, providing the environmental performance of a fuel cell hybrid system and featuring an ease of movement through four-wheel independent drive control and a large, steering angle mechanism
| | | |
| --- | --- | --- |
| | ▪ | The revolutionary package is beautifully formed under a design philosophy of "Vibrant Clarity" and realizes an external size similar to that of the Toyota ist, with cabin space more in keeping with the Camry. |
| | ▪ | The vehicle aims for a sense of "hospitality" through variable lighting intensity in the interior and through power "Welcome Seats" that move in and out of the car as the gull-wing doors open widely to assist getting in and out of the vehicle. |
| | ▪ | Completely new operational performance, including on-the-spot rotation, and the ability to easily perform parking and U-turns, is afforded by the combination of four-wheel independent drive, four-wheel independent steering and a large-steering-angle steering mechanism with electric in-wheel motors housed in each of the four wheels. |
| | ▪ | In the area of environmental performance, a fuel cell hybrid system is employed as a matter of course. In addition, TMC is also pursuing a carbon-neutral system by using plant-based materials, which grow by absorbing the CO2 in the natural environment, for interior and exterior components. As a result, even if these components are incinerated upon disposal (thermal recycling), there will be no overall addition to the amount of CO2 in the environment. |
| | ▪ | The latest IT/ITS peripheral-monitoring technology makes driving easier. |
The ESTIMA HYBRID CONCEPT
A new generation of stylish minivan that combines the latest hybrid system, THS II, with electric 4WD to achieve both environmental and driving performance
| | | |
| --- | --- | --- |
| | ▪ | The refined exterior is designed to evoke the identity of the Estima Hybrid in a sophisticated one-motion form. |
| | ▪ | The interior feels clean and open. It is accented by a high-tech-looking central panel and is equipped with comfortable second-row seats with built-in footrests and power foldaway third-row seats that allow you to transform the space to your liking. Electrical appliances can be run on the provided 1,500-watt power supply system. |
| | ▪ | From the perspective of environmental performance, the ESTIMA HYBRID CONCEPT is equipped with the THS II, Toyota's latest, highly efficient hybrid system, and an exhaust heat recovery system in the pursuit of low CO2 and other emissions. |
| | ▪ | In addition to the quiet and smooth acceleration indicative of a hybrid vehicle, the ESTIMA HYBRID CONCEPT achieves increased driving pleasure through VDIM―a system that seamlessly supports the vehicle operations of running, turning and stopping for all conditions from normal through to extreme driving. The combination of VDIM with E-Four (electric four-wheel drive) provides even higher levels of drivability. |
The i-swing
A new personal mobility vehicle that allows drivers to express their individuality
| | | |
| --- | --- | --- |
| | ▪ | The single-person vehicle package boasts an individual design with a "wearable" feeling. Its low-resistance urethane body is covered in cloth to soften any impact while operating near people, and an LED illumination panel can be customized to display an image to suit your mood. |
| | ▪ | When traveling in a bustling street full of people, the i-swing can operate in a two-wheeled mode that takes up little space, so that it is possible to travel while keeping pace and talking with someone on foot. |
| | ▪ | When there is a need to move quickly, the i-swing can change to a three-wheeled mode, which is fun to travel in. In addition to the stick control, a pedal control can be used to provide a fresh cornering feeling, as you shift your body weight as if you were on skis. |
| | ▪ | The i-swing proposes the concept of using A.I. communication to enable it to grow, learning the habits and preferences of users by storing relevant data about them. |
The FSC
A new-category vehicle model that evolves and combines the elegance of a sedan and the utility of a minivan
| | | |
| --- | --- | --- |
| | ▪ | Under the design philosophy of "Vibrant Clarity", the FSC creates a new feeling of quality in a revolutionary form that is neither a sedan nor a minivan. |
| | ▪ | The interior accommodates four adults in comfort and is characterized by a power-adjustable rear space that can flexibly adapt to various needs. The cockpit's instrument panel has a flowing shape and the rest of the interior features illumination that creates a comfortable ambiance. The vehicle is fitted with an innovative, smart rear hatch and advanced touch-operated functions. |
The bB CONCEPT
A music player in the shape of a car that can function as a "local hang-out" for young people
| | | |
| --- | --- | --- |
| | ▪ | The exterior design has been given a "sensually edgy attitude", in order to appeal to today's youth. |
| | ▪ | The interior features a nightclub-like atmosphere, with sound from nine speakers using surround DSP (digital signal processing), and illumination that flashes in time with the music. |
The RAV4 CONCEPT
A new small SUV with even more highly refined performance and features
| | | |
| --- | --- | --- |
| | ▪ | The interior pursues functionality and spacious utility in detail through a dynamic SUV style under the theme of "Modern and Rugged". |
| | ▪ | In addition to a new platform and new suspension, the new RAV4 employs the recently developed "S-VSC* + Active Control 4WD Integrated Control". This combines control of the electric 4WD system (which controls the distribution of drive power between the front and rear wheels) with VSC, ABS and the electric power steering, to set a new standard for SUVs in terms of drivability. |
| | | * Steering-assisted Vehicle Stability Control |
The TF105
A F1 championship competition racing car, noted for its aerodynamic performance and highly reliable engine, now running in Toyota's fourth year of racing
| | | |
| --- | --- | --- |
| | ▪ | The goal in the fourth year of racing was to achieve a place on the podium. This was soon realized with a second-place finish at the 2005 Malaysian Grand Prix, and has since been followed by more championship points and further placing on the podium. |
II. Principal technological exhibits
Environment
Hybrid Synergy Drive
- Pursues environmental performance, such as fuel efficiency and low emissions, as well as smooth acceleration and low noise
Fuel cell hybrid technology
- Toyota's own fuel cell combined with hybrid technology raises efficiency even higher
- 70Mpa high-pressure hydrogen tank developed in-house
D-4S gasoline engine
- New fuel injection system combines direct injection into the cylinder with port injection to achieve both high environmental and powerful drive performance
Carbon-neutral materials
- Pursues environmental performance through development of plant-based materials for use in vehicle parts, which, when eventually disposed of, will not increase overall CO2 in the environment
Safety
VDIM with Integrated active steering control
- Carries out integrated control of VSC, ABS, TRC*1, EPS*2 and an active steering mechanism, and seamlessly controls vehicle movement from before the point at which the vehicle becomes unstable
Pre-crash Safety System
(Driver-monitoring function)
- Issues warnings and controls seatbelt and brakes depending on the status of the driver in situations where a collision is imminent, reducing collision damage
THUMS
Total Human Model for Safety
- Developed to improve safety technology by using a finite element method (FEM) model with a virtual human body to enable analysis of the effect on the human body from a collision
HELPNET
- Urgent notification service that requests dispatch of an emergency police or fire service vehicle in the case of an accident or sudden illness
*1 Traction Control
*2 Electric power steering
III. Production vehicles currently on the market
1. Crown Athlete
2. Mark X
3. Prius
4. Corolla Fielder
5. Porte Welcab
6. Ractis (Including Welcab)
7. ist
8. Vitz
9. Passo
10. Isis (Including Welcab)
11. Wish
12. Alphard G
13. Noah
14. Voxy (Including Welcab)
15. Harrier Hybrid
16. Kluger Hybrid