Jan. 01, 2006
New Year's Greetings from Toyota President Watanabe
First of all, allow me to wish everyone a Happy New Year.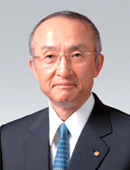 Toyota President
Katsuaki Watanabe


Entering a new year, I would like to describe some of the measures we are planning for 2006.

There can be no doubt that global competition in the automobile industry will continue to intensify. We will also be under increasing pressure to make a higher-level response to issues such as preservation of the global environment, energy and traffic safety. Therefore, as in 2005, we have defined the new year as a year for solidifying our business foundations while continuing our growth, and we will take action with an emphasis on reinforcing strategic measures geared toward growth and reinforcing the foundations of that growth.

Our efforts to reinforce strategic measures geared toward growth comprise two themes: technology development and localization.

First, with respect to technology development, we intend to implement R&D, product design and production engineering development that surpasses those of our competitors from a perspective that focuses on the environment, safety, quality and cost ― without sacrificing our aggressive stance. For some time, we have made environmental responses a top management priority and exerted full-scale efforts in this area. Last year, we launched SUVs equipped with a second-generation hybrid system, which enhanced our hybrid lineup. Thanks to acceptance by our customers around the world, cumulative hybrid vehicle sales surpassed 500,000 units in October. This spring, we will add a new hybrid vehicle to the Lexus GS series. By making hybrid systems a key technology of the Lexus brand, we are setting Lexus apart from other premium brands. This year's plan calls for production of approximately 400,000 hybrid vehicles, and we are continuing to develop hybrid technologies while lowering cost, aiming to achieve sales of 1 million units annually in the early part of the 2010s.

In the area of safety, this spring we plan to launch vehicles equipped with a new Pre-crash Safety System designed to take into consideration the state of the driver. In addition to developing even safer vehicles, Toyota intends to strengthen its initiatives in the future through activities designed to educate people on traffic safety and through our participation in the creation of a safe traffic environment.

Also, we are preparing for the launch in Japan of the Lexus flagship LS, solidifying the status of Lexus as a global luxury brand.

Next, I want to talk about localization. Production of the Tundra pickup truck will begin at our new plant in Texas in the United States. In addition, production of the Camry Hybrid ― North America's first locally produced hybrid vehicle ― will start in Kentucky, and production of the Camry will start in Guangzhou, China. As our overseas business expands in this way, we will promote further localization through human resources development from a global perspective and through enabling local affiliates to operate autonomously. As we promote localization, it is important that we identify and implement practices optimized for each region, taking into account local characteristics and circumstances. Contributing, through this approach, to the development of local economies and societies by increasing employment and nurturing and promoting industry, while earning recognition for Toyota as a local business and a member of the community, is essential for future growth.

From the perspective of reinforcing the foundations of growth, Toyota will take action along three lines. The first is a re-commitment to activities to enhance quality. We will reinforce our quality controls and create structures to ensure the highest quality. It is essential for each one of us to keep foremost in mind that "quality should be built into the process" and to thoroughly follow a framework for accomplishing such. The second is raising our cost competitiveness. In addition to strongly promoting our current activities, we will, at the same time, undertake technology development and cost-cutting based on completely new concepts and approaches to develop low-cost products that excel in both performance and quality. The third is the reinforcement of our core competences. Consequently, we will develop production and supply systems that can respond flexibly, on a global scale, to the needs of the marketplace. At the same time, we have to develop human resources ― this is more important than anything. We will also use the principle of genchi genbutsu, or "going to the source" to evaluate our strengths and weaknesses, identifying problems and bringing them to the foreground. This will help us drastically change anything that needs to be changed and maintain what should be maintained. And we will try our best to create a favorable climate in which we allow the revolutionary thinking of our employees, along with our teamwork, to prosper.

As I have stated in the past, as the presence of automobiles increases and societal demands intensify, Toyota's very reason for existing is coming into question. Consequently, I hope to honestly, steadfastly and earnestly move ahead, taking another leap forward so that Toyota's continued existence and its business activities help lead to happiness for people all over the world.

Finally, I would like to take this opportunity today to once again call on your support and guidance in the future.

Thank you very much.