Oct. 21, 2009
Lexus Debuts LFA
Only 500 to Be Sold
Tokyo, October 21, 2009 ― Lexus announces today the official launch of the LFA, a two-seat supercar scheduled to go into production at the end of 2010 as the pinnacle of the Lexus "F" premium sports car series. Pre-sales start today.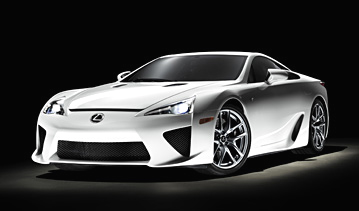 LFA
Ultra-responsive and extremely stable even when taken to the edge, the LFA creates a sense of reassurance that opens up a new world of driving emotion, exhilarating the senses to move the driver in more ways than one.

The LFA combines high output, superb chassis design and meticulous aerodynamics to achieve instantaneous total-vehicle response characterized by high-rev, seamless acceleration echoed by a self-defining resonance from its 4.8-liter V10.

Only 500 units of the LFA are to be produced and sold worldwide.

A prototype of the LFA is now on display at the 41st Tokyo Motor Show, which is open to the general public from October 24 to November 4 at Makuhari Messe in Makuhari, Chiba Prefecture.

More information can be found at http://www.Lexus-LFA.com.
LFA Main Specifications* (European-market version)
Length/width/height
4,505/1,895/1,220 mm
Wheelbase
2,605 mm
Track (front/rear)
1,580/1,570 mm
Vehicle weight
1,480 kg
Seating
2
Engine
Model/displacement
1LR-GUE/4,805 cc
Type
V10 gasoline engine DOHC
Maximum output
412kW (560PS)/8,700rpm
Maximum torque
480N-m (48.9kgf-m)/6,800rpm
Transmission
Six-speed ASG (Automated Sequential Gearbox)
Powertrain
Front engine, rear-wheel drive
Suspension (front/rear)
Double wishbone/Multilink
Brakes (front/rear)
CCM (Carbon Ceramic Material) discs/CCM discs
Tires
Front
265/35ZR20 (95Y)
Rear
305/30ZR20 (99Y)
Maximum speed
325km/h
Acceleration 0-100km/h
3.7 sec.
*According to Lexus measurements and targets
Sales outline (tentative)
| | |
| --- | --- |
| Number of units | 500 |
| Manufacturer's suggested retail price | Approx. 375,000 U.S. dollars (approx. 37.5 million yen in Japan) |
| Start of pre-sales | October 21, 2009 |
| Customer selection | Spring 2010 |
| Production/sales period | December 2010 to December 2012 |
| Additional models | Model with special color selection and model tuned to be more circuit-suited (production of both to begin at start of 2012) |



Vehicle Outline
1. Packaging brings out the most in fundamental performance
Strong and light
The newly developed 4.8-liter V10 engine boasts exceptional power, while lightweight materials (aluminum alloy, magnesium alloy and titanium alloy) and a very compact size (smaller than a conventional V8) allows for optimal weight distribution and an exceptional power-to-weight ratio.

Carbon fiber reinforced plastic (CFRP) cabin enhances high body-rigidity and reduces weight. This unique cabin is 100kg lighter than a comparable aluminum cabin. Detailed analysis and precise matching of CFRP materials allows for high rigidity and low weight. LFA CFRP production technology, including unique CFRP-to-metal joining, was completely developed by Lexus.

Balanced
Relatively higher weight components such as the engine and transmission are placed within the wheelbase. A low center of gravity is made possible by the use of dry sump lubrication1, along with placing peripheral components (oil pump, water pump) behind the engine. Furthermore, optimal placement of the transmission and the fuel tank in front of the rear axle adds to this application of centralized mass. This minimizes weight shift during cornering and contributes to outstanding performance and stability. Lighter weight components, like the radiator and electric fans, are placed behind the rear axle.

Combined with a front-engine and rear-wheel-drive configuration, the short, wide and low body allows the LFA to achieve its target front-to-rear weight distribution of 48:52.

Driver-centered
The driver's seat is positioned near the LFA's center of gravity. The centralized seating concept (with the seat between the front and rear axles and closer to the left–right center) is made possible by the use of a rear transaxle and vertically stacked torque tube and exhaust pipes reducing the width of the center tunnel. The driver placement is aimed to provide maximum car-to-driver feedback, especially under sport or high G-force driving conditions.


2. Emotive performance embodies an extraordinary driving experience
High–rev engine
Titanium valves, ultra–light weight rocker arms with a diamond–like coating and a fully integrated lower crankcase that reduces pumping losses at high RPMs combine to provide the driver with overwhelming acceleration right up to the 9,000rpm redline. The LFA's purpose-built V10 delivers 90% of its peak torque between 3,700rpm and 9,000rpm.

Precise Response
Independent, electronically controlled throttle bodies ensure precise air-feed to each of the 10 cylinders, enabling immediate engine response from the accelerator pedal. The engine response time is approximately half the normal response time of a single-throttle valve.

The six-speed ASG transmission features heavy-duty synchronizer rings and a newly developed gearshift actuator, providing the driver with a very direct shift feel. Four selectable driving modes and a seven-stage shift-speed selector that results in upshift speeds down to 0.2 seconds provide a higher level of driver control.

Track-sized high-performance (Carbon Ceramic) CCM brake discs and Electronically Controlled Braking system generate ultra-powerful yet stable braking.


Responsive handling and engaging dynamics
The very light and rigid CFRP cabin, combined with a front double-wishbone suspension and a rear multilink suspension, result in a very stable, controlled ride. Detailed aerodynamic engineering results in elements such as a flat underbody, a diffuser and a speed-controlled rear wing, which allows precise vehicle response at all vehicle speeds, thus creating unity between driver and machine.

Vehicle Dynamics Integrated Management integrates numerous vehicle dynamic functions that provide a high level of vehicle stability and preventative safety without interfering with the driver's intentions, especially when sport driving.

Exciting engine sound and L-finesse2 design
Equal-length exhaust manifolds combined with an equal-length dual exhaust system routed through a multistage titanium main muffler fine tunes the exhaust note.

An acoustically tuned surge tank linked to 10 individual throttle bodies creates a powerful induction sound. The coordination of intake and exhaust sounds overlap at various RPMs to create a unique, exciting and inspired soundtrack.

The exterior design includes carefully tuned aerodynamics and airflow management. The use of CFRP, in addition to strength and weight advantages, frees up the design of the exterior panels allowing a fresh supercar L-finesse design. The interior design combines state-of-the-art instrument-panel design and technology, along with a variety of custom-tailored interior trim packages to suit the most discerning driver.



1System that eliminates need for oil pan, resulting in engine with low center of gravity, high tolerance of lateral G forces and reduced friction; often used in such vehicles as racecars
2Combination of the "leading-edge" and "finesse" design concepts