Sep. 14, 2009
Toyota Launches Redesigned 'Land Cruiser Prado'
Tokyo ― TOYOTA MOTOR CORPORATION (TMC) announces the launch in Japan today of the redesigned "Land Cruiser Prado".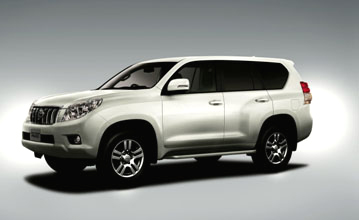 Land Cruiser Prado TZ-G
(with options)
The new Land Cruiser Prado, a mid-size, authentic four-wheel drive vehicle, continues the tradition of the Land Cruiser brand that is esteemed in more than 170 countries and regions around the world. The fourth generation maintains the outstanding drivability, reliability and basic functionality of the earlier generations―even under the harshest driving conditions―while improving on the on-road and off-road performance that is the Prado's claim to fame. Enhanced utility results in a vehicle that offers comfort and peace of mind―anytime and anywhere.

Specific improvements include a roomier cabin through increased space between the front and second-row seats, while enhancements to the time-tested full frame structure and higher body rigidity make the ride even more comfortable. In addition, the adoption of a Kinetic Dynamic Suspension System (KDSS) allows for driving stability at city and highway speeds, and a "crawl control" feature enhances rough-road compatibility. Other off-road driver-support features include a Multi-terrain Select switch to control drive power and braking in line with the off-road environment and the world's first1 Multi-terrain Monitor, which displays the road conditions around the vehicle taken by four onboard cameras.


Monthly sales target for Japan:1,000 units

Assembly Plant: Hamura Plant, Hino Motors, Ltd.
| | |
| --- | --- |
| Manufacturer's Suggested Retail Prices | (Prices in Hokkaido and Okinawa differ) |
Grade
Engine
Transmission
Powertrain
Seating
Price*1 (including consumption tax)
TX
2TR-FE
(2.7 liter)
ECT-E*2
Four-wheel drive
5
3,150,000 yen
TX
7
3,300,000 yen
"L package"
3,740,000 yen
TX
1GR-FE
(4.0 liter)
5 Super ECT*3
3,700,000 yen
TZ
4,100,000 yen
TZ-G
4,750,000 yen
*1Recycling fees not included; *2Four-speed automatic transmission with electronically controlled flex lock-up;
*3Super intelligent, Electronically controlled, Five-speed Automatic Transmission
Vehicle Outline
Design evokes strength and refinement
The basic concept for the new Land Cruiser Prado, based on TMC's "vibrant clarity" design philosophy, is a vehicle with a modern and powerful form suited to both urban and off-road situations. The designers aimed to create an exterior with the active feel expected of a four-wheel-drive vehicle and an interior that is refined and roomy.
Front view shows wide stance with emphasized low center of gravity, enabling stability
Front and rear fenders are integrated into body-panel structure, expressing vigor and creating side view with beautifully flowing line
Rear view conveys strength, with hatch door that accents rear form, while combination taillights and wipers that fold into rear spoiler convey functionality and stylishness
Combination of horizontal instrument panel and metal-plated, vertically arranged center instrument cluster with function-prioritized switch placement conveys refined strength
Optitron meters, formed from two cylindrical metallic-toned rings, create high-tech feel and provide excellent visibility; multi-information display placed in center of instrument cluster (between gauges) displays fuel efficiency, possible cruising distance, and other information
10 body colors are available, including newly-developed Dark Steel Mica


A wide-view front and side monitoring system eliminates the blind spot immediately in front and to the side of the vehicle, removing need for an auxiliary mirror on the passenger side front fender, thus creating a more streamlined design.
Comfortable interior, superb maneuverability and functional equipment
The second-row seats, which fold in a 4:2:4 split, offer enhanced utility with a 135-mm slide function and, on the left side, walk-in accessibility for facilitating easy ingress and egress for the third-row seats.
The third-row seats, which fold in a 5:5 split, have, as a world first, a power flush-with-floor function that automatically moves the seat cushion backward and folds the seatback forward for floor-flat storage. Both storing the seats and returning them to their upright position can be done at the touch of a button. In addition, the floor has been lowered by approximately 50mm to increase legroom for third-row-seat passengers and enhance convenience and comfort.
New variable flow control power steering―standard on all models―ensures excellent maneuverability at low speeds and highly responsive steering at high speeds.
Cup holders at the front of the center console and a center console tray for stowing portable audio devices and mobile phones increases convenience.
The rear door and luggage space achieve a high level of utility.
Glass hatch allows stowage and removal of cargo without opening rear door
Oil damper stay allows hatch-type door to be opened to any position
Luggage utility rails, convenient for securing cargo, added


The Prado Super-Live Sound System, based on a "
dotou
"
2
development theme, features a 465-watt amplifier and 14 speakers optimally placed throughout the cabin to create an acoustical space with impressive bass tones, clear high tones and breadth and depth comparable with 5.1-channel surround sound.
Auxiliary and USB connectors allow music on portable audio devices and USB memory devices to be played through onboard speakers.
New equipment that enhances comfort and security
Smart Entry & Start System allows front doors and hatch door to be locked and unlocked with only light touch on door handle; system also features push-button for starting and stopping engine
Larger side step, combined with side-step lighting that helps guide passengers into vehicle by illuminating entrance and ground near it at moment vehicle is unlocked, produces easier ingress and egress; during cruising, light from center console area creates relaxing atmosphere
Power tilt-function and telescopic steering wheel enables easy and optimum positioning
Heated front seats effectively warm shoulders, lower back, and legs; step-less dial allows preferred temperature setting


The fully automatic, independent temperature controls for the driver and passenger side have a pollen-removal mode that also filters dust and other impurities from the air. Also, an air conditioning vent facing the second-row seats has been added to the center console.
Windshield wipers can gauge amount of water on windshield and then automatically operate at optimal level
Automated, antiglare rearview mirror reduces glare by lessening mirror's reflective property
Wide-view front and side monitors can simultaneously display view of ground in front and rear, plus forward and rearward side views.
Clearance sonar uses eight ultrasonic sensors to detect nearby obstacles and notifies driver with a buzzer and visual display
Radar Cruise Control system detects and monitors vehicle in front, maintaining fixed distance within preset speed-range


Solid basic functions and advanced technologies enhance driving performance
The platform retains the time-tested, full-frame structure that ensures solidity and durability with greater rigidity and strength, as well as enhanced torsional rigidity for the entire vehicle, thereby providing outstanding maneuvering and cruising stability both on-road and off-road, for a comfortable ride as well as increased collision safety.
Two gasoline engines, the 2.7-liter 2TR-FE the 4.0-liter 1GR-FE V6, are available.
1GR-FE includes dual VVT-i (Variable Valve Timing-intelligent), which optimally controls timing of intake and exhaust valves according to operating conditions, as well as roller rocker arms to increase output (up 20kW (27PS) and raise fuel efficiency (up 0.4km/l3)
1GR-FE is paired with 5 Super ECT Sequential Shiftmatic transmission, allowing driver to enjoy manual-transmission-like experience
1GR-FE runs on regular gasoline (previous version ran on premium)


The windshield, made of sound-absorbing glass to dampen wind noise, and the effective placement of sound-blocking materials throughout the vehicle body to reduce engine and road noise, result in an extremely quiet cabin.
The full-time four-wheel drive system (with a Torsen
®4
LSD transfer case)―now standard on all models―instantly determines the distribution of drive power to the front and rear wheels according to the cruising conditions and provides smooth starting, acceleration and cornering as well as outstanding vehicle stability.
The top-of-the-line TZ-G model features either the AVS (Adaptive Variable Suspension System) or the NAVI/AI-AVS (Navigation/Artificial Intelligence-Adaptive Variable Suspension System), both with a rear electronically controlled air suspension system, to provide a comfortable ride tailored to the vehicle's position and handling, as well as provide cruising stability in off-road conditions.
Both AVS or NAVI/AI-AVS systems allow driver to select from Comfort, Normal or Sport modes with one touch, while controlling suspension according to current conditions; system also maintains optimal vehicle position when cornering and optimally sets damping force during off-road cruising under low-range, four-wheel-drive mode; AVS is linked to the navigation system in vehicles equipped with HDD navigation; NAVI/AI-AVS system optimizes shock-absorber damping force to enhance maneuverability and cruising stability, based on cornering information received from navigation system
Rear electronically controlled air suspension automatically adjusts vehicle height according to cruising conditions; vehicle height (normal, high or low) can be set with switch


The new KDSS, equipped with an electrical accumulator, uses hydraulics to optimally control the front and rear stabilizers to suit driving conditions. It provides a high level of roll rigidity for excellent vehicle stability during on-road driving and allows a large suspension stroke for outstanding off-road performance on rough surfaces.
The "crawl control" feature, with a choice of five speed settings, automatically controls engine output and brake application to maintain a very low speed on surfaces that require delicate speed adjustments, thus allowing the driver to focus fully on steering. The system minimizes wheel spin and wheel lock on such surfaces as rocks, sand and when ascending steep inclines, providing outstanding drivability and vehicle stability. The system is also affective for extricating the vehicle from mud or sand.
The steering-wheel-mounted Multi-terrain Select switch allows easy selection of the most appropriate mode to match the driving environment, with settings labeled "MUD & SAND", "LOOSE ROCK", "MOGUL" and "ROCK", and adjusts the traction control to optimize vehicle drive power and braking for enhanced off-road performance.
When in a multi-terrain environment, the world's first Multi-terrain Monitor displays images from onboard cameras located on four sides of the vehicle so the driver can see ground conditions in six areas around the vehicle: to the front, rear, and the front and rear left and right sides. In addition, the monitoring of the area in front is linked to the steering operation to display the distance from the front of the vehicle to a point along the projected tire path, thus providing additional support to the driver.
A wheel-position display in the instrument panel indicates the angle of the front wheels (in seven positions: center and three positions both to the right and the left) for quick confirmation in situations where steering wheel turn cannot be determined, such as when driving on steep slopes or when starting up after vehicle is parked with the wheels turned.
A newly adopted Multi-terrain ABS (Anti-lock Brake System) provides excellent braking performance through optimized control, even on dirt roads, loose rocks or sand.
DAC (Downhill Assist Control) maintains vehicle speed to ensure vehicle stability when descending slopes, while HAC (Hill-start Assist Control), by controlling brake fluid pressure as the driver switches from stepping on the brake to stepping on the accelerator, minimizes vehicle roll-back when the vehicle starts to ascend a steep incline or slippery surface.
Class-leading5 environmental and safety performance
Vehicles equipped with the 2.7-liter 2TR-FE gasoline engine achieve 8.8km/l in the Japanese Ministry of Land, Infrastructure, Transport and Tourism (MLIT) 10-15 test cycle, with CO
2
emissions of 264g/km; while vehicles with the 4.0-liter 1GR-FE V6 gasoline engine achieve 8.2km/l in the same test cycle, with CO
2
emissions of 283g/km. The 2.7-liter models have a fuel efficiency that exceeds by 10% the level stipulated in the Japanese 2010 standards
6
and the 4.0-liter models exceed the same by 5%. All vehicles in the series achieve emission levels at least 50% lower than the 2005 standards under the MLIT's Approval System for Low-emission Vehicles.
An Eco Driving Indicator that lights up to signify fuel-efficient vehicle operation and an Eco Zone Indicator that shows throttle use aim to raise driver awareness toward environmentally friendly driving and are standard on all models.
TMC employed its Eco-Vehicle Assessment System (Eco-VAS)―an original, comprehensive, environmental impact assessment system―to efficiently achieve overall reduction of environmental impact throughout the vehicle's lifecycle. Eco-VAS includes setting targets at the start of vehicle development to help reduce environmentally harmful factors by such means as the balanced reduction of CO
2
emissions.
Life-cycle assessment was carried out to achieve reduction in air contaminants and CO2 from vehicle throughout its lifecycle
Review of materials, processing methods and adhesives used for interior parts reduced volatile organic compounds and sometimes unpleasant interior odors to levels compliant with voluntary industry standards


The collision-safe Global Outstanding Assessment body incorporates the "omni-directional compatibility" concept by combining a collision absorbing body and an extremely strong passenger cabin.
The pedestrian-injury-lessening body structure―pursuing the world's top level of protection in its class―has been further improved to reduce the severity of pedestrian head injuries in the unfortunate event of a collision with a pedestrian.
Seven SRS (Supplemental Restraint System) airbags (including SRS side and curtain shield airbags), VSC (Vehicle Stability Control), TRC (Traction Control) and active headrests for the driver and front passenger seat come standard on all vehicles in the series.
A Pre-crash Safety System (millimeter-wave radar type) is also available for the first time.
1As of August 2009, as surveyed by TMC
2Japanese word for "high seas"
3In Japanese 10-15 test cycle
4Registered trademark of JTEKT Torsen North America Inc.; "Torsen LSD" stands for "torque sensing limited slip differential"
5Compared to four-wheel drive SUVs of similar engine displacement
6Specified by the Japanese Law Concerning the Rational Use of Energy