Jan. 15, 2010
TMC to Launch "G's" Sports Conversion Series
―Concept Car Debuts at Tokyo Auto Salon―
Tokyo―TOYOTA MOTOR CORPORATION (TMC) announces it plans to begin a gradual rollout in Japan in mid-2010 of its newly developed "G Sports"1 (G's) sports conversion car2 series. The series, to be sold through Toyota-brand dealers, is meant to offer to a wider range of people the "automotive seasoning" that TMC has pursued through its GAZOO Racing3 activities.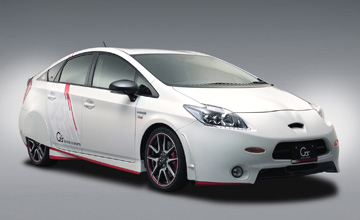 Tokyo Auto Salon 2010 Prius G Sports Concept
The G's series is designed for customers who strongly desire to own a unique vehicle, offering them a personalized interior and exterior design along with sports-driving performance. TMC has directly designed this sports conversion series, instead of the conventional approach of outsourcing development to a customization firm.

The base vehicle of the G's series is equipped with internal and external components that include sports suspension, aerodynamic parts and racing-style seats. A special focus has been placed on "driving seasoning" to make handling fun, through fine-tuning carried out by the GAZOO Racing test drivers who drove the Lexus "LF-A" in the 24 Hours Nürburgring race in Germany and developed the "iQ"-based "GAZOO Racing tuned by MN4" (GRMN).

TMC's aim is to bring that "driving seasoning" and the joy of automobiles to a wider range of customers by reducing production costs through partial inline customization5 and other measures.

TMC has been carrying out a diverse range of activities to broaden the joy and dreams that vehicles inspire, along with its ongoing efforts to use hybrid-vehicle and other technologies to address environmental issues.

In addition to the "FT-86 Concept" rear-wheel drive compact sports car and the Lexus "LFA" shown at the 2009 Tokyo Motor Show, plans call for TMC's sports model lineup to expand through the introduction of conversion models and sports-trim models of mass-produced vehicle series, such as the GRMN and G's series.

TMC intends to help foster a motorsports culture by also actively participating in grassroots motorsports events, Formula Nippon and SUPER GT in Japan, and NASCAR in the United States.

The models listed below (including GRMN and G's concept models) are being displayed at the "Tokyo Auto Salon 2010 with NAPAC6", one of the world's largest customized car shows, which is being held from January 15 to 17 at Makuhari Messe in Chiba Prefecture.
1The "G's" series name is based on the "G" associated with classic Toyota sports models like the Toyota 2000GT and the Celica GT-Four.
2A vehicle produced in limited numbers that comes with specialized features in terms of exterior and interior design and driving performance. In Japan, such modified vehicles must be inspected directly by license plate-issuing authorities (whereas conventional vehicles can be registered upon submission of required documentation only).
3A project of the GAZOO.com website that involves a team of test drivers (led by TMC's master test driver Hiromu Naruse) who participate in races, develop automobiles, and support motorsports activities.
4A limited-edition car developed in close conjunction with master test driver Hiromu Naruse; the 100 cars that went on sale in August of last year sold out within one week.
5An in-house production system premised on vehicle customization; it involves specialized parts (such as seats and suspension) being attached on the base-vehicle production line, prior to work performed at customization plants.
6Nippon Auto Parts Aftermarket Committee.
Cars Displayed at Toyota Booth of the Tokyo Auto Salon 2010
G Sports
FT-86 G Sports Concept
Reference vehicle
Noah G Sports Concept
Reference vehicle
Voxy G Sports Concept
Reference vehicle
Mark X G Sports Concept
Reference vehicle
Prius G Sports Concept
Reference vehicle
GAZOO Racing
GRMN SPORTS HYBRID Concept
Reference vehicle
GRMN FR Hot hatch Concept
Reference vehicle
GRMN iQ + Supercharger Concept
Reference vehicle
GAZOO Racing LEXUS LF-A
(2009 24 Hours Nürburgring entry)
Race vehicle
PETRONAS TOM'S SC430
(2008 SUPER GT entry)
Race vehicle
TLC Land Cruiser 200
(Dakar rally entry)
Race vehicle
Lexus
IS F Circuit Club Sports Concept
Reference vehicle
Modellista
Mark X "Vertiga"
Production vehicle
Sai Modellista Version (Solar Type)
Production vehicle
TRD
Corolla Axio "GT" TRD Turbo
Production vehicle
TOM'S
TOM'S Prius
Production vehicle
TMC customizing & accessories
PRIUS CUSTOM PLUS CONCEPT
Reference vehicle
Toyota Technical College Tokyo
TOYOTA SPORTS EV by Toyota Technical
College Tokyo
Reference vehicle
Other
Trueno AE86 D version
Reference vehicle