Nov. 14, 2013
Toyota Completes New Facilities in China,
Reaffirms Commitment to Localized R&D and Production
Changshu, China, November 14, 2013―Toyota Motor Corporation (TMC) held a ceremony today to celebrate the completion of a number of new R&D facilities at Toyota Motor Engineering & Manufacturing (China) Co., Ltd. (TMEC) in the Changshu New and Hi-Tech Industrial Development Zone1. The new facilities will play a key role in Toyota's ongoing efforts to localize production in China.

The completion ceremony was attended by special guests from the provincial and municipal governments as well as Japanese ambassador to China Masato Kitera and representatives from local joint venture partners China FAW Group Corporation and Guangzhou Automobile Group Co., Ltd. From TMC, executive vice presidents Mitsuhisa Kato and Yasumori Ihara, among others, attended.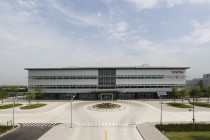 Main building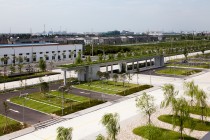 Green parking spaces and roof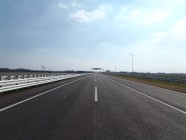 Test circuit
During the ceremony, Kato stated: "Our goal is to continue to exceed the expectations of Chinese consumers. This means listening to what they say and making no compromises in creating the best cars possible. I believe TMEC will play a vital role in this regard." TMC Senior Managing Officer and TMEC President Tadashi Yamashina followed: "This is just the beginning. We must now work to execute our goals of localizing production of environmental technologies and making cars that meet the needs of Chinese consumers."

This ceremony marks the completion of TMEC's core facilities, including a vehicle test course, technology testing facilities and the Energy Saving and New Energy Vehicle Technical Center2. As a development center for cutting-edge component technologies, TMEC will leverage its new infrastructure to popularize environmental technologies in China.

Through TMEC, Toyota has made steady progress in developing Chinese-made hybrid systems. At today's ceremony, Toyota also announced the establishment of a new battery production company and local production of key components, such as inverters and transaxles. Plans call for the introduction of locally-built hybrid systems in vehicles produced and sold through joint ventures around 2015.
Overview of Toyota Motor Engineering & Manufacturing (China) Co., Ltd. (TMEC)
Location

Changshu New and Hi-Tech Industrial Development Zone, Changshu, China

Representatives

Chairman: Mitsuhisa Kato (TMC executive vice president)

President: Tadashi Yamashina (TMC senior managing officer)

Capital

234 million U.S. dollars

Overhead
investment (planned)

689 million U.S. dollars (land, buildings, test course, test facilities, others.)

Equity participation

Toyota Motor Corporation: 100%

Site area

Approx. 2,340,000 square meters (including 69,000 square meters for buildings and 740,000 square meters for a test track)

Major facilities
(planned)

Test facilities, including chassis dynamometers, as well as test tracks (including tracks for high-speed, durability, and marketability testing).

Employees

Approx. 320 (As of November 1, 2013)

Establishment

November 17, 2010

Start of operations

April 2011
1Formerly known as the Changshu Southeast Economic Development Zone
2Facility for carrying out broad communication on environmental technologies with joint-venture partners, suppliers, other manufacturers, and other external stakeholders