Oct. 23, 2014
Calty: Automotive Creativity Spanning Five Decades
In January this year, Toyota
stole the limelight at the North American International Auto Show
by unveiling a brand new concept with a "five-alarm visual impact"; a car symbolizing "a new chapter for Toyota global design". The car was the FT-1, and the man unveiling it was Kevin Hunter, president of Calty Design Research.

Toyota's Calty Design Research, the first North American design center established by a Japanese automaker, is a bold experiment that began in October 1973 in El Segundo, California. The name "Calty" is a mash-up of the words California and Toyota.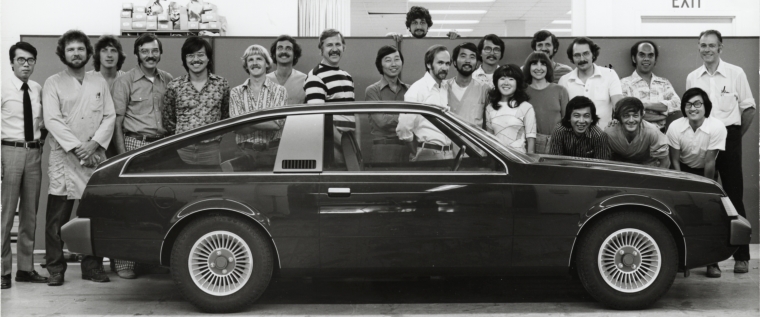 Calty's original goal was to establish a design and research "beachhead" in the key U.S. market. The small facility operated under a stealthy veil, and employees made sure that what they did in the intimate confines of the building remained a secret. "Given the security surrounding vehicle design, we kept it as a hush-hush operation. Some locals thought we were a small manufacturing facility, or even selling t-shirts. Early on, it was so low profile, we were not allowed business cards," said Doris Kusumoto, Calty's Financial Manager.
In 1978, Calty relocated to Newport Beach in Orange County, California. That same year marked the first time a Calty-influenced design, the iconic 1978 Toyota Celica Liftback, reached production (pictured with Calty team above; concept sketch below).

Today, Calty employs 65 people working in an 85,000 square foot design space, and an estimated 75% of the concepts emerging from Calty influence or become production vehicles down the road. Skills like sketching, clay modeling, CAD, milling, fabrication and painting bring concept models to life, and the Calty team works closely with planning groups to help develop production vehicle concepts.

On the heels of revealing its most impactful sports car design yet in the Toyota FT-1, the future looks very promising for Calty, which will continue to bring more emotional, more satisfying and engaging Toyota designs from the drawing board to market.
Here are some other designs that Calty has produced over the years. Some are easily recognizable as current Toyota or Lexus production vehicles.
Click here
to view a high resolution gallery including these and other pictures, or
click here
to view a gallery containing videos about Calty.