Nov. 20, 2014

Toyota to Launch Enhanced Parking Support Systems
Toyota City, Japan, November 20, 2014―Toyota Motor Corporation has enhanced its Intelligence Clearance Sonar (ICS) technology, which helps prevent or mitigate collisions when parking or setting off. In addition, a new viewing mode has been added to Toyota's Panoramic View Monitor, which helps drivers check their surroundings before setting off. Toyota plans to use these updated systems in models launched in 2015.
Intelligent Clearance Sonar
Toyota's current ICS function detects obstacles and helps prevent or mitigate collisions caused by rapid acceleration after pedal misapplication. The new ICS includes more sensors and can detect objects further away, contributing to an increase in scanning depth and breadth. In addition, the control logic has been improved to help prevent or mitigate collisions with adjacent vehicles or obstacles even when pedal misapplication is not the cause, such as during low-speed driving in parking lots or when pulling out of parking spaces.

Toyota's Intelligent Parking Assist system now uses ICS to help prevent or mitigate collisions through automated braking. In addition, a new multi-point turn support function automatically controls steering1 in tight parking spaces requiring repeated back and forth movements. Another partially-automated1 function assists departure from parallel parking spaces with little room in front of and behind the vehicle.
Panoramic View Monitor
The Panoramic View Monitor―which currently displays an overhead view of the vehicle on the navigation system screen―has been enhanced with a new See-through View. Pressing a button allows the driver to flip between Moving View, which displays video as if looking down on the vehicle, and See-through View, which gives a driver's-perspective view of the vehicle's surroundings as if the vehicle itself were transparent. Compared to Moving View, See-through View displays obstacles larger, making them easier to identify.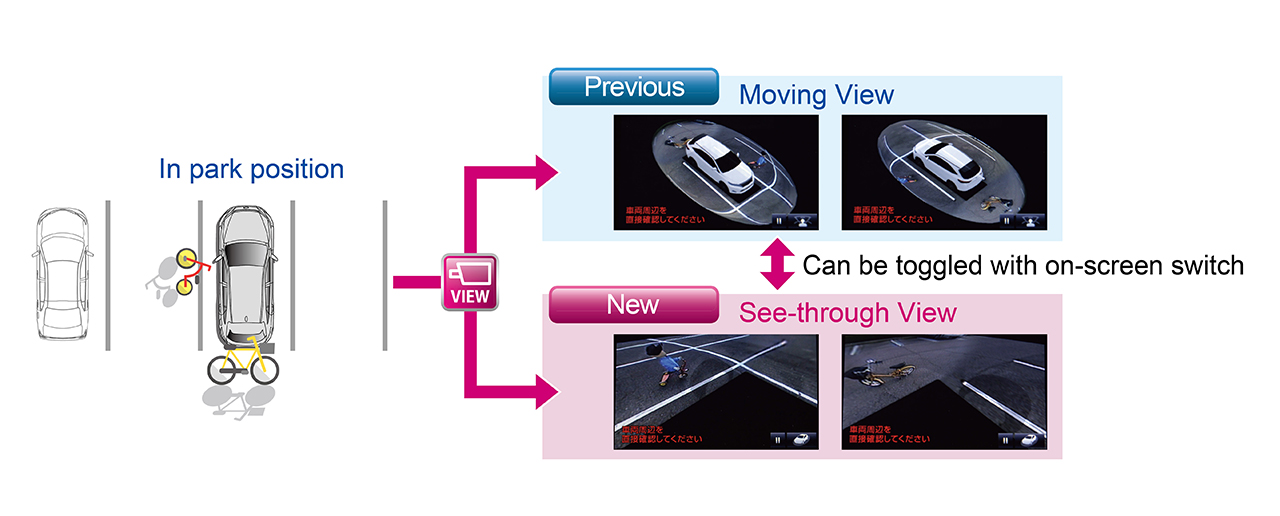 These improvements to Toyota's parking support systems are intended to enhance safety in parking lots, where approximately 30%2 of accidents resulting in property damage occur.
Toyota believes that the ultimate goal of a society that values mobility is to eliminate traffic fatalities and injuries. Toyota's Integrated Safety Management Concept sets the direction for safety technology development and vehicle development, and covers all aspects of driving by integrating individual vehicle safety technologies and systems rather than viewing them as independently functioning units. This approach is reflected in R&D focusing on safety devices and systems.
Toyota is firmly committed to a wide range of initiatives addressing traffic safety, ranging from the development of ever-safer vehicles and technologies to helping create a safe traffic environment and engaging in educational activities.
1
The driver controls the gear shift, brakes and accelerator.
2

Source

General Insurance Association of Japan (parking lot accident statistics for the Tohoku region of Japan).
Downloads (Videos)