Sep. 09, 2013
Toyota Launches New Compact in Indonesia
Fuel Efficient 'Agya' Caters to First-time Owners
Toyota City, Japan, September 9, 2013―Toyota Motor Corporation (TMC) announces that PT. Toyota Astra Motor (TAM), TMC's sales subsidiary in Indonesia, launched the "Agya"*, an affordable new compact car, in Indonesia today. The Agya was planned and developed by the Toyota Group company Daihatsu Motor Co., Ltd. (Daihatsu) and is produced by PT Astra Daihatsu Motor (ADM), Daihatsu's subsidiary in Indonesia.

Also today, Daihatsu's vehicle sales company in Indonesia, PT Astra International Tbk, launched the "Ayla", the Agya's Daihatsu-brand sibling.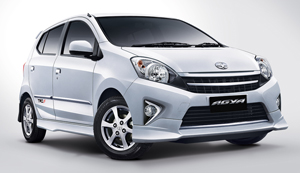 Toyota Agya
"We are very pleased to be able to launch the Agya today. We are confident that the Agya, a car designed specifically to meet the needs of Indonesian consumers, will be popular," TAM President Director Johnny Darmawan said at a press conference in Jakarta today.

The Agya and Ayla join other jointly-developed TMC-Daihatsu vehicles on the Indonesian market, such as the Toyota "Avanza" and the Daihatsu "Xenia". In launching the Agya and the Ayla, TMC and Daihatsu aim to develop a new market segment comprised of first-time family car owners.

The Agya and Ayla are the first vehicles to receive certification under the Indonesian government's Low Cost Green Car (LCGC) program. The program supports the widespread adoption of affordable and fuel-efficient cars, with certified vehicles eligible for reduced taxes.

The sales price for the Agya will range from 99 million rupiah to 120 million rupiah. The monthly sales target in 2013 is 5,000 units.

TMC will continue its efforts with group companies to support the development of Indonesia's automobile industry by marketing products that meet the needs of Indonesian consumers.
Agya Main Specifications
Driveline
Front-wheel drive
Engine
1KR 998 cc
Transmission
4AT/5MT
Seating
5
Dimensions
(E grade)
Length
3,600 mm
Width
1,600 mm
Height
1,520 mm
Weight
740 kg (E grade/MT)
*Name is derived from the Indonesian Sanskrit word meaning fast.