Feb. 13, 2014
Toyota to Begin Wireless Vehicle Charging System Verification Testing
Toyota City, Japan, February 13, 2014―Toyota Motor Corporation (TMC) announces that it will begin verification testing of its newly developed wireless battery charging system for vehicles with an electrified powertrain, such as plug-in hybrids and electric vehicles, in late February in Aichi Prefecture, Japan. The system can charge a vehicle parked in alignment over a coil on the surface of the ground, making the charging process simpler and more convenient.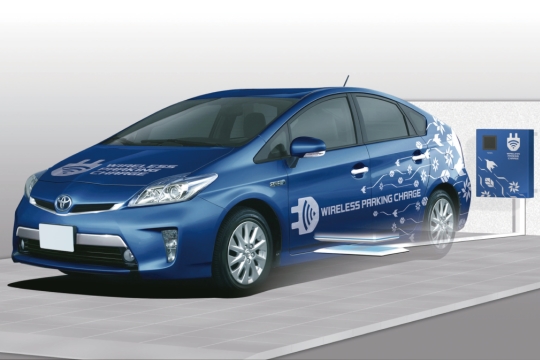 Visualization of wireless vehicle charging system

The charging system uses magnetic-resonance technology, which transmits electricity by utilizing the magnetic resonance resulting from changes in magnetic field intensity between a coil on the ground that transmits and a coil on the vehicle that receives. The system can reduce drops in power transmission efficiency that can be caused by misalignment or height differences between the transmitting coil and receiving coil. Created with future market launch in mind, the system is designed to minimize electromagnetic interference on nearby equipment and the ground-installed transmitting coil is robustly structured to withstand a vehicle driving over it.

Furthermore, to enable the driver to park in an optimum charging position, Toyota has developed a new parking assist function that shows the position of the transmitting coil in the parking space. The new function is coupled with Toyota's Intelligent Parking Assist* system.

The verification test will involve three plug-in hybrid vehicles in use in homes in Aichi Prefecture and is initially planned to last one year. The tests will assess user satisfaction, system ease-of-use, misalignment rates, and charging behavior, such as charging frequency and the use of timer-based charging.

The test results will be used to further develop the technology, with commercialization the ultimate aim. Toyota believes that commercialization will help promote the use of electrified vehicles and aid in making mobility that is smarter, easier to use and more environment-friendly.

Key Specifications of Wireless Battery Charging System

Charging method

Magnetic resonance

Frequency

85 kHz

Input voltage

AC 200 V

Charging power

2 kW

Charging time

Approx. 90 minutes
*Designed to enable smooth and accurate parallel and reverse parking