Dec. 09, 1981
TOYOTA EXPORTS ONE MILLIONTH LAND CRUISER
According to statistics compiled by Toyota Motor Sales Co., Ltd., aggregate exports of the Toyota Land Cruiser four-wheel-drive utility vehicle had passed the one million unit mark as of the end of November. The first Land Cruiser was exported in 1952.
The Land Cruiser export total stood at 991,033 units at the end of October, only 8,967 units from the coveted one million level. With an additional 9,133 Land Cruisers exported last month, the total was boosted to 1,000,166.
The Land Cruiser played a pathbreaking role in the early days of Toyota exports, enabling the automaker to capture a foothold in overseas markets. It has been a perennial Toyota top seller, whose superb performance and durability under even the most harsh driving conditions have earned it a solid reputation in the Middle East, Latin America, Africa and other regions with severe weather and climate conditions.
The Land Cruiser is the fifth Toyota vehicle to reach the million-unit export level. The others were the Corolla in 1973, the Corona in 1974, and the Celica and Hi-Lux in 1978.
The Land Cruiser's Rise to One Million Unit Exports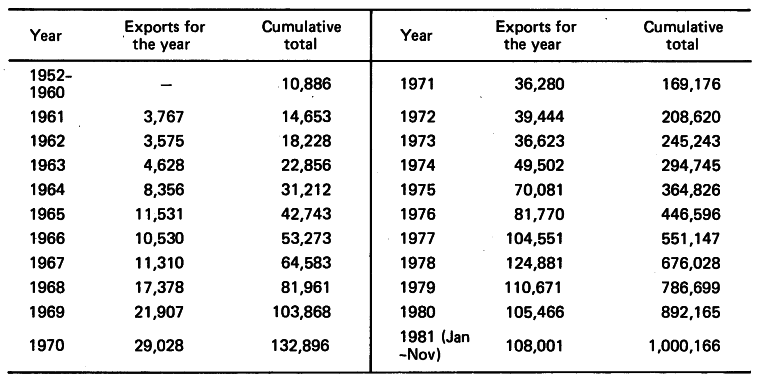 Land Cruiser Exports by Region January-October 1981