Jan. 26, 1982
TOYOTA CORONA UNDERGOES FULL MODEL CHANGE
Futuristic Styling, Outstanding Handling and Stability,
Newly Developed LASRE 1C Diesel Engine
Toyota Motor Co., Ltd. and Toyota Motor Sales Co., Ltd. have jointly announced a full model change in the popular Corona passenger car series (including sedan, hardtop and commercial-use station wagon models), to go on sale nationwide today.
First marketed in 1957, the Corona is a small-size car which epitomizes the excellence characteristic of Toyota automobiles. The Corona has played a leading role in the development of Japan's passenger car market, garnering a solid reputation both at home and overseas for top-flight performance and quality in a family car, and become one of the world's best selling automobiles, with over five million units manufactured.
Model Change Objectives
With this latest model change, the Corona now features even greater fuel efficiency, plus enhanced handling and stability and a whisper quiet ride. Thanks to these improvements the Corona has risen even higher in the ranks of top-class small-size passenger cars―and offers features with appeal for drivers in all walks of life―from family-oriented users to performance-minded younger drivers. Featured are innovative and futuristic styling, a wide selection of engines from the LASRE series―including the newly developed LASRE 1C diesel engine (1839cc 4-cylinder)―rack-and-pinion steering, an impressive array of automotive electronics, and other examples of Toyota's superior technology.
Cumulative production of the Corona from introduction through calendar 1981 totaled 5,027,560 units, including 4,208,231 passenger cars.
Main features of the new Toyota Corona are as follows

Styling

Modern, Dynamic Design and Spacious Interior

Low front nose and belt line, sharp sidelines and other touches to give the straight-line profile of the new Corona a fresh, dynamic look.

Specialty Car Hardtop Version

The new hardtop Corona is styled for the specialty car market, with an attractive wedge silhouette which enhances both appearance and aerodynamic excellence.

Greater Interior Space

The Corona is the epitome of roominess in a small car, with substantial increases in both cabin length and height. Lowering the belt line and the instrument panel height and adoption of semi-concealed wipers have enhanced visibility and given the interior a bright, open feeling.

NoteThe models described in this release are available only in Japan.

Engines

Newly Developed LASRE 1C Diesel―An Epoch-Making Small-Size Diesel Engine Rewriting the book on diesel engines, the LASRE 1C diesel combines Japan's first timing belt-operated direct-drive OHC, new small-size injection nozzles and other world-first and Japan-first technological advances to yield a fine blend of high performance, excellent fuel efficiency and low noise. Maximum power is 65ps/4,500 rpm, maximum torque 11.5 kg-m/3,000 rpm.
Other Oustanding Engines to Meet Every Demand

Other powerplants from the LASRE series include the LASRE 1S (1S-U type 1832 cc 4-cylinder) and the LASRE 3A-II (3A-U type 1452 cc 4-cylinder), developed to respond to the needs of a new automotive age. Other engines available include the high performance twin cam 18R-GEU type (1968 cc 4-cylinder EFI-equipped) 3T-EU type (1770 cc 4-cylinder EFI-equipped) and the 12T-J type (1588 cc 4-cylinder). In all, six different engines are mounted on the new Corona series, enabling the Corona to respond effectively to a wide variety of driving needs.

Driving Performance

Outstanding Improvements in Handling and Stability

Rack-and-pinion steering on all passenger car models other than taxis, 4-wheel independent suspension in sporty grade models, improved aerodynamics and other features greatly enhance the new Corona's cornering performance, straight-line driving at high speeds, cross-wind stability, quietness and overall ridability.

Broad Selection of New Features and Equipment

The new Corona is equipped with a wide variety of new features, both standard and optional depending on type and grade.

Back Sonar, a unique device which utilizes ultrasound waves to trigger a lamp and buzzer, alerting the driver to obstacles to the rear of the car. An epoch-making development, offered as maker-installed equipment for the very first time.

The world's first microcomputer-type preset auto-drive, allowing driving speed to be set in advance.

Dual-height driver's seat, featuring separate height adjustment of the front and rear portions of the seat.

The Navicom, designed to facilitate driving in unfamilar areas through constant display of direction and distance to destination.

Electronic display meters on the instrument panel, completely eliminating meters and gauges with needle-type indicators.

Audio system with woofers in its speaker system to provide a broad and exciting range of sound.

Eight-way sports seat, featuring eight types of adjustment to provide maximum comfort for drivers of all builds.

Three-level reclining rear seats.

Electric heater-equipped seats, featuring heaters in the seat cushion and back of the driver's and passenger's seats.

Twin trip meters handy for a wide variety of uses.

Left-to-right heater output adjustment for fine tuning of direction and volume of air flow.

Expanded Model Selection

Additions to the Corona series include the EX Saloon AD and GX-AD, both featuring advanced automotive electronic equipment, and the sporty GT and SX.

Also available is the "Friend-matic" Corona designed to be driven by individuals with handicaps in both legs, and the "Dual Accelerator Pedal" Corona, for drivers with right-leg handicaps. Both of these cars are available in sedan and hardtop versions.

Combinations of sedan, hardtop and station wagon body types with different engines, transmissions and model grades yield a total of 36 versions of the new Corona―21 sedans, nine hardtops and six station wagons.
Information on the new overall Corona fuel efficiency, model line and major specifications follows.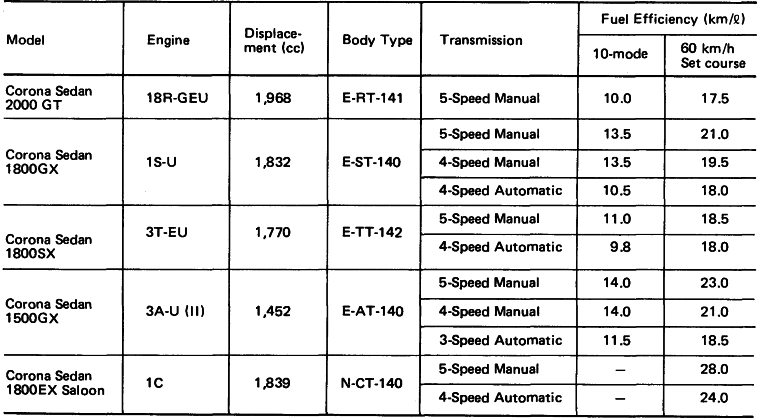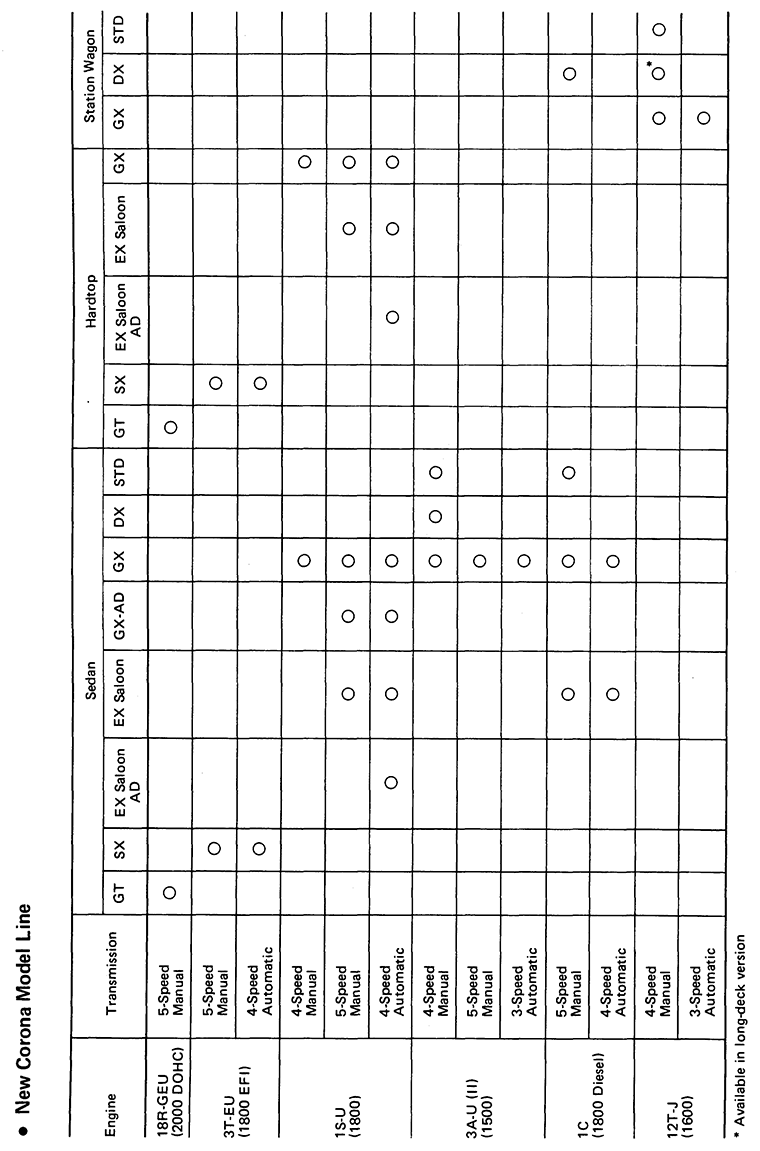 Corona SedanMajor Specifications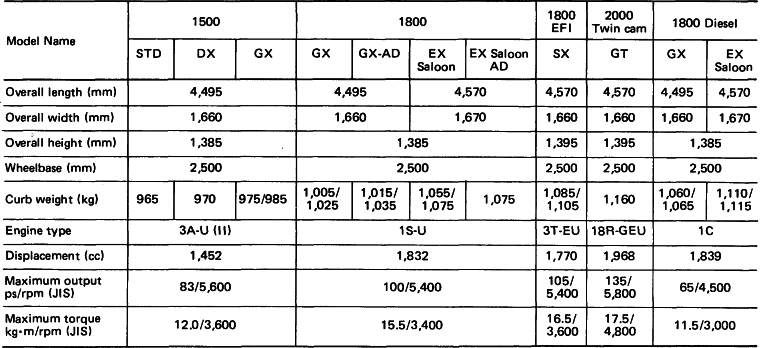 Corona HardtopMajor Specifications