May. 02, 1984
TOYOTA ADDS MULTI-PURPOSE 4WD "SURF" TO HI-LUX SERIES
TOYOTA MOTOR CORPORATION will launch nationwide its multi-purpose, 4WD "Surf," the newest addition to its Hi-Lux one-ton bonnet van lineup, on May 2nd.
The demand for 4WD vehicles has been increasing recently as more and more people are using them for leisure purposes. During the past few years, in particular, the demand for versatility and comfort, coupled with superior drivability and handling, has made 4WD vehicles more popular.
The 4WD Hi-Lux Surf, specifically developed to meet this demand, is based on a proven 4WD chassis design with top driving characteristics. The Surf also offers a roomy interior and plenty of luggage space for leisure and a multitude of other purposes.
Cleanly styled, the very contemporary-looking van features an FRP (Fiber Reinforced Plastics) top and rear quarter-windows. The interior is much like that of a passenger car, with tilt-steering and a carpeted floor.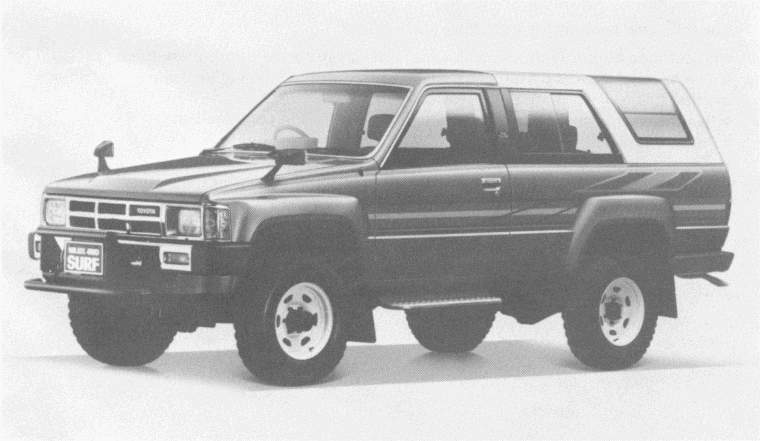 HI-LUX 4WD SURF
Main characteristics are as follows

External appearance, styling

The Surf is based on the traditionally strong styling of the Hi-Lux at the same time that it emphasizes a sporty, open image.

FRP top
Rear quarter-windows extending to the roof
Power-operated back-door windows
Clear, metallic body color
Side stripe (option)

Interior

The design offers great versatility in the use of interior space, while giving the comfortable feeling of a passenger car.

The spacious interior makes maximum use of the van body
Two-stage reclining rear seat allows space to be used for a variety of purposes
Power-operated back-door windows
Fabric upholstery and carpeted rear deck (option)

Engines, mechanisms and equipment

The following engines, mechanisms and equipment are available for all models.

High-power, low-fuel economy engines (3Y gasoline and 2L diesel)
Power operated back-door windows which can be opened and closed from inside or out
Walk-in passenger seat: Getting in and out of the back seat is easy thanks to the "one-touch" mechanism by which the front seat folds frontward and slides forward simultaneously
Tilt steering
The following features are also offered as options

Glass "moon" roof with sunshade for an even greater sense of openness inside
The back window is power-operated, and fitted with a "rise-up" rear wiper mechanism, the first time ever for both to be provided together.
Rear heater for the back seat area to improve comfort in cold weather
Power steering
Electric winch
Automatic locking hubs
Limited slip differential
Major SpecificationsHi-Lux 4WD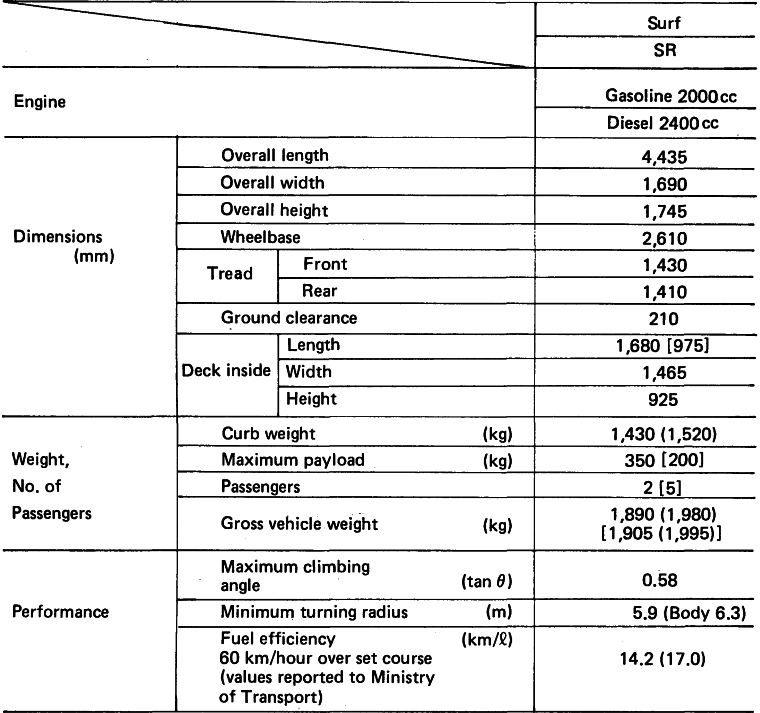 Note

Figures in ( ) are for 2400cc Diesel; those in [ ] for 5-speed models.