May. 06, 1982
TOYOTA COROLLA SERIES TOPS 5 MILLION
CUMULATIVE DOMESTIC SALES MARK
First Series to Reach That Mark in Japan
Toyota Motor Sales Co. has announced that as of the end of April 1982, cumulative domestic sales of the Corolla series (1300 cc - 1800 cc) topped the 5 million mark.
The Corolla's domestic sales had already reached 4,981,967 units (including 1,310,413 commercial-use station wagons) between its introduction in December 1966 and the end of March 1982. Early reports of April sales show that 26,910 units (including 7,006 commercial-use station wagons) were registered during the month, thus bringing the overall total to 5,008,877.
The Corolla is not only the first series in the Toyota line-up to surpass the 5 million mark in the Japanese market. It is the first of any series of cars to reach that mark. (Nissan's Sunny is in second place, with cumulative sales of 3,920,054 units as of the end of April.)
The Corolla made its debut in 1966, and ever since has been developed with the consistent aim of presenting a car with strong appeal to drivers around the world. It has more than lived up to this goal, earning a solid reputation both at home and abroad for superb quality, topflight economy and abundant model variations.
It should also be noted that the Corolla has been the best-selling car in Japan for thirteen straight years―from 1969 to 1981―and Toyota is working hard to make 1982 its fourteenth year as the Japanese auto industry's sales leader.
Yearly and Cumulative Sales of Corolla1966-1982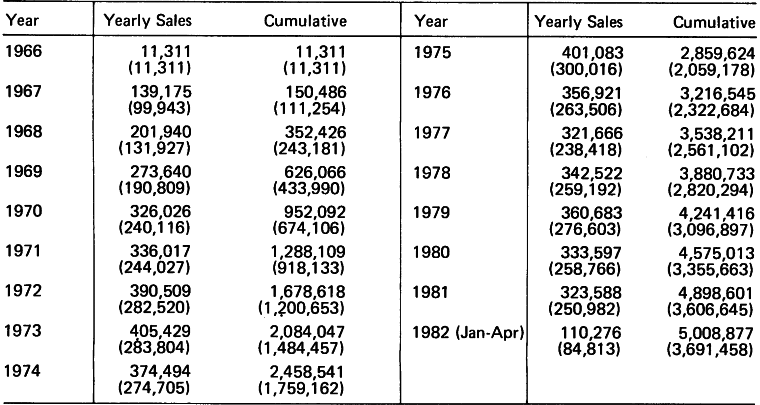 Note

Figures in parentheses are passenger cars.