May. 19, 1982
TOYOTA COMPLETELY REVAMPS FWD TERCEL AND CORSA,
LAUNCHES BRAND NEW COROLLA II
Trendsetting, Sporty Popular-Size FWD Car
Gets New Top Performance 3A-H Engine
TOKYO―Toyota Motor Co., Ltd. and Toyota Motor Sales Co., Ltd. today jointly announced full model changes to the popular-size FWD Tercel and Corsa. At the same time, the two firms introduced an all-new Corolla II.
Boasting an impressive assortment of Toyota's latest technological advances, the new Tercel, Corsa and Corolla II are designed to set new standards for the global FWD passenger car market. Particularly noteworthy among their many improvements are clean, sporty styling, roomy comfort, outstanding fuel efficiency combined with excellent power, and superb handling and ride.
Ever since the Tercel and Corsa made their debut in August 1978 as the first Toyota FWD cars, they have been winning praise both in Japan and overseas for their successful blend of economy, comfort and performance. Now, thanks to the model change, these features have been enhanced with innovative styling, an expanded range of equipment, and many other improvements designed to appeal to drivers single or married, male or female, young or old. They even come in new five-door versions.
The new Corolla II, meanwhile, responds perfectly to the rapidly growing demand in Japan for popular-size hatchbacks. It will be available at Corolla dealerships throughout the nation.
The major features of these new models include:
Clean, Sporty Styling and Roomy Comfort

Highlighted by sharp, beautifully designed hood and grille areas, the new models combine aerodynamic excellence, a bright and spacious cabin, low waistline, distinctive rectangular wheel arches and other outstanding features in a smooth, flowing style.
Each series has a powerful image of its own. To achieve this, Toyota designed individual front grilles, trunk and bumper areas, body colors, and other eye-pleasing touches. The result? An "intellectual, urban feeling" for the Tercel; "intimate elegance" for the Corsa; and an "active, sports-minded spirit" for the Corolla II.
Significant increases in interior length, width and height spell cabins with more space than any other in their class. New seats provide far more comfort and firm support, plus a greatly increased range of adjustments.

Note

The models described in this release are available only in Japan.

Silence was another key priority, with improvements in chassis and suspension, engine mounts and other parts providing a whisper-quiet cabin.

Topflight Fuel Efficiency and Performance

Three superbly engineered engines combine improved fuel economy with better response: the newly developed 3A-HU(II) (4-cylinder 1452 cc), the 2A-U(II) (4-cylinder 1295 cc) and the 3A-U(II) (4-cylinder 1452 cc).
(3A-H Engine)―With a V-type carburetor* the 3A-H is an epoch-making new development guaranteeing smooth, powerful pickup even at low engine speed, with ample high-speed performance to satisfy the demands of sports-minded drivers who want lots of get-up and go on expressways. Maximum power is 86 ps at 6,000 rpm and maximum torque 12.3 kg-m at 4,000 rpm.
To top these impressive performance features the 3A-H also excels in economy, yielding 14.6 km/l (as measured in Ministry of Transport 10-mode tests).

*Patents for and applications to use V-type carburetors now number over 130.

The 2A-II and 3A-II also incorporate sweeping carburetor improvements, featuring a new combustion ratio control system in addition to other advances that mean considerable fuel savings and great driving performance.
Measured by the Japanese government's 10-mode system, the 2A-II turned in figures of 18.0 km/l (MOT measurements for Tercel five-door VC, Corsa 5-door DX and Corolla II DX―all engines equipped with knock-control system). The 3A-II charted 16.2 km/l (in the manual transmission versions of the Tercel five-door VC, Corsa and Corolla II five-door DX and Corolla II three-door SE).
In addition to increased fuel economy, adoption of permanently lubricated front-wheel bearings and other measures answer the need for simplified, lower-cost maintenance.

Outstanding Handling, Stability and Ride

These new cars feature a sensational array of handling improvements, including wider track, improved rack-and pinion steering, strut-type four-wheel independent suspension, radial tires standard on all models, and others. The result is excellent high-speed roadholding, side wind stability and cornering―in short, one of the most satisfying, stable rides of any car in its class.
Furthermore, steering effort has been broadly reduced, and on certain models, the rack-and-pinion steering is power-assisted.

Impressive New Equipment and Features

In its ongoing pursuit of safer, more comfortable motoring, Toyota offers the following new features (standard or optional, depending on model)

Toyota's state-of-the-art electronic display, including digital speedometer, analog tachometer and other meters and gauges positioned for optimum visibility.
Deluxe eight-way sport seat, the first driver's seat in the 1300-1500 cc class offering eight different adjustment functions.
The first fully collapsible rear seat in this size class, which can be laid flat simply by pulling the cushion forward and folding down the seat back.
Synchronized front windshield washer, timed to squirt fluid intermittently to avoid hitting the wiper arms.
Automatic air-conditioning system, with computer control to keep the cabin temperature at the desired level; it features two-stage operation: regular and a special economy function to save energy.
Tiltable steering column, enabling the driver to move the wheel up and down to fit his build.
A new, larger sunroof, that features convenient switch-open, switch-closed electric control.
Reclining rear seat, with eight separate reclining stages to assure luxurious passenger comfort.
Toyota's new front console, with convenient quick-removal storage box.

Model Selection

The new Tercel, Corsa and Corolla II are all available in new five-door versions offering outstanding utility. Also offered are a sporty model aimed at young drivers and women (in all three series) and a model specifically for women (in the Corsa and Corolla II ranges). These and other versions provide a truly diverse selection of cars for all needs.
The new models are available in three body types: Tercel and Corsa come in five-and four-door versions, while Corolla II comes in five-and three-door versions. Counting all the different engine and transmission combinations, there is a total of 17 versions in each series.
Major specifications and model selections of the new series follow.
TercelMajor Specifications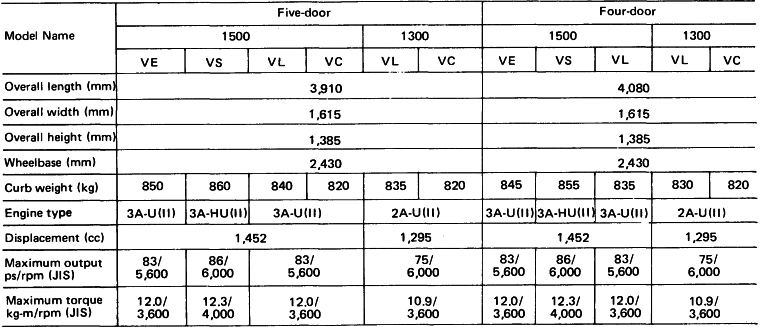 Curb weight is for manual transmission models.
CorsaMajor Specifications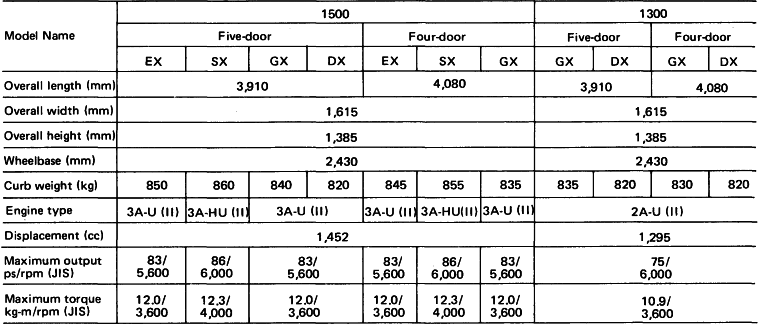 Curb weight is for manual transmission models.
Corolla IIMajor Specifications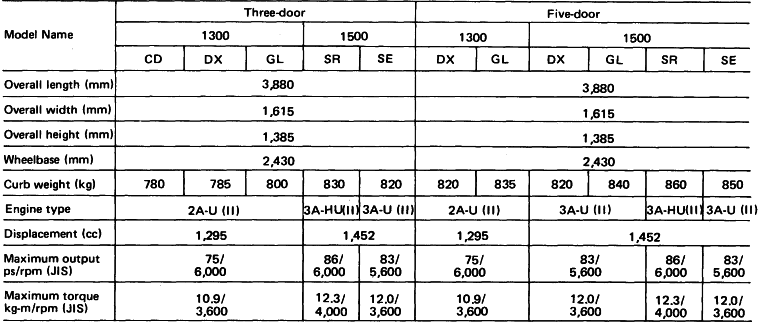 Curb weight is for manual transmission models.