Aug. 17, 1982
TOYOTA ANNOUNCES NEW CELICA XX
WITH HIGH PERFORMANCE TWIN CAM, 24-VALVE ENGINE
TOKYO―TOYOTA MOTOR CORPORATION today announced a new entry in the high-performance, grand-touring field with the introduction of its Celica XX 2000GT, powered by a 1G, twin cam, 24-valve engine. This new model will be available domestically from Aug. 17.
The Celica XX, which has drawn rave reviews internationally for its outstanding combination of styling, comfort and performance, will be the premier model in the popular Celica line. The most remarkable advance offered by this new GT car is its engine, which, with its sophisticated engineering, enhanced performance, low fuel consumption and improved durability, answers the needs of today's drivers.

CELICA XX 2000GT (E-GA61-BLMQF)
Other new superior performance features include

"pentroof" combustion chambers, for a higher compression ratio and more complete combustion;
the first factory-installed platinum plugs on any Japanese car, for better firing and increased durability;
totally integrated control of ignition, fuel injection, idling speed, T-VIS, and other major performance factors by the TCCS (Toyota Computer Controlled System), etc.
The engine is based on the proven design of the 1G, which is internationally recognized as one of the most reliable and best engineered six-cylinder engines ever developed. The new 1G Twin Cam incorporates numerous new design features for lighter weight and reduced overall size. These include the adoption of segmented cylinder head covers, modified valve angles, resin timing belt cover and intake air connector, and other components previously formed from heavier materials.
Low Fuel Consumption

As a result of advanced engineering, fuel consumption has actually been decreased while running performance greatly boosted. The Celica XX 2000GT's fuel consumption is 11 km/L (10-mode values), which is the best in the 2-liter 6-cylinder class.

Quiet Operation

The use of a new, high-durability timing belt, highly rigid aluminum die-cast cylinder head cover, dual-crankshaft dampers and other improvements result in extraordinarily quiet road performance.
Major specifications of the entire Celica XX series follow.
Note

The models described in this release are available only in Japan.
Celica XXMajor Specifications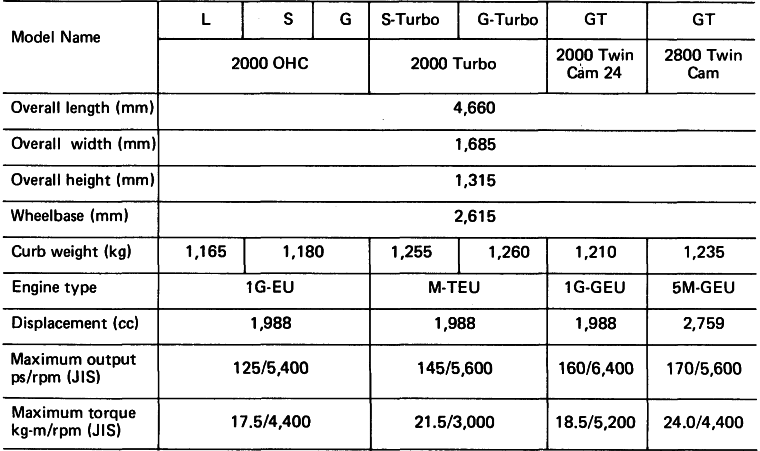 Note

Curb weight for S-Turbo and G-Turbo are 4-speed fully automatics with overdrive; others are 5-speed manuals.