May. 12, 1983
TOYOTA ANNOUNCES MODEL CHANGES IN COROLLA AND SPRINTER
Now the World's Most Advanced and Distinctive Cars
TOYOTA MOTOR CORPORATION today unveiled major model changes in the Corolla and Sprinter, the first since March 1979, and released the new models for sale nationwide.
The Corolla, introduced in 1966, has been a major contributor to the creation of the popular-size car market and the progress of motorization in Japan. Enormously popular abroad as well as at home, the Corolla has broken numerous records, among them being the first Japanese car to surpass the 10 million unit production mark (as of March 1, 1983).
COROLLA SEDAN 4 DOOR 1500SE SALOON
(E-AE81-EEHES)

SPRINTER SEDAN 4 DOOR 1500SE SALOON
(E-AE81-FEHES)
Note

The models described in this release are available only in Japan.
Sprinter, designed for drivers who like a sporty touch, was introduced in 1968. It, too, has been a popular success thanks to its winning combination of a unique automotive personality with top-flight economy.
In designing the new Corolla and Sprinter models, Toyota took as its goals creating the world's most advanced and distinctive family cars, and satisfying to the full the increasingly diverse needs of today's motorists. Sedans in both series offer enhanced interior luxury and economy resulting from a new, front-wheel-drive power system. Coupes combine rear-wheel drive with front-mounted engines for sportier feel and performance.
Special attention was paid to five key features

Advanced and original styling
Roomy interiors of a size ordinarily found only in larger size classes
High-performance, fuel-stingy engines
Total performance meeting or exceeding the highest world standards
Superior quality befitting the world's best selling cars
The new Corolla and Sprinter each come in four body types: spacious 4-door and 5-door front-wheel-drive sedans and exciting 2-door and 3-door rear-wheel-drive coupes. The coupes will be named the "Corolla Levin" and "Sprinter Trueno" in line with their sporty, specialty car image.
A rundown of major features is as follows
Unique and sophisticated styling
The new Corolla and Sprinter models combine smooth, integrated construction, relaxed, flowing curves and dynamic form into a totally new, advanced design concept.
Corolla models

The Corolla 4-door sedan has a clean, notchback silhouette that conveys an up-to-the-minute feeling. The Corolla Levin's automatic aerodynamic grille mechanism, a world first, adjusts the grille louvers in response to changes in coolant temperature, giving the front end two different but equally striking styles.
Sprinter models

The Sprinter 4-door sedan's bright "six-light cabin" adds a spacious outdoor feeling to an elegant interior. Sprinter Trueno models all come with retractable headlamps and sporty front-end styling with an appealing specialty car flavor.

In both the new Corolla and new Sprinter models, sleek body lines flow smoothly into fully integrated front and rear ends and combine with the striking front grille and door-mounted mirrors in a design of true distinction that displays superb aerodynamic characteristics (Cd = 0.35, on 3-door and 5-door models).
Aerodynamic grille
Grille louvers open and shut automatically according to coolant temperature. At normal engine temperatures, the grille louvers close to improve aerodynamic efficiency and provide faster heat-up during winter. When the temperature rises above a certain point, the louvers open to direct a steady flow of air to the radiator and over the engine.
Improved interior roominess
The FF sedan configuration provides extra interior roominess. Both headroom and legroom are comparable to luxury-class models.
On some 5-door models, in addition to front seats those in the rear can also be folded flat, providing an "all-flat seat" for added utility and convenience. This is another first in Japan's popular-size class market.
The lower and flatter floor makes driving more comfortable, in addition to providing more legroom for rear seat passengers.
Special vibration-absorbing body construction and use of a high-efficiency muffler has reduced interior noise level to a new low.
High-performance, fuel-efficient engines
The new Corollas and Sprinters are available with six different high-performance engines, all with improved fuel economy. Five of the engine options are entirely new designs.
FF model engines

Front-wheel-drive models are available with a choice of four newly developed engines.

The 4A-EFI-FF (4A-ELU type, 4-cylinder, 1587cc) engine features a new electronic-controlled fuel injection (EFI-D) system for more power and improved fuel consumption. The engine is linked with a new 4-speed automatic transmission with electronically controlled two-way overdrive (ECT-S), the first in its class to be so equipped. The result is superb response and fuel economy comparable to manual transmission drives.

The 3A-FF (3A-LU type, 4-cylinder, 1452cc) and the 2A-FF (2A-LU type, 4-cylinder, 1295cc) engines incorporate a number of significant new features, including the world's first helical swirl ports with SCV (swirl control valves). In addition to more output, the 3A-FF has recorded the best fuel economy in its class with a phenomenal 17.8km/liter in the 10-mode test (1500DX, MOT test results).

The 1C Diesel-FF (1C-L type, 4-cylinder, 1839cc) engine is a variation of the front-facing 1C diesel modified for transverse mounting. Operating noise and fuel efficiency have been improved.
FR model engines

The 4A Twin Cam 16 (4A-GEU type, 4-cylinder, DOHC, 1587cc) engine is equipped with four valves per cylinder and incorporates the Toyota Variable Induction System (T-VIS) and EFI-D for added power and response. Rated at 130hp (6600 rpm) and with 15.2kg-m torque (5200 rpm), this engine is one of the most powerful in its class ever developed. It also provides excellent fuel economy, recording 13.4km/liter in the 10-mode test (final reduction ratio of 4.100, MOT test value). In addition to its exciting performance and low operating costs, this engine is surprisingly simple to maintain.

The proven and popular 3A-II (3A-U type, 4-cylinder, 1452cc) engine has also been improved in various ways.
EFI-D

The "D" stands for "druck"―"pressure" in German―and refers to a special sensor installed in the intake system to determine pressure in the air intake pipe to allow variation of the fuel-injection rate. This system provides optimum performance and economy for all types of driving, while eliminating the need for an air flow meter. As a result, fuel injection is smoother and more efficient, installation is easier and overall weight is lower.

Helical swirl ports with SCV (Swirl Control Valve)

This innovative system uses a special valve to control flow through intake ports. At low speeds the swirl is more intense for greater fuel efficiency; at higher speeds and with heavier engine loads swirl becomes less to increase power.
Superb, top world-level performance
All FF models (4-door and 5-door), with their improved 4-wheel independent suspension, negative camber for better cornering, wider tread, rack-and-pinion steering, and superlative anti-vibration design offer pinpoint handling, added riding comfort and a quieter ride.
The coupes (2-door and 3-door) come standard with either the new 4A twin-cam 16-valve or 3A-U type 4-cylinder engine, improved suspension, ventilated front disc brakes, and bigger 60-series tires for true specialty car performance.
A history of quality
Top-flight quality and uncompromising reliability have always been the trademark of the Toyota Corolla and Sprinter, and every effort has been made in this latest model change to raise this stellar reputation to yet higher levels, and carry on their tradition as two of the world's best-selling passenger cars. These efforts include exhaustive tests to assure the highest standards of safety, durability and reliability, not to mention assembling the cars under the strict standards of Toyota's world-famous quality control system.
Approximately 500 patent-pending or utility model-pending improvements have been incorporated for the first time in these new models. Major specifications are given below.
Major SpecificationsCorolla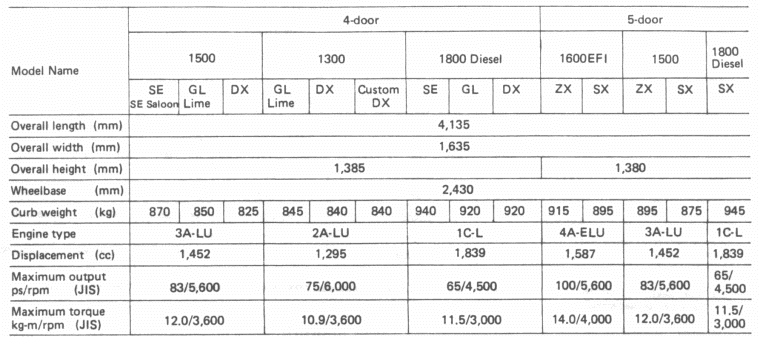 Note

Curb weight for 1500 (3A-LU) GL/Lime, 1500 (3A-LU) DX and 1300 (2A-LU) is for 4-speed manual floor shift model: others are 5-speed manuals.
Major SpecificationsCorolla Levin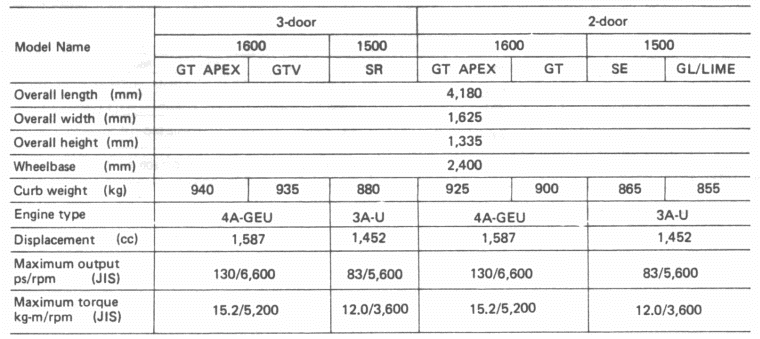 Note

Curb weight is for 5-speed manual floor shift model.
Major SpecificationsSprinter

Note

Curb weight for 1500 (3A-LU) XL / XL-Lissé / DX and 1300 (2A-LU) XL / XL-Lissé DX / Special DX is for 4-speed manual floor shieft model; others are 5-speed manuals.
Major SpecificationsSprinter Trueno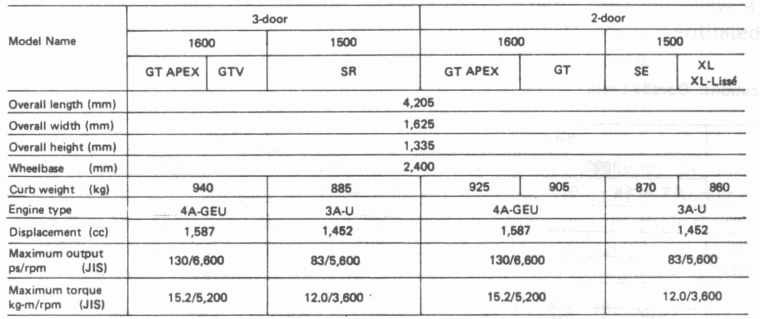 Note

Curb weight is for 5-speed manual floor shift model.