Jun. 08, 1984
TOYOTA ANNOUNCES NEW SPORTY-TYPE PERSONAL CAR,
THE TOYOTA MR2
Uses Japan's First Mid-Engine Configuration
TOYOTA MOTOR CORPORATION put on nationwide sale today the Toyota MR2, Japan's first two-seat, mid-engine, sporty, personal car. The designation MR2 stands for "Mid-Ship Runabout 2-Seater."
As the domestic auto market has matured, there has been increasing diversification in car use, along with a noticeable increase in the number of multiple-car owners and female drivers. More drivers are also demanding cars that are "Fun To Drive," with better overall performance, which is reflected by the industry trend toward personalized cars.
The Toyota MR2, developed specifically to satisfy these demands, is a radical departure from conventional designs with its mid-engine, two-seat configuration.
Different from front-wheel drive (FWD) and rear-wheel drive (RWD) cars, the engine in the MR2 drives the rear wheels from a position midway between the driver's seat and the rear axle of the car. This placement is considered ideal for sporty, two seaters.
This configuration distributes vehicle weight almost evenly between front and rear, reducing the yawing moment coefficient and giving the Toyota MR2 outstanding "running," "turning" and "stopping."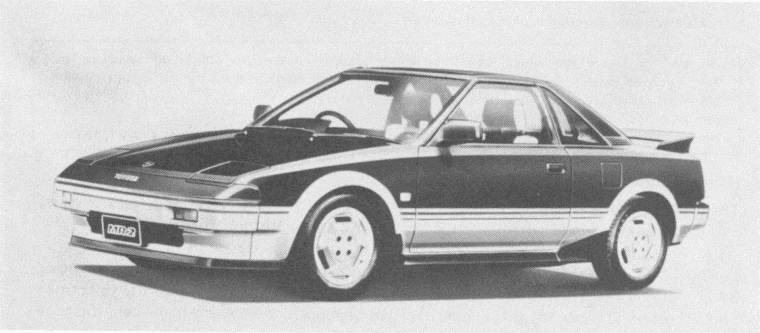 TOYOTA MR2 1600G-Limited
The mid-engine drive train in the Toyota MR2 has been almost perfectly balanced for even higher degrees of comfort, quietness and driveability and responds to varied uses as a sporty, personal car or as a second car that is "Fun To Drive".
Special attention was given to the following five points while developing the Toyota MR2.
Original styling

The highly original styling is totally contemporary and optimizes the inherent advantages of the mid-engine two-seat design.
The wide, low hood lines are accentuated by retractable headlights and a colored soft-fascia bumper that wraps around the front to provide a soft, simple look.
The rear, in contrast, features a vertically-cut rear window, sharp spoiler, and dual exhaust pipe to convey a strong, mechanical image.
Personalized, convenient interior

The low instrument panel provides expanded frontal vision, the driving position has been made as comfortable as possible, and getting in and out have been made easier. In these ways, the shortcomings previously associated with mid-engine cars have been largely resolved, and interior space has been made more personalized and convenient.
New 7-way-adjustable sports seats, practical door pockets molded into a single unit with the door trim, and newly designed meters and gauges further enhance the interior space.
Superior handling, running stability, and riding comfort

The car's wide tread, low center of gravity, and new suspension system contribute to outstanding handling, stability and ride.
MacPherson strut independent suspension system is used in front and a dual-link strut independent suspension system in the rear for realizing true sports-car handling and riding comfort at the same time. Rack-and-pinion steering helps to provide responsive pinpoint handling.

A special engine mounting decreases noise and vibration, and disc brakes on all four wheels assure safe stopping.

Special advantages of mid-engine configuration

Running

A heavy rear-wheel load (drive-wheel load) improves driveability and acceleration.

Turning

Well distributed weight and small yawing inertial moment gives the car an outstanding cornering capability.

Stopping

Well weight distribution improves braking.

Aerodynamics

The low, slanting hood and overall low height provide outstanding aerodynamics.
High performance and fuel economy

The Toyota MR2 has a choice of two engines, both carefully refined for transversal mid-car mounting while providing superior performance and fuel efficiency.

The 4A Twin Cam 16 (4A-GELU type) engine is a 4-cylinder twin cam 16-valve engine. By combining the T-VIS (Toyota Variable Induction System) and the EFI-D (Electronic Fuel Injection-D System), this engine achieves high performance and high fuel efficiency.

Besides a 5-speed manual gearbox, a 4-speed automatic transmission with electronically controlled 2-way overdrive (ECT-S) is available.

Fuel efficiency for the 5-speed manual shift version is 12.8 km/L in 10-mode tests (Ministry of Transport values) and 22.5 km/L over a set course at 60 km/h (values reported to MOT).

The 3A-II (3A-LU type) engine uses helical ports fitted with swirl control valves (SCV) for higher fuel efficiency and improved performance.

Both the 5-speed manual and 4-speed automatic transmission with 2-way overdrive are available with this engine.

Fuel efficiency for the 5-speed manual shift version is 15.0 km/L in 10-mode tests (MOT values) and 26.0 km/L over a set course at 60 km/h (values reported to MOT).
Attractive, new equipment

The following standard and optional equipment is available on various Toyota MR2 models

Detachable roof for improved ventilation or open-roof driving;
Front, rear and roof spoilers and side mud guards emphasize its sporting heritage and improve aerodynamics;
Three front speakers, one with a woofer, give the front "3-D" sound system a wider dynamic range;
A rear console holds cassette tapes or other small items; and
Newly designed 7-way-adjustable sports seats for added comfort.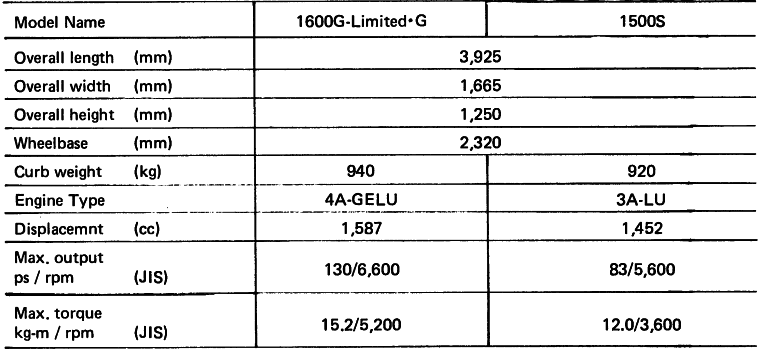 Note

Curb weight are 5-speed manual floor shift models.