Sep. 21, 1982
TOYOTA TO MARKET JAPAN'S FIRST TWIN-CAM TURBOCHARGED ENGINES IN CORONA, CARINA AND CELICA
New 3T Twin-Cam Turbo Powerplants
TOKYO―TOYOTA MOTOR CORPORATION today announced model additions to its small Corona, Carina and Celica passenger car lines, to be released for sale throughout Japan on October 1. Designated as the 1800GT-T and 1800GT-TR, they will be powered by Japan's first twin-cam turbocharged engine.
The all new 3T Twin-Cam Turbo engine (3T-GTEU type, 4-cylinder, 1770cc), is an advanced turbocharged powerplant offering outstanding acceleration and high-speed driving performance. It also has stellar fuel efficiency, and is extremely quiet.
Major features of these new models are described below.
Newly Developed 3T Twin-Cam Turbo

Based on the 4-cylinder 1770 cc 3T-EU, a powerplant renowned for its smooth, powerful acceleration, the 3T Twin-Cam Turbo has been outfitted with a high-performance twin-cam head for its intake and exhaust system. This, together with an in-house developed turbocharger, creates a sporty engine with much improved power (160 hp at 6,000 rpm) and torque (21.0 kg-m at 4,800 rpm)―both top-level figures for 1.8-liter class passenger cars.
The 3T Twin-Cam Turbo is equipped with the following new mechanisms, which yield topflight performance in all speed ranges.

Double-plug ignition system, with two spark plugs per cylinder, shortens combustion time and improves combustion efficiency. This system is further enhanced by use of a two-phase power distributor, with each plug supplied with electricity from its own coil for optimum spark advance at all times.
Knock-control system, providing better control of ignition timing according to different driving conditions.
thermostatic-valve cooler system designed specially for turbochargers, prevents overheating during continuous high-speed cruising and keeps the turbocharger operating under optimum conditions at all times.

These and other new features provide both a healthy boost in power and even better fuel efficiency. The 5-speed manual transmission model achieved 11.2 km/C under the 10-mode Ministry of Transport (MOT) tests.
Engine vibration and noise have also been lowered to rock-bottom levels through use of mass dampers on the front engine mounts.

Note

The models described in this release are available only in Japan.

Improved Suspension, Brakes, Tires and Drive Train

Four-wheel independent suspension was adopted in the new models, Macpherson-strut type in front and a semi-trailing arm type in the rear. Disc brakes are equipped on all four wheels, and, together with the suspension match the excellence of the new high-performance engine.
Tires are 185/70 SR 14 (standard on all models), while the high-performance 185/70 HR 14 version is available as an option.
Two different transmissions are available, both perfectly matched to the 3T Twin-Cam Trubo powerplant―5-speed manual and 4-speed automatic with overdrive.

Wide Variety of Model Selections

New Toyota Twin-Cam Turbo grades available include, in the Corona, hardtop and sedan in both the 1800 GT-T and 1800 GT-TR; in the Carina, sedans in both the 1800GT-T and 1800GT-TR and a 1800GT-T coupe; and in the Celica, a coupe and liftback in the 1800GT-T.
The Corona 1800GT-TR features also include power steering, one-touch power windows, 8-way adjustable sport seat and other additions befitting a luxury-grade model. The Carina 1800GT-TR sedan has aluminum wheels, 8-way sport seat and one-touch special features. The Corona 1800GT-T version, has high-performance tires, aluminum wheels, sport seat and other options in a special package called the "Sports 5."
Both grades are available with both the 5-speed manual and 4-speed automatic with overdrive, part of Toyota's ongoing quest to offer each driver a car closely fitted to his or her individual tastes.
Major specifications of the new Corona, Carina and Celica Twin-Cam Turbo's follow.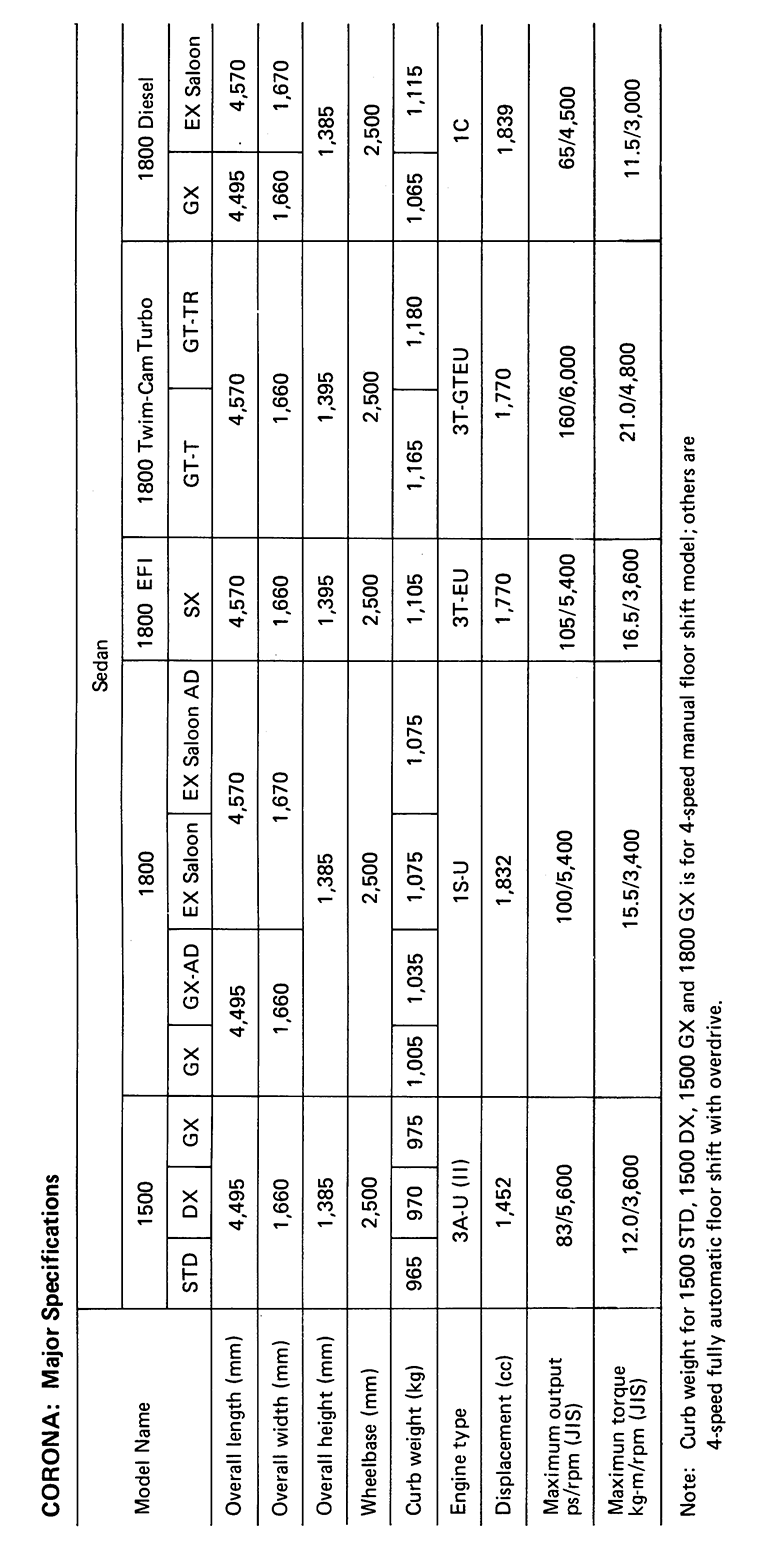 CORONAMajor Specifications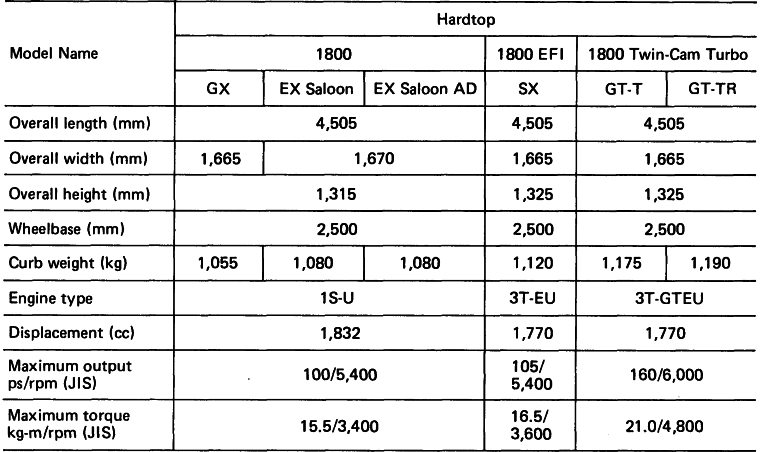 Note

Curb weight is for 3-speed fully automatic floor shift model.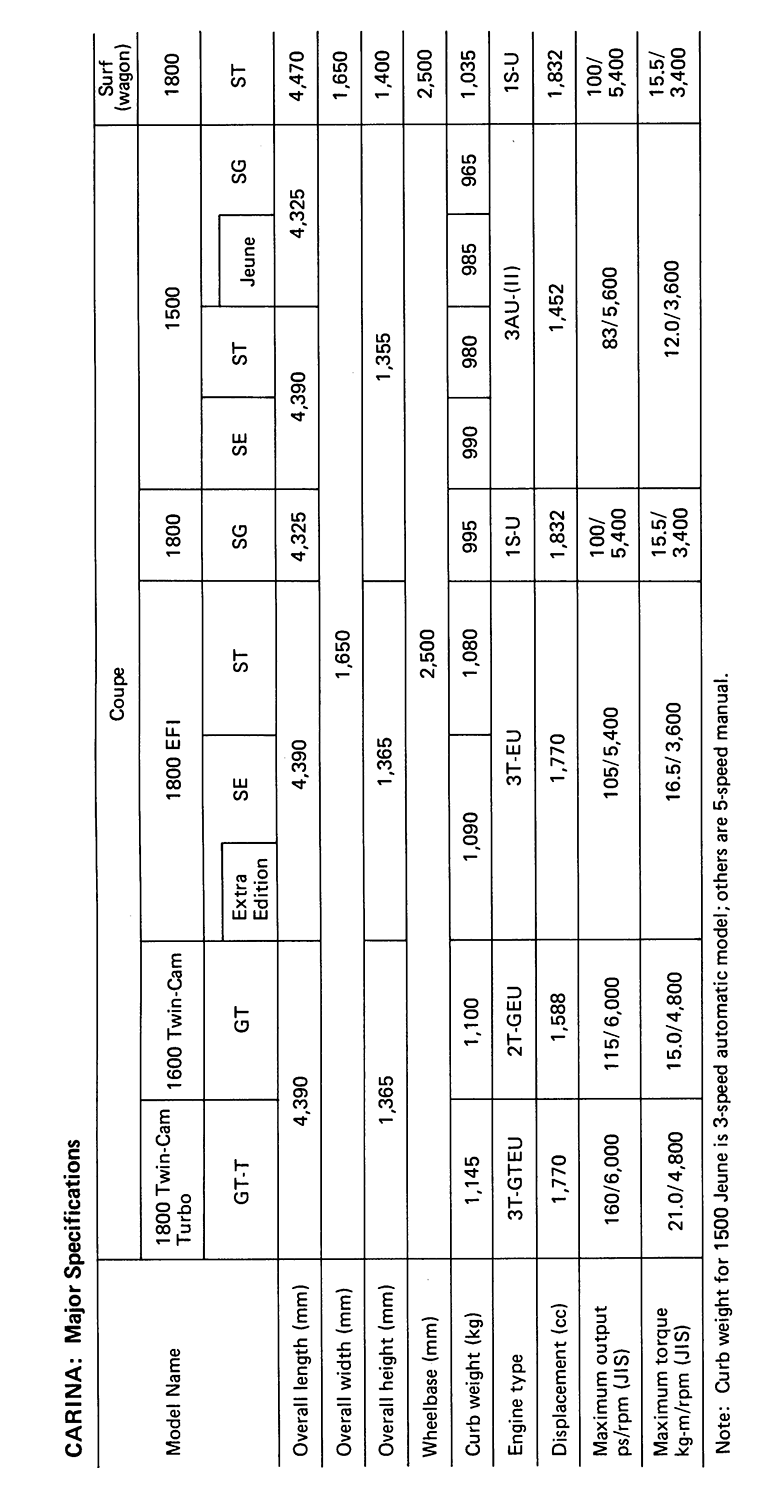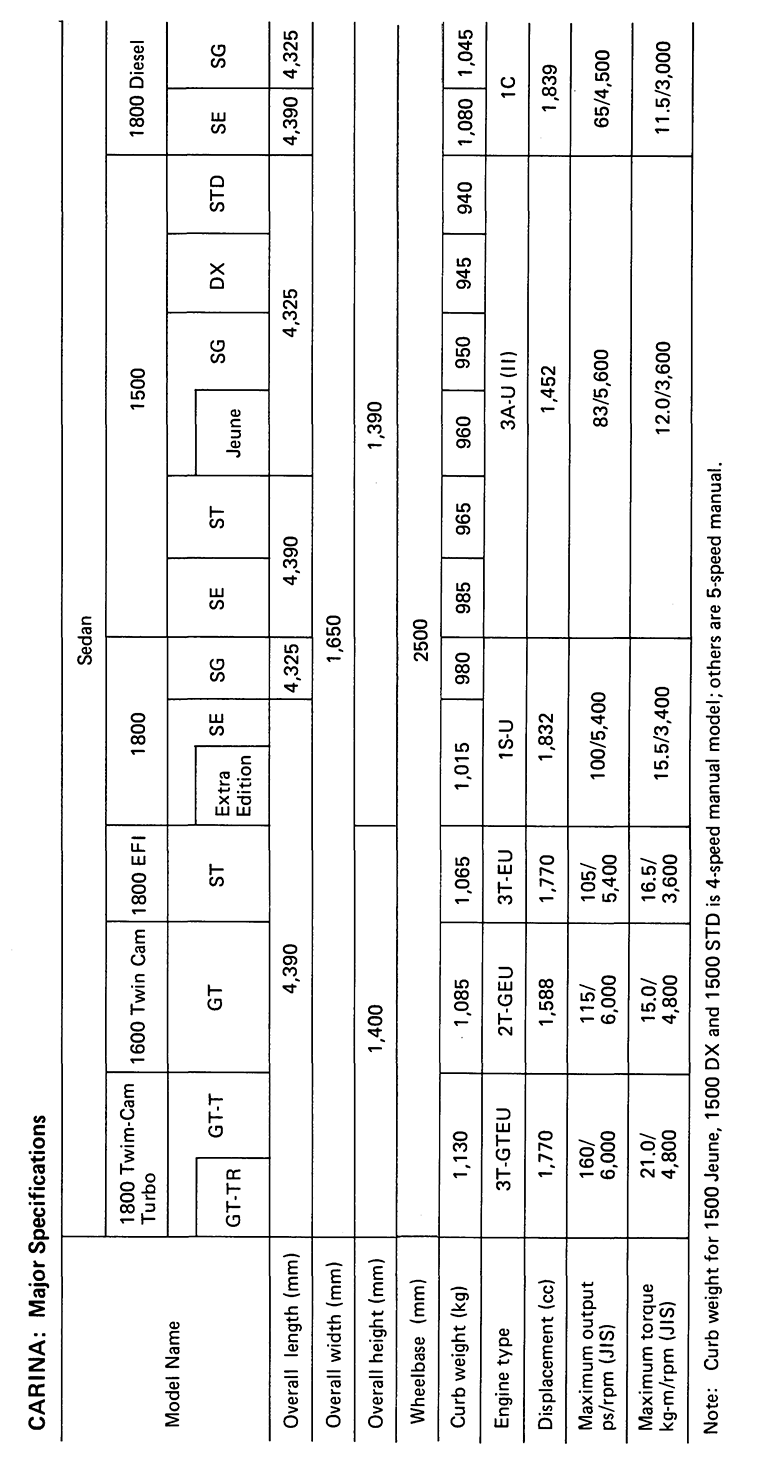 CELICAMajor Specifications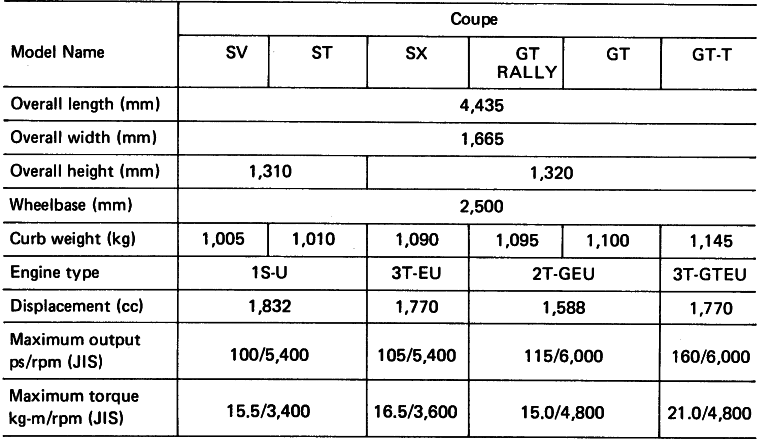 Note

Curb weight for SV is 4-speed manual model; others are 5-speed manual.
CELICAMajor Specifications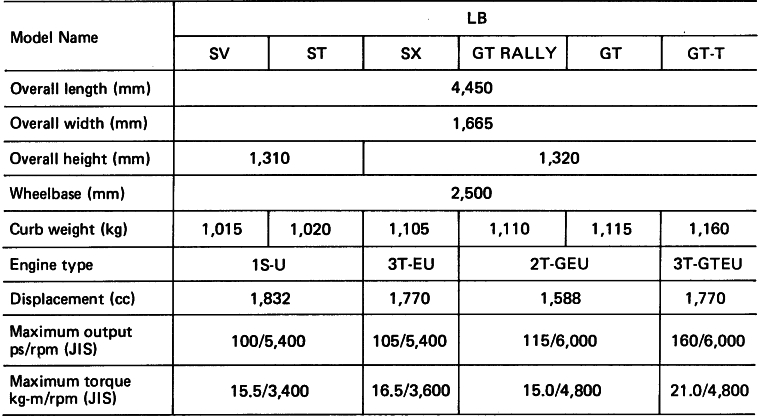 Note

Curb weight for SV is 4-speed manual model; others are 5-speed manual.

CORONA HARDTOP 1800 GT-T (E-TT142-TSMQZ)

CARINA SEDAN 1800 GT-TR (E-TA63-AEPQZ[X] )

CELICA LIFTBACK 1800 GT-T (E-TA63-BLMQZ)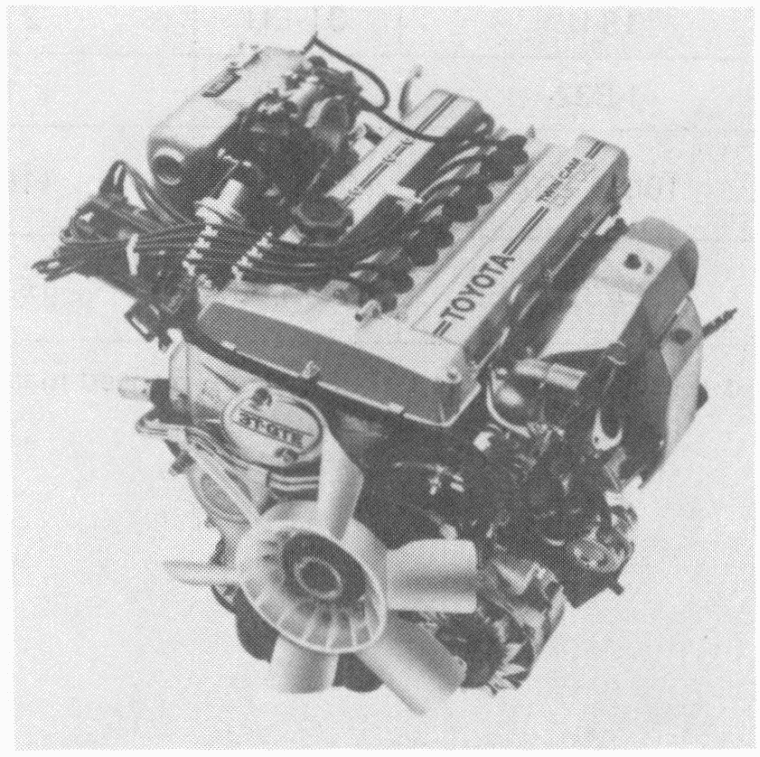 3T TWIN CAM TURBO (3T-GTEU TYPE, 1770cc)