Sep. 28, 1982
TOYOTA INTRODUCES NEW HI-ACE "QUICK DELIVERY" VAN
Designed Specifically for Small Lot Deliveries
TOKYO―TOYOTA MOTOR CORPORATION today announced a new van engineered for small lot collection and delivery. Sales of the new model, named the Hi-Ace "Quick Delivery," began simultaneously throughout Japan.
In recent years there has been a tremendous boom in the home delivery business, and with the more and more companies entering the field there has been a steady climb in demand for light, easy-to-handle and quick vehicles able to handle rapid and efficient collection and delivery of various goods in the city.
Furthermore, in addition to this type of delivery vehicle, there is also a significant demand for vans which offer highly efficient entry/exit and easy interior working conditions, such as for drycleaning pickup/delivery and television coverage, as well as the best in convenience plus a high sense of fashion, such as for boutiques and other businesses interested in a modern image.
Toyota designed the new Hi-Ace Quick Delivery with these specific needs in mind. Enough headroom has been secured to allow the driver to walk from the front seat into the cargo area standing up, while a big sliding door on the left side of the cab makes it easy to both load and unload cargo. The ample dimensions and flat floor of the cargo compartment, make the Quick Delivery suitable for a wide variety of uses. It is equally suitable as a "store on wheels," mobile work vehicle or camper, in addition to its primary function as a delivery vehicle. The major features of the Hi-Ace Quick Delivery are as follows.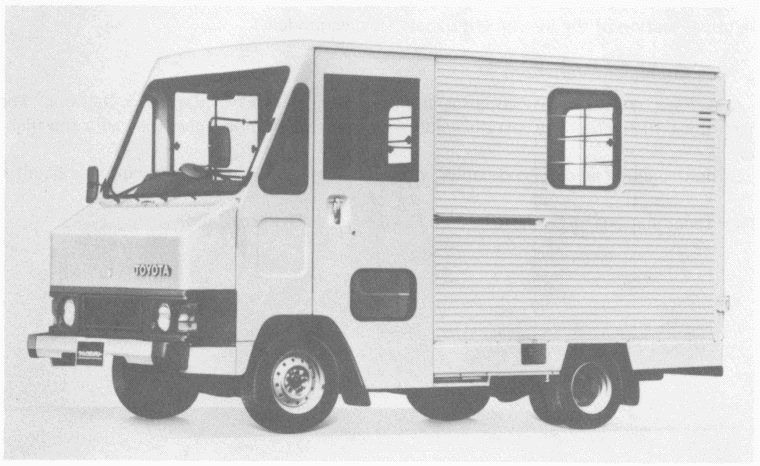 HI-ACE QUICK DELIVERY (N-LH24HV-QDLT)
"Walk-Through" Cab-Cargo Compartment

The Quick Delivery's body structure is ideal for collection and delivery needs. With 2,490 mm of overall height and 1,735 mm of cabin height, this one-box "walk-through" structure allows the driver to walk from the front into the cargo compartment while standing and without exiting from the vehicle. No extra time or effort is lost loading or unloading.

Big, Wide Sliding Door

The left-side door slides open to a maximum opening of 755 mm. This makes it easy to get in and out even while handling large parcels or other cargo.

Spacious, Fully Functional Cargo Compartment

The Quick Delivery's cargo compartment is 2,290 mm long, 1,510 mm wide and 1,735 mm high, offering one of the highest capacity values available in a van in the one-ton class. The flat floor and perpendicular side walls have been carefully designed to provide even more useful cargo space.
Available as an option is a cargo bar, designed to prevent cargo from moving while on the road. It is also ideal for providing delivery bays for different item classifications or type of destination.

Safe and Functional

The instrument panel has a simple design, maximum visibility and easy functioning. The wide front windshield and a low slung left side window guaranteeing maximum visibility for the driver. (Available on B spec models.)
Deluxe driver's seat for added comfort and more adjustability, with a headrest, slide and reclining adjustments, and a three-stage height adjuster.
A double-drawer storage cabinet capable of holding B4-size documents is located on the upper section of the instrument panel. (B spec models.)

Wide Equipment Variations

A rear step makes it easy to enter and exit from the back of the Quick Delivery. The sharp lines, highlighted by a stylish side skirt and rear bumper, give the van a top-flight look.
Options include an overhead cooler, which concentrates cool air in the driver's vicinity.
Major specifications of the new Toyota Hi-Ace Quick Delivery follow.
Note

The models described in this release are available only in Japan.