Oct. 03, 1984
TOYOTA UNVEILS NEW "FX" SERIES, COROLLA TWO-BOX MODEL
TOYOTA MOTOR CORPORATION today announced the addition of a two-box type "FX" series to its popular Corolla passenger car line, simultaneously releasing the new model for sale throughout Japan.
The Corolla FX series is a FWD two-box passenger car, developed in response to new demands for style, economy and comfort in the popular-size car market, which in recent years has recorded outstanding growth. In developing this new series, wide-ranging demands from young people, female drivers, and those with families were taken into close consideration, and emphasis was placed on the following three points.
Aerodynamically efficient styling projecting a sense of youth and vitality.
Spacious interior and luxurious appointments and equipment.
Harmony between high performance and low fuel consumption.
Aerodynamic characteristics were given close attention in designing the exterior, resulting in a coefficient of drag of 0.34, the lowest coefficient level for a two-box car.
With the addition of the FX series, the Corolla series comprises three basic body types, including a FWD sedan (4-door and 5-door versions) and a RWD coupe (2-door and 3-door versions).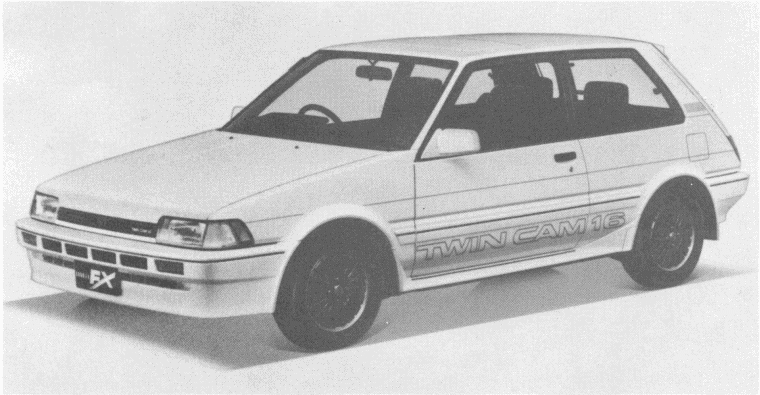 COROLLA 3-DOOR 1600 FX-GT
Engine and Transmission

The FX is available with three types of engines, featuring a fine balance between power and fuel efficiency.

4A Twin Cam 16 (4A-GELU type, four-cylinder, 1587cc)

Japan's first twin-cam engine designed for two-box cars (mounted on FX-GT). The maximum power output of 130 hp/6,600 rpm is the highest in a popular two box-type model. Performance load established for each body section has raised body rigidity, enhancing handling.

4A-EFI-FF (4A-ELU type, four-cylinder, 1587cc)

Adoption of an electronically controlled fuel injection system (EFI-D) gives this superior performance and outstanding fuel efficiency, (mounted on FX-SR).

3A-FF (3A-LU type, four cylinder, 1452cc)

Features helical ports with swirl control valves to lower fuel consumption and boost performance. Fuel efficiency measured in 10-mode tests was 17.8 km/L (FX-D model with knock-control device, Ministry of Transport inspection values), an outstanding figure for a car in this class.

The FX-G is equipped with a four-speed, fully automatic transmission with overdrive excelling in fuel efficiency and response. The FX-SR and FX-GT, meanwhile, feature the ECT-S electronically controlled four-speed fully automatic transmission, offering the choice of "Economy," "Power" or "Manual" modes to allow the driver to adjust to all driving and road conditions.