Dec. 22, 1984
TOYOTA MR2 NAMED JAPAN'S "CAR OF THE YEAR"
TOYOTA MOTOR CORPORATION today announced that the Toyota MR2 has been named Japan's Car of the Year for 1984-85.
The "Car of the Year Award" is presented by a 18-member committee (Shotaro Kobayashi, chairman) of experts in automotive and mass media fields, after polling a larger body consisting of 61 individuals, including commentators, scholars and experts in scientific fields. All domestic passenger cars marketed in a given year are eligible for this honor, which is now in its fifth year.
A total of 30 models were included in the judging―all cars marketed between November 1983 and October 31, 1984. A preliminary screening reduced the field to 10, and then, when the final ballots were counted, the MR2 emerged the winner.
The MR2's victory is attributed to the following factors.
Besides being the first mid-engine style sports car mass produced in Japan, the MR2 has realized simultaneously both outstanding operability and high utility. In addition, the MR2 was evaluated highly for being a personal car with superior qualities as an international product.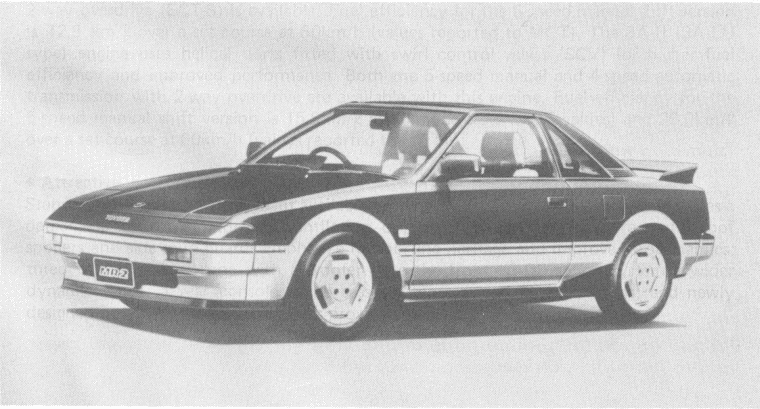 JAPAN'S CAR OF THE YEAR TOYOTA MR2
The MR2's Principal Features

High original styling

The MR2's styling is totally contemporary and optimizes the inherent advantages of the mid-engine two-seat design. The wide, low hood lines are accentuated by retractable headlights and a colored soft-fascia bumper that wraps around the front to provide a soft, simple look. The rear, in contrast, features a vertically cut rear window, sharp spoiler, and duel exhaust pipe to convey a strong, mechanical image.

Personalized, convenient interior

The low instrument panel provides expanded frontal vision, the driving position has been made as comfortable as possible, and getting in and out is easier. Interior space is more personalized and convenient. The new 7-way adjustable sports seats, practical door pockets molded into a single unit with the door trim, and newly designed meters and gauges further enhance the interior space.

Superior handling, running stability, and riding comfort

The MR2's wide tread, low center of gravity, and new suspension system contribute to outstanding handling, stability and ride. The MacPherson strut independent suspension system is used in the front and a dual-link strut independent suspension in the rear for realizing both true sports-car handling and riding comfort. Rack-and-pinion steering helps to provide responsive pinpoint handling. A special engine mounting decreases noise and vibration, and disc brakes on all four wheels assure safe stopping.

High performance and fuel economy

The Toyota MR2 has a choice of two engines, both carefully refined for transversal mid-car mounting while providing superior performance and fuel efficiency. The 4A Twin Cam 16 (4A-GELU type) engine is a 4-cylinder twin cam 16-valve engine. By combining the T-VIS (Toyota Variable Induction System) and the EFI-D (Electronic Fuel Injection-D System), this engine achieves high performance and high fuel efficiency. Besides a 5-speed manual gearbox, a 4-speed automatic transmission with electronically controlled 2-way overdrive (ECT-S) is available. Fuel efficiency for the 5-speed manual shift version is 12.8 km/L over a set course at 60km/h (values reported to MOT). The 3A-II (3A-LU type) engine uses helical ports fitted with swirl control valves (SCV) for higher fuel efficiency and improved performance. Both the 5-speed manual and 4-speed automatic transmission with 2-way overdrive are available with this engine. Fuel efficiency for the 5-speed manual shift version is 15.0km/L in 10-mode tests (MOT values) and 26.0km/L over a set course at 60km/h (values reported to MOT).

Attractive, new equipment

Standard and optional equipment available on the various Toyota MR2 models includes a detachable roof for improved ventilation or open-roof driving; front, rear and roof spoilers and side mud guards emphasize its sporting heritage and improve aerodynamics; three front speakers, one with a woofer, give the front "3-D" sound system a wider dynamic range; a rear console holds cassette tapes or other small items; and newly designed 7-way-adjustable sports seats provide added comfort.