Oct. 20, 1987
TOYOTA TO INTRODUCE NEW TECHNOLOGY AT 27TH TOKYO MOTOR SHOW
Toyota City―TOYOTA MOTOR CORPORATION will bring a major exhibit of new automotive technology to the upcoming 27th Tokyo Motor Show, to be held at the Harumi Fairground from October 29 (Thursday) through November 9 (Monday). Toyota will exhibit 11 different special display vehicles, including two motor sport vehicles, plus 40 commercially available production vehicles and state-of-the-art components.
Toyota will exhibit a number of special display vehicles having clear-cut concepts, through which we strive to achieve high performance, cope with new power sources, offer new driving pleasure and expand utilities. All are results of Toyota's 50 years of expertise in automaking and the latest technologies, designed to anticipate automobiles and technologies of the 1990s.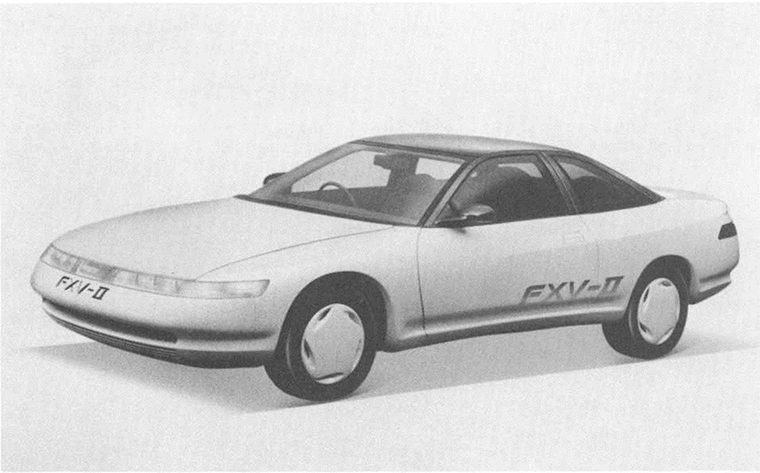 TOYOTA FXV-II
Special Display Vehicles
The following seven models can be found in the Passenger Car Pavilion

The TOYOTA FXV-II, a high-performance specialty 2-door coupe for the 1990s
The TOYOTA AXV-II, a lively compact vehicle that promises excitement
The TOYOTA GTV, a personal grand tourer with a compact, high-performance, two-shaft gas turbine engine
The SOARER AERO CABIN, a convertible that allows open-air cruising at the touch of a switch
The TOYOTA EV-30, an electric vehicle powered by a new zinc-bromide battery
The SUPRA TWINCAM 24, a WRC rally car
The TOYOTA 87C, the All-Japan Sport-Prototype Endurance Championship racing car
The following four vehicles will be displayed in the Commercial Vehicle Pavilion

The TOYOTA MOBILE BASE carries equipment for outdoor leisure and sport use
The TOYOTA MOBILE LOUNGE, a one-box limousine for active executives
The TOYOTA CAMP MATE, a 4WD camping car for leisure use
The TOYOTA DELI BOY, a smart and compact walk-through van
Toyota will also exhibit the following components

In the Passenger Car Pavilion, Toyota will show seven family-car use 4-valve engines, including the experimental four-cam 32-valve V8 engine, five supercharged new generation Toyota engines, three chassis designs, three transaxles for full-time 4WD vehicles, a cutaway model of the new Crown, and other exhibits that demonstrate Toyota's state-of-the-art technologies.
In the Commercial Vehicle Pavilion, Toyota will show five new generation engines, the newest 4WD chassis and automatic transmissions.
Outline of the Special Display Vehicles
The vehicles listed below can be found in the Passenger Car Pavilion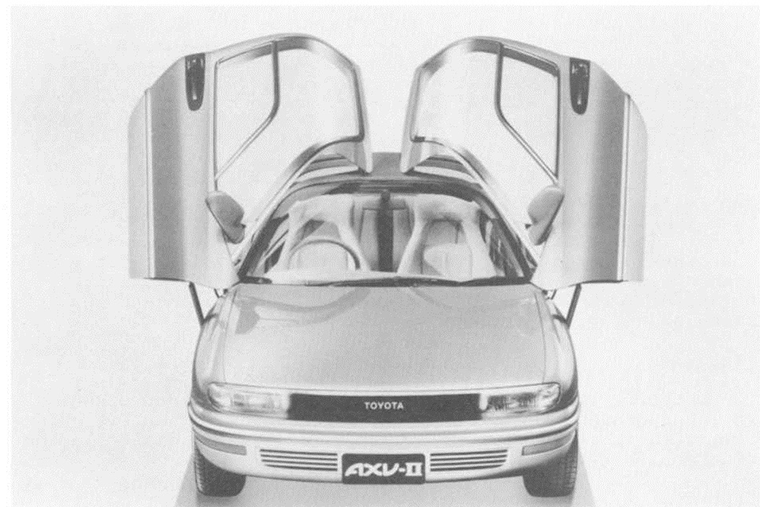 TOYOTA AXV-II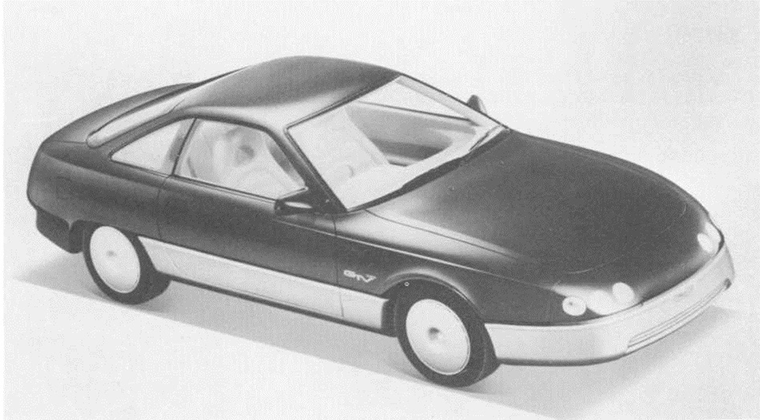 TOYOTA GTV
The TOYOTA FXV-II

The FXV-II provides many of the functions that will be needed in high-performance specialty cars in the near future. It is a running prototype incorporating many elements that enable fast, comfortable and safe driving―regardless of road surface and weather conditions―to enhance driving enjoyment.

Styling

The FXV-II presents Toyota's newly designed "aero-trapezoid form," which takes a step beyond the latest aerodynamic forms. The sleek silhouette is a fusion of flowing elegance and dynamic sensation. The center of gravity is low, the stance wide, and the form is based on a simple, visually balanced, three-dimensional trapezoid. The sides and top blend smoothly and gracefully together.

Interior

The interior is designed especially for comfort and openness. It incorporates the Toyota multi-information system, IC card-activated operating system, etc., to create a comfortable and rich mobile living space.

Integrated vehicle management system

This system integrally controls the engine, brakes, suspension, steering, etc., to increase vehicle stability.

Engine

The four-cam 32-valve engine is designed to suit the high-class, high-performance cars of the '90s. The large 3.8-liter displacement and 8-cylinders ensure extra-high torque through the entire rpm range, with a quiet and smooth response.

Chassis

The four-wheel double-wishbone suspension incorporates a variety of advanced technologies, including Toyota's electronically controlled active suspension, active four-wheel steering and full-time 4WD, and traction control system.

The TOYOTA AXV-II

This lively compact vehicle promises excitement. A completely original concept car, it features wide & low compact proportions, a glassy canopy for a commanding view, pivoting swing-up doors, high performance and an aesthetic interior.

Canopy

The glass extending over the roof and back door is a single large, curved sheet. The field of vision is unparalleled.

Pivoting swing-up doors

This new kind of pivoting swing-up door is hinged at the center front of the roof, near the base of the A-PILLAR opening diagonally upward. The increased door area makes it easier to get into and out of the car.

Interior

The instrument panel blends into the side in a smooth curve. Together with elegant seats, it provides passenger comfort.

The TOYOTA GTV

This personal grand tourer carries a compact, high-performance two-shaft gas turbine engine that is a promising power plant for automobiles.

The low-center-of-gravity aero form, four-wheel double wishbone air suspension, electronic-controlled 4-speed automatic transmission, speed-sensing progressive power steering, A.B.S. and many other state-of-the-art technologies developed for high-speed driving help the compact, high-performance two-shaft gas turbine engine achieve its maximum potential for cruising at high speed.

The Soarer Aero Cabin

The Aero Cabin's convertible hardtop opens or closes electrically at the touch of a switch. This car combines the Soarer's beautiful silhouette and closed-coupe comfort with open-air driving. All moving sections are made of hard panels. The sliding roof and revolving rear window move and fold down as a unit.

The Toyota EV-30

Electric vehicles possess low noise and vibration characteristics, are pollution-free and less expensive to maintain.

The Toyota EV-30 uses new zinc-bromide batteries, an AC induction motor system, and other advanced technologies.
This two-seater was developed primarily for room-to-room mobility, to carry guests from one place to another on factory tours, for example. It will be particularly useful in shopping malls and other places where pedestrians have the right of way, or in hospitals, pharmaceutical plants and other areas where quiet and cleanliness are of the utmost importance.

The Supra Twin-cam 24

This Supra Twin-cam 24 took part in the 1987 World Rally Championship for the first time. It placed third in the first round, the Safari Rally, demonstrating its potential.
It also won an overall victory in the Hong Kong-Beijing Rally.

The Toyota 87C

The Toyota 87C, the All-Japan Sport-Prototype Endurance Championship racing car, took first place in this year's Fuji 1,000km and Suzuka 1,000km races, demonstrating Toyota's technical edge.
The following vehicles can be found in the Commercial Vehicle Pavilion

The Toyota Mobile Base

This multipurpose 4WD vehicle was developed as a sports base and transporter to easily carry marine jets, canoes, off-road bikes and other large sports equipment. It is designed to satisfy the adventurous spirit and add excitement to outdoor sports. It is based on the Hilux Surf, but has an additional automatic loading deck for heavy equipment.

The Toyota Mobile Lounge

This one-box limousine is designed as a moving VIP room for active executives. Based on the Hiace Super Long Model, it makes full use of a spacious cabin to provide an excellent interior layout.

It accommodates an 18-inch color TV, facsimile, telephones, coffee maker, refrigerator and other equipment. It is extremely useful for moving VIPs or for in-transit meetings.

The Toyota Camp Mate

This 4-wheel-drive camper has an extended cabin that creates a space for passengers and leisure equipment. The Toyota Camp Mate is equipped with a cooking table, sink, refrigerator, shower, toilet and other facilities, much like a moving cottage for full enjoyment at the beach, valley or mountains.

The Toyota Deli Boy

This is a smart new van with semi-cab-over styling that blends nicely into classy residential areas and fashionable boutique streets. It has a number of new features, such as a wide-open Glide & Slide door and utility hatch that enhance loading efficiency and versatility. It also carries an MCA (Multi-Channel Access) radio communication system for highly efficient deliveries.