May. 07, 1991
FULL MODEL CHANGES FOR THE TOYOTA SOARER
Toyota City―TOYOTA MOTOR CORPORATION today announced a full model change for its luxury, high-performance specialty car, the Soarer. The car goes on sale immediately through the company's Toyota and Toyopet channels nationwide. Toyota expects sales to reach about 3000 units a month.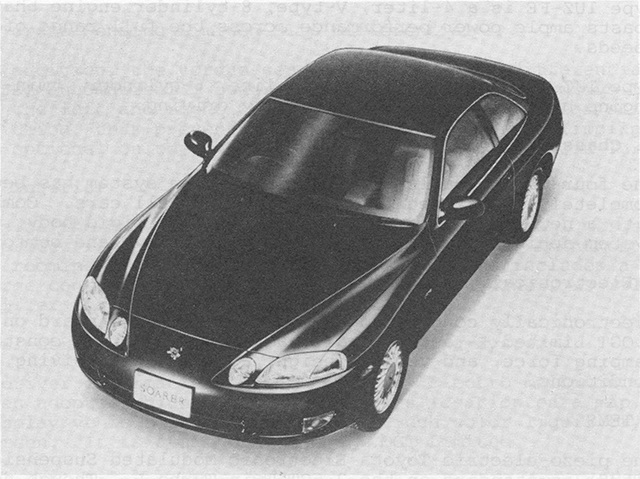 Soarer 4.0GT Limited Electro-multivision with GPS
Aiming to satisfy the sophisticated demands of specialty-car buyers, Toyota's designers and engineers set out to create a completely unique car, blending advanced styling, safety, and performance with a luxurious interior.
Exterior

Soft curves and sophisticated styling define the new Soarer's sleek, refined look. The low, tapered front end and rounded rear deck cut a stylish profile of agility and power.
Circular high-beam projector headlamps, set independently from the low-beams, grace the front end, creating a unique, sophisticated mask.

Engine

The Soarer comes with two types of high-performance engine, each with power to spare.

Type 1UZ-FE is a 4-liter, V-type, 8-cylinder engine that boasts ample power performance across the full range of speeds.

Type 1JZ-GTE is a 2.5-liter, in-line, 6-cylinder, twin-turbo engine highly responsive for sporty driving.

Chassis

The four-wheel double-wishbone suspension system has been completely redesigned for the chassis of all cars. Combined with a newly designed light-weight, highly rigid body, the new system achieves superior handling, stability, and comfort.

Electronically Controlled Air Suspension

Electronically controlled air suspension―standard on the 4.0GT Limited―automatically adjusts the sprig constant, damping force, and vehicle height according to driving conditions.

TEMS

The piezo-electric Toyota Electronic Modulated Suspension (TEMS) is standard on the 2.5GT Twin Turbo L. Though normally set at the "hard" damping-force position for high performance, on bumpy surfaces the piezo-TEMS instantly shifts to the "soft" position to provide.an all-round smoother ride.

Integrated Four-Wheel ABS, Traction Control, and Hydrobrake Booster

The four-wheel anti-lock braking system (ABS) prevents yaw when braking on slippery road surfaces and assures responsive steering even when braking. Standard with the ABS package is traction control (TRC), which prevents the car from yawing due to drive-wheel slippage when starting up, accelerating, or cornering on slippery road surfaces. (TRC is not available on manual-transmission cars.) Also, a newly developed hydrobrake booster has been adopted on TRC-equipped cars. Using high hydraulic pressure to boost braking power, it improves brake responsiveness and pedal feel. Hydraulic pressure is also used for the four-wheel ABS and TRC, combining all into one integrated, lighter-weight system.

Torque-Sensing Limited-Slip Differential

In addition, the torque-sensing limited-slip differential (LSD) automatically controls the distribution of drive force to the left and right wheels using the force of gear surface friction, thus preventing the drive wheels from slipping. It is optional on the 2.5GT Twin Turbo L and 2.5GT Twin Turbo.

Interior

Inside the car, the door trim and instrument panel merge into a protective curve around the driver, creating an atmosphere of roominess and safety. The driver's space includes a unique large console separate from the instrument panel, as well as a shifter that stresses function and style.

Electro-multivision, Global Positioning System

A driver information system known as "Electro-multivision" has been adopted which can show the car's location on a map, and display vehicle information on a 6-inch color liquid crystal screen. It is available on the 4.0GT Limited.

The vehicle navigation display adopts a newly developed global positioning system (GPS) utilizing satellites. This advanced navigation system includes such functions as map matching―which automatically adjusts the screen display relative to the actual location of the car―and the world's first route information system, which can display standard routes to given destinations.

Microcomputer Pre-set Driving Position System

In addition, the Soarer has a full line of equipment to create a comfortable, pleasant driver's space. The microcomputer pre-set driving position system is standard on the 4.0GT Limited. With the touch of a button, it automatically re-sets the driver's seat to a prerecorded position ideal for that driver.

Power Walk-In

Another innovation is the power walk-in front seat, which automatically rolls the front seat forward for easy entry to and exit from the back seat: a standard feature on all cars except the 2.5GT Twin Turbo. Also standard on all cars is the microcomputer-controlled automatic air conditioner.

Soarer Super Live Sound System

The Soarer Super Live Sound System is available as the standard or optional audio system on all models. The seven-speaker system includes a 25cm sub-woofer and offers sound impact superior to most home stereos.

Safety

Preventive Safety Features

For preventive safety, outstanding performance has been achieved with a newly designed suspension and a light-weight, highly rigid body, as well as the adoption of the following features: four-wheel ABS, standard or optional on all models; TRC, standard or optional on all models except those with manual transmissions; torque-sensing LSD, optional for the 2.5GT Twin Turbo L and the 2.5GT Twin Turbo; and high-mount stop lamps standard on all cars.

Other preventive safety features include ultrasonic door mirrors, which clear the mirrors of rain, assuring good rear vision even in wet weather. They are standard on the 4.0GT Limited and optional on the 4.0GT and 2.5GT Twin Turbo L. A back monitor, which displays the rear field of vision on the Electro-multivision screen when backing up, is optional on the 4.0GT Limited equipped with Electro-multivision and rear spoiler.

Collision Safety Features

Collision safety has been considerably enhanced through the combination of a strong, deformity-resistant cabin, a shock-absorbent crushable front, and rear body structure. In addition, side-door impact beams are built into every car. A supplemental restraint system (SRS) air bag for the driver's seat is standard or optional on all models, while three-point rear seat belts and seat belt warnings are standard on all cars. Also, flame-resistant materials have been adopted for the interiors of all cars.
Active Suspension (Available for 4.0GT Limited)
One of the engineering goals of the new Soarer was to improve the basic performance of the engine and chassis, allowing more pleasurable driving.
The 4.OGT Limited meets this goal with the adoption of full-fledged active control suspension and the world's first active four-wheel steering (4WS). It also boasts an "integrated chassis control system," which achieves an even higher degree of performance through integrated control of the suspension, 4WS, and the electronic control systems such as four-wheel ABS and TRC.
Full-Fledged Active Control Suspension

A hydro-pneumatic active-control suspension without coil springs has been introduced: a first for a mass-produced car.
This system reduces posture changes, such as car body vibration and roll, caused by driving conditions and uneven road surfaces. The system also provides a high degree of handling, stability, and comfort.

The World's First Active 4WS

Sharp steering response and excellent stability have been realized with the world's first rear-wheel automatic steering system. It includes a yaw-rate sensor*, featuring speed and steering-angle sensors, which instantly detects sudden car deflections. Thus, the car hardly drifts at all when driving at high speeds, during lane changes, or in strong crosswinds, drastically reducing the burden of driving and making it safer and more pleasant. An anti-phase rear-wheel steering mechanism coordinated with the steering angle has also been adopted for this 4WS system, assuring quick direction changes at low speeds.
*Note

The yaw-rate sensor detects the angular rotation speed of a car about its horizontal center of gravity. The sensor thus makes it possible to detect changes in the car's direction due to steering, as well as changes caused by external disturbances such as crosswinds or snow.