Oct. 11, 1991
ARISTO DEBUTS
Toyota City―TOYOTA MOTOR CORPORATION today introduced the Aristo, its new high-performance four-door luxury sedan.
Sales begin on October 31 at the company's Toyota and Vista dealers nationwide, and are expected to reach 3,500 units a month.
The Aristo is a new kind of luxury car for the nineties. The utmost attention has been given to making it comfortable, safe, and environmentally friendly.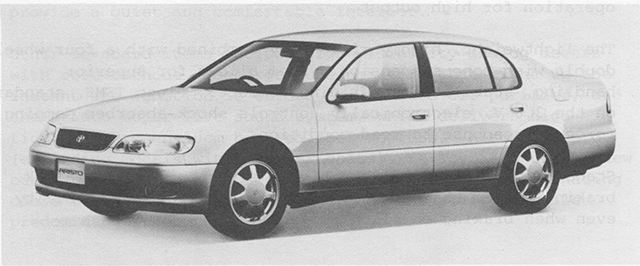 Aristo 3.0 V (with options)
Aristo Characteristics
Dynamic Styling

Aristo's exciting new styling distinguishes it from other luxury sedans. The basic design was taken from a prototype created by Italdesign―the Italian-based company headed by world-renowned designer Giorgetto Giugiaro―and further developed by Toyota. The result is a refined four-door luxury sedan characterized by its wedge-shaped silhouette and large cabin.

Combination of power and smooth ride

Powering the Aristo are two new engines―the 3-liter, straight-six cylinder 2JZ-GTE, with a two-way twin turbo (maximum output 280ps at 5,600rpm), and the extremely quiet 3-liter straight-six cylinder 2JZ-GE (max. output 230ps at 6,000rpm) which combines high-performance with fuel efficiency. While the 2JZ-GTE's two-way twin turbo engine displacement is three liters, its feeling of power rivals that of larger engines. It also enables the car to accelerate as smoothly as a normally aspirated engine.

The two-way twin turbo is equipped with two identical, newly developed ceramic turbochargers. At low speeds, only one operates, greatly improving low-speed torque as well as response. At medium and high speeds, both turbo units go into operation for high output.

The lightweight, highly rigid body combined with a four-wheel double wish-bone suspension system allows for superior handling, stability, and riding comfort. Piezo TEMS, standard on the 3.0 V, electronically controls shock-absorber damping force in response to road conditions.

Standard on all models is a highly efficient ABS anti-lock braking system that greatly improves handling and stability even when braking on slick surfaces.

TRC (traction control), which prevents the drive wheels from slipping when accelerating or cornering on slippery roads, is standard or optional on all models. Also, hydrobrake boosters, which utilize high-pressure hydraulic power to improve brake response and pedal feel, are standard on all TRC-equipped cars. The hydraulic unit is shared by the four-wheel ABS and TRC systems, combining all into a single, lightweight, integrated unit.

To prevent drive-wheel slippage, TORSEN differential LSD (limited-slip differential), which automatically controls power distribution to the right and left wheels, is optional on the 3.0 V.

Standard on all cars are PPS (progressive power steering), which enhances steering feel, and high-performance tires.

Comfort, Safety, and Environmental Friendliness

Comfort

The Aristo's spacious, curved interior gives the passenger a feeling of security, and the design and placement of all the controls puts convenience at the driver's fingertips.

Also, an anti-vibration sub-frame, improved precision of all drive-train components, and straight-line positioning of the drive line combine with the body's aerodynamic contours to provide a quiet and comfortable interior.

Other standard items include high-visibility analog meters with cold-cathode discharge-tube pointers that light up the instant the ignition is turned on, an auto-air purifier, and the Aristo super-live sound system, which delivers high fidelity through 30cm high-caliber woofers. Also standard (excluding models with leather seats), is Toyota's unique new odor-absorbing seat fabric which is effective in eliminating odors from pets, cigarette smoke, and the plastic smells predominant in new cars.

Safety

Both preventive and collision safety have been thoroughly considered in the Aristo. For preventive safety, the following equipment is offered.

ABS

standard on all models

TRC

standard on 3.0 V, optional on 3.0 Q

TORSEN

differential LSD: optional on 3.0 V

LED high-mount stop lamps

standard on all models

ultrasonic door mirrors

standard on all models

For collision safety, the Aristo offers a crushable front and rear end and a deformity-resistant cabin, and the following equipment is employed.

Driver's seat SRS air-bag

standard on 3.0 V, optional on 3.0 Q

Preloader seat belts

provided on cars with driver-side SRS air-bag

Side door beam

standard on all models

Rear seat three-point seat-belt system

standard on all models

Seat-belt warning lamps

standard on all models

Flame-retardant interior fabric

standard on all models

Environmentally friendly

In consideration of the environment, Aristo employs a new ozone-friendly HFC-134a coolant in the air-conditioning system, rather than the currently used freon gas (R12).

Toyota is also making efforts to use special, easily recyclable thermoplastic resins which offer outstanding hardness, rigidity, and moldability.
Toyota was the first to develop the Toyota Super Olefin Polymer, and utilizes it instead of the commonly used polypropylene in the front and rear bumpers―major resin parts. The new material offers twice the mold flowability of polypropylene, but is one and a half times more rigid and impact-resistant; it also has a surface quality equal to steel, but with twice the hardness. The new polymer is also a thermoplastic and easily recyclable.
Even during the production phase, scrap and other left-over material is recycled and used again in certain resin parts. Furthermore, to help distinguish the various types of resin parts and materials during vehicle scrapping, all materials have been specially marked and labeled.