Oct. 16, 1991
TOYOTA PREVIEWS CONCEPT CARS FOR '91 TOKYO MOTOR SHOW
Toyota City―TOYOTA MOTOR CORPORATION today released information on what visitors can expect to see at this year's Tokyo Motor Show. In addition to 50 production models and a number of technical exhibits, Toyota will display a total of 13 concept and special-exhibit passenger and commercial vehicles, including electric and solar-powered cars. The show is slated to run from Friday, October 25 through Friday, November 8.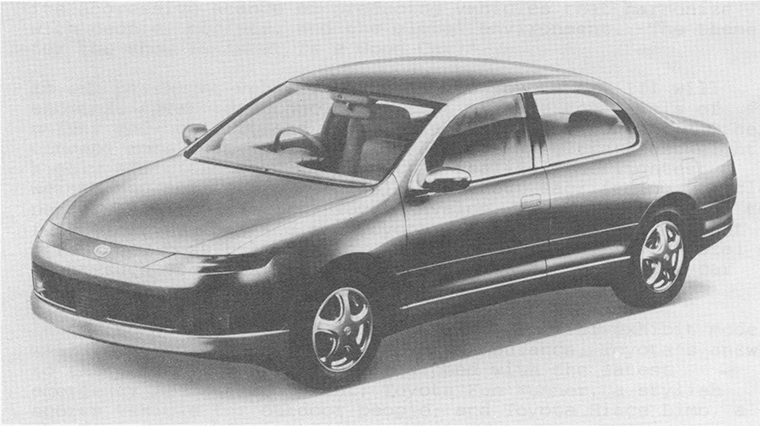 Toyota AXV-III
Toyota has been an active participant in the Tokyo Motor Show since its inception in April 1954. At this year's 29th show, Toyota plans to give visitors a look at some solid examples of its aggressive stance on producing vehicles that harmonize with people, society, and the global environment. The theme for the show is "What Is a Good Car?"
In the passenger-vehicle section, the Toyota AXV-III will showcase advanced technologies that provide top levels of safety and comfort, and are gentle on the environment. Other concept models include Toyota's AXV-IV, an ultra-lightweight, highly efficient commuter car that realizes the lightest weight and smallest size possible without sacrificing vehicle performance and comfort; Toyota Avalon, Toyota's challenge to future car design; and the Toyota Estima (Previa) Limo that offers new possibilities for tomorrow's limousine. A total of eight such vehicles will be displayed in the passenger-car area.
In the commercial-vehicle section, five special-exhibit models will be shown, including the Toyota Ambulance, Toyota's answer to the demand for ambulances equipped with the latest emergency medical equipment; Toyota Fun Runner, a stylish sports vehicle for outdoor people; and Toyota Hiace Limo, a chauffeur wagon for active executives.
Moreover, there will be various technical exhibits such as the high-pressure fuel-injection diesel engine and soot-reducing particulate trap system, which have been developed with environmental protection in mind.
Concept and Special-Exhibit Vehicles
Passenger Cars

Toyota AXV-III

Designed to be "gentler" on people, society, and the global environment, the AXV-III incorporates a number of advanced new technologies. Distinctive features include

Safety

Active safety systems

Cruise control with a vehicle interval maintenance function uses sensors to detect the distance to the car ahead in congested traffic or high-speed driving. This system helps prevent collisions and ensures that a safe distance between vehicles is maintained at all times. An out-of-lane warning system provides a voiced warning if the driver unconsciously drifts from a lane without signaling. The fully automatic garaging system controls steering, brakes, and automatic transmission shift positions for automatic parking.

In passive safety, polygonal body members improve energy absorption in the vehicle's crushable zones, which minimizes impact on the cabin. Inside, SRS airbags are installed for both the driver and front passenger as a seat-belt supplement, and for side-on collisions, SRS side airbags in the front side doors offer a new level of safety.

Comfort

For quietness and superb riding comfort, the AXV-III has double-wishbone suspension all around with anti-vibration subframes and integrated "intelligent" power-train control.
Automatic four-zone air-conditioning with fuzzy logic offers separate temperature controls for upper and lower as well as left and right zones. A console-incorporated driver's seat and a new DSP (Digital Signal Processor) 11-speaker super-live sound system assures quality cabin comfort.
Driving is made easier with the shift-by-wire electric automatic transmission, GPS (Global Positioning System) navigation with voiced instructions, and a triple thin-film transistor liquid crystal display (TFT-LCD) multi-function meter panel for greater legibility.

Environmental Technology

A lighter body through extensive use of aluminum, magnesium, and other lightweight metals; better aerodynamics (CD=0.26); and the experimental V6 four-cam 24-valve lean-burn engine all provide improved fuel economy.
In the lean-burn engine, continuous variable valve timing, a variable dual exhaust system, and an N0X reduction catalyst have been adopted for higher fuel efficiency, cleaner exhaust, and better performance.
Also, a new ozone-friendly coolant, HFC-134a, is used for air-conditioning in place of CFC-12.

Toyota AXV-IV

To achieve better resource conservation, higher fuel economy, and a compact size, without sacrificing superior driving performance and comfort, the AXV-IV personal commuter was developed to achieve the smallest possible size and weight, with the following distinctive features

Exterior styling

The new aero-form is a result of a comprehensive study of aerodynamic balance to provide excellence in performance and fuel economy.

Interior

The cabin space offers both comfort and safety considerations incorporated with simple style.

Body

Aluminum, magnesium, and other lightweight materials are used extensively. Aluminum, in particular, utilizes aerospace technology for extruded parts, precision castings, and foamed and honeycomb panels.

Chassis

Resin springs also function as suspension arms, and new tires (135/55R16) offer lower rolling resistance and excellent driving performance.

Engine

The high-performance Toyota S-2 two-stroke engine, despite its small size and weight (804cc and 83kg) has direct injection, multivalve cylinders, and a Super Exhaust Silencer. It is characterized by excellent low-speed torque, low vibration, and low noise.

Toyota Avalon

This design concept car was developed by Calty Design Research, Inc., Toyota's advanced design center in California.

The open convertible seats four comfortably, but converts into a completely cabinless body for parking. This is achieved by folding the windshield and air spoilers flush with the body. The result is an eye-pleasing objet d'art.

Toyota Estima (Previa) Limo

This new type of minivan limousine takes advantage of the Estima's spacious cabin and outstanding performance.

The ample space in the back accommodates two seats, and such amenities as an 11-inch color monitor with built-in tuner for limousine-like comfort.

Celica 4WD Turbo Group A Rally Car

A rally car based on the Celica GT-Four and modified to WRC Group A specifications.

The car took first place at the World Rally Championship's eighth-round Argentina Rally, its fifth rally victory this year.

Toyota 91C-V, Group C Sports Prototype Racing Car

This prototype car was developed for Group C endurance racing. The car won its third victory in the All-Japan Sports Prototype Car Championship Series at the Sugo 500km Race.

Commercial Vehicles

Toyota Ambulance

This advanced ambulance was designed to accommodate better emergency medical equipment for superior pre-hospital care.

The vehicle is compact, yet provides adequate space for medical care and for advanced medical equipment such as an electrocardiogram transmitter.

A 4-liter V8 provides smooth, quiet power.

Toyota Fun Runner

A stylish sports utility vehicle designed for young outdoor enthusiasts.

A sense of openness is achieved with the canvas top, removable back window, and open rear deck.

Toyota Hiace Limo

A chauffeured wagon for active executives

The workspace includes office equipment such as a personal computer and fax, and the relaxation space is equipped with a mini-bar, refrigerator, stereo, and video.

Corolla Hi-Roof Wagon

A stylish wagon based on the Corolla Wagon, but with a roomier, higher ceiling.

Land Cruiser Rally Version

Rally versions of the Land Cruiser won top honors in the 1991 Paris-Dakar Rally in diesel-engine classes.

Technical Exhibits

Engines

A total of eight engines, including the high-pressure fuel-injection diesel engine, methanol diesel engine, and two others currently under development will be exhibited.

Alternative Energy Car

The lead-acid battery-powered Town Ace electrical vehicle and solar-powered RaRa II prototypes will be on display.

CFC Control

Chlorofluorocarbon (CFC) recovery equipment and an air-conditioning system with a new coolant (HFC-134a) will be exhibited.

Recycling

The current state of automobile recycling, such as metal recovery and catalyst metal recovery, will be shown.
Note

Toyota Motor Corporation will hold a press briefing at Toyota's passenger-car section on Oct. 23 (Wed.) from 3:00 to 3:30 p.m. Also, please feel free to use the press room during the show.