Oct. 16, 1989
FULL MODEL CHANGES FOR TOYOTA LAND CRUISER (LONG BODY TYPE)
A Multi-Purpose Top-of-the-Line 4WD That Leads the Trend
Toyota City―TOYOTA MOTOR CORPORATION has announced full model changes for its four-wheel-drive (4WD) Land Cruiser 60-series (long body type) for the first time in nine years. Renamed the "80-series," the new Land Cruiser will go on immediate sale nationwide.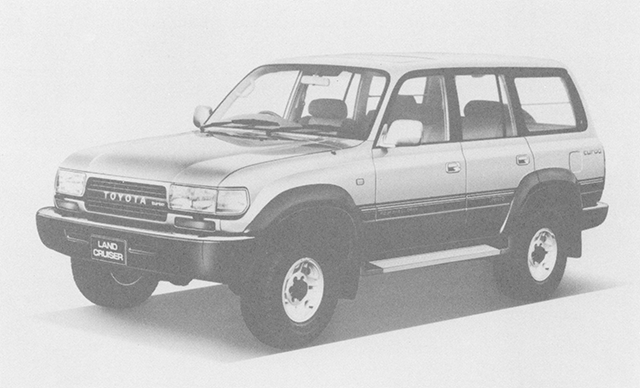 Van VX Limited
Since the Land Cruiser first appeared in 1953, it has won a wide reputation for its great mobility and durability, resulting from outstanding power performance, as well as the sturdy chassis and other structures. Consequently, it has won a high position, domestic and overseas, as a full-fledged 4WD that leads the 4WD market.
Consumers' tastes have recently been becoming more individualistic and diversified than ever before, and customers for 4WD vehicles are no exception. The market is expanding as the customers demands for 4WD vehicles are becoming more diverse, ranging from classic off-road excitement to family leisure and town use. As a result, in addition to such basic performance of 4WD vehicles as mobility and durability, customers are now demanding a stylish appearance, a driving feel that was once only possible with passenger cars, and other characteristics in 4WD vehicles.
The new Land Cruiser 80-series was developed as a "top-of-the-line multi-purpose 4WD" to meet these growing demands in the market. It implements both a refined urban product image and traditional power in both styling and function.
The new Land Cruiser 80-series has the following main features
Exterior

The entire form consists of streamlined curved surfaces. The wheelbase, tread, and other vehicle dimensions have been enlarged, and an over-fender has been adopted on some versions.
The front view features headlamps plus cornering lamps, which match the headlamps and are designed to blend into the overall styling. The vehicle also has a distinctive transverse bar-type front grille.

Interior

There is a modern-looking instrument panel, which consists of a curved surface with large switches and meters, offering operability comparable with that of a passenger car. Control switches that are peculiar to 4WD vehicles (differential lock, etc.) are also located inside the instrument panel to further improve ease of operation.
The 80-series interior features a "center console," extending integrally from the instrument panel to the console, to emphasize the image of a high-class vehicle around the driver's seat.

Furthermore, special efforts have been incorporated, for example, in providing greater ease of entry and egress for the passengers by enlarging the opening of the lower part of the rear doors by 120mm, and offering greater comfort by the addition of a reclining mechanism―on wagons only―to the rear seats (second and third rows).

Engine

In addition to the 3F-E engine, two types of compact and lightweight 6-cylinder diesel engines, the direct injection 1HD-T with a turbocharger, and the 1HZ with a swirl chamber were newly developed to improve the power performance greatly, while at the same time reducing vibration and noise.
Engine Performance Comparison

Chassis and Drive Train

The conventional leaf-spring suspensions were replaced by leading arm coil-spring suspensions (front) and four-link coil-spring suspensions (rear). The new suspension type ensures greater maneuverability, stability, and off-road performance, while at the same time implementing a comfort that normally belongs to passenger cars. On some versions, the new series features two-stage shock absorbers, in which the damping force is regulated in two steps, allowing the driver to select the desired ride according to the driving environment, including off-road irregularities and urban pavement.

Some models in the new 80-series are the first off-road-type 4WD vehicles to have a full-time 4WD system with a center differential lock feature designed for easy driving.

Further, those models incorporate an electrical front and rear differential lock system that can be operated by a switch for better functionality and operability.

Also, models with the 1HD-T engine are provided with a five-speed transmission having triple-cone-type synchromesh for first to third gears. This helps offer smooth gear shifts for easier driving. Also, in order to match the high output of the 1HD-T engine, automatic transmission models have two-way automatic transmission with overdrive gear.

In addition, the 80-series boasts improved braking performance from disk brakes on all four wheels, and improved steering feeling by the addition of the new Progressive Power Steering (PPS) system on some versions.

Model Lineup

"VX Limited" has been offered as the top of the Land Cruiser 80 lineup. Also, in order to meet diversifying customer demand, both full-time 4WD and part-time 4WD systems are available in the 80-series.

New Mechanisms and Equipment

A nine-speaker system combined with a compact disk player is a standard item on the Van/Wagon VX Limited, creating a high-quality acoustic cabin. In addition, cruise control has been made a standard item and, together with many other features, completes the advanced equipment appropriate for the "top-of-the-line, multi-purpose 4WD."

The electrical system in diesel-powered models includes a 12V/24V switching system, which connects to a 24V source for starting and to a 12V source for all other needs, designed tc ensure more diversified enjoyment.

The new owner of the 80-series vehicle will get a key with internal grooves, which has been specially designed to make duplication extremely difficult, plus a card-type spare key that is easy to carry.

In addition, the new 80-series has a full line of optional equipment, including a rear spare wheel carrier for fitting the spare tire to the back door, automatic air-conditioner, and aluminum alloy wheels.