Oct. 18, 1989
TOYOTA TO EXHIBIT EXPERIMENTAL SPORTS CAR AND OTHER MODELS AT
28TH TOKYO MOTOR SHOW
Also Exhibiting New Concept Two-Stroke Engines
Toyota City―TOYOTA MOTOR CORPORATION plans to exhibit a total of 10 special display vehicles, including the Toyota 4500GT, an experimental ultra-high performance sports car, at the 28th Tokyo Motor Show to be held from October 26 through November 6 at the new Makuhari Messe near Tokyo. Also on display will be the full range of Toyota's production vehicles and various components.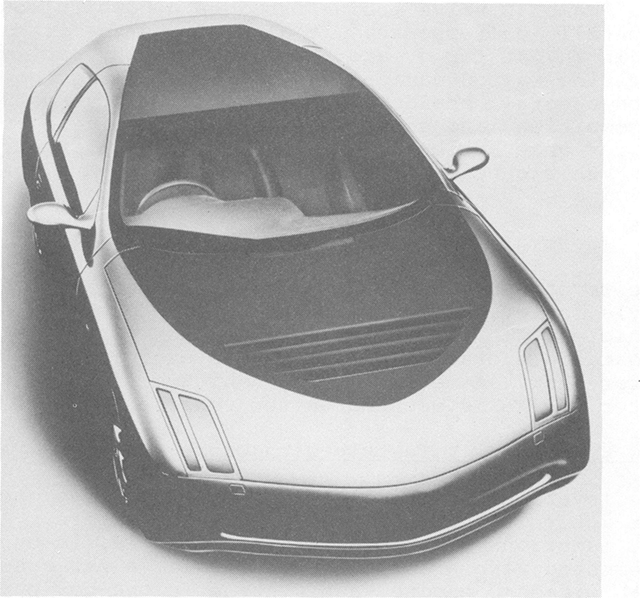 Toyota 4500GT
Toyota considers every Tokyo Motor Show to be a good opportunity to present the new possibilities of motor vehicles, and has accordingly taken a positive attitude in exhibiting special display vehicles and components.
This concept will be advanced a step further at the 28th Tokyo Motor Show. Based on the major theme of "new challenge," the displays were developed to show Toyota's view on how automobiles will be in the 1990s and how Toyota will make them in the years to come.
A brief summary of the displays follows

Contents of Special Display Vehicles

New Potential

One of the special display vehicles is the Toyota 4500GT, a next-generation ultra-high-performance sports car. To achieve an ultra-high cruising speed of around 300km/h, advanced technology has been utilized in developing its engine, suspension, and other mechanisms. Its 4.5-liter, V8, four-cam, 40-valve engine provides a powerful output and unparalleled response. It also adopts the transaxle drive train layout for greater vehicle mobility, active rear wheel steering, aerodynamically styled exterior, a cockpit designed with special consideration for operability and visual recognition, and so forth. An uncompromising pursuit of performance has been carried out, with all the functions of the vehicle being refined for fast, pleasant, and safe driving.

New Ideas

The Toyota Sera, with a compact body and individualistic style featuring gull wing doors, is one of the displayed vehicles. It is in fact an advanced version of the highly regarded Toyota AXV-II, which was exhibited at the 27th Tokyo Motor Show. A newly developed high-efficiency twin-cam 1.5 liter engine is mounted on the vehicle.

New Harmonious Lifestyle with Cars

The Toyota RAV-FOUR, a neo-urban 4WD car designed to cater to the active lifestyles of young city dwellers by integrating the functions of an off-road 4WD vehicle, is on display. Presented also are the Toyota Previa, a new concept vehicle with mid-ship engine, a new style in one-box type cars, and the Toyota Dynavision, a "communication and event" vehicle, featuring an expandable deck equipped with audiovisual and communication equipment to attract people at various events and receive or transmit information.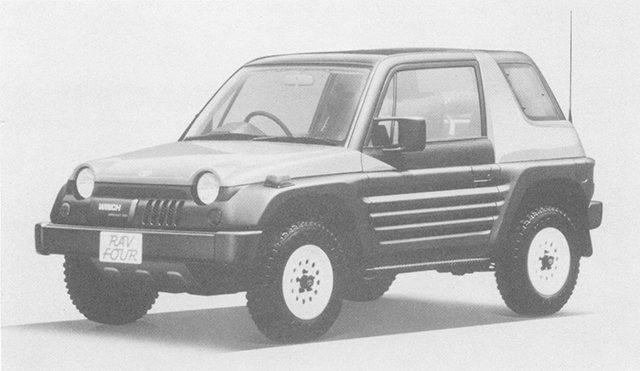 Toyota RAV-FOUR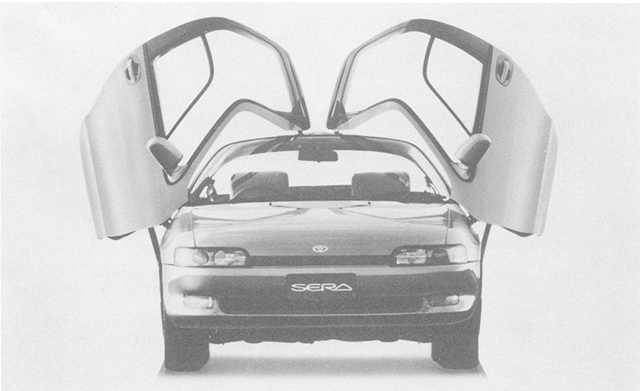 Toyota SERA
New Spheres in Technology

Two-stroke engines, Toyota's S-2 and S-2 Diesel, developed based on a new concept and the experimental V8 four-cam 40 valve engine are on display. The S-2 engine has a four-valve per cylinder configuration with a supercharger for scavenging.
The ECT-i electronically controlled five-speed automatic transmission, T-CVT electronically controlled variable transmission, and transaxle type chassis of the 4500GT are displayed.
Toward Victory

The Celica GT-Four, which competes in Group A rallies, and the 89C-V for Group C prototype car racing are displayed.
Also on display is the Hilux, which has been the overwhelming champion in U.S. off-road racing.
Technical Components

Passenger Car Pavilion

Engines

A total of eight engines are on display, including the new-generation engines and new-concept two-stroke engines.

Other Major Components

Toyota's numerous state-of-the-art technologies are on display; they include four transmissions and the chassis of Toyota's 4500GT, and cutaway models of the Celsior and Celica.

Commercial Vehicle Pavilion

On display here are six engines, two of the latest transmissions for full-time 4WD vehicles, and one chassis.

Also exhibited in the Japan Electric Vehicle Association's display is the Toyota EV-40, an electric vehicle for guide work.

The following are the special vehicles exhibited.

Passenger Car Pavilion―Six Models

Toyota 4500GT, next-generation ultra-high-performance sports car
Toyota S-2 XV, experimental car with Toyota S-2 engine
Toyota Sera, new paradigm car
Toyota Previa, new concept wagon
Celica GT-FOUR, Group A rally car
Toyota 89C-V, Group C endurance race prototype car

Commercial Vehicle Pavilion―Four Models

Toyota RAV-FOUR, neo-urban 4WD car
Toyota Dynavision, mobile video event car
Toyota Land Cruiser, new 4WD recreational vehicle
Hilux, U.S. truck race entry vehicle
Reference
Toyota will hold a press briefing at the Toyota Passenger Car Pavilion on Wednesday, October 25, from 13:00 to 13:30. A press service will be provided at the Toyota Press Reception Counter inside the Passenger Car Pavilion.
The special invitation day for press members is Wednesday, October 25 (from 11:00 to 19:00), while the special invitation day for press and related people is Thursday, October 26 (from 10:00 to 17:00).