Dec. 19, 1989
FULL MODEL CHANGES FOR STARLET
Renewing Engine Lineup Completely
Toyota City―TOYOTA MOTOR CORPORATION announced today full model changes for its Starlet, which will go on sale immediately nationwide.
The smallest of the Toyota lineups of vehicles, the Starlet is an agile and easy-to-handle car. It has won high acclaim as a high-performance, economical two-box car, fully meeting the various requirements of customers ranging from young people, who value running performance, to families.
These features have been further enhanced in the new models. Basic capabilities, such as power output and fuel consumption, have been improved to make the Starlet sportier, more fashionable, and more economical.
Specifically, three main objectives in the development of the new Starlet models were as follows
To offer two types of individualistic models: the powerful sports type and the attractive normal type
To produce models with the highest fuel efficiency and power output in the 1.3-liter class by adopting the newly developed 4E 16-valve engine, the first in a series of second-generation high-efficiency engines, the sophistication of which followed perfection of existing engine technology
To provide comfort and safety unmatched in this class
The principal features of the new Starlet developed under the foregoing concepts are the following
Styling

Two styles are offered with a lustrous, expressively curved exterior―the sports type and the normal type.

Sports Type

The following features project an active-looking, powerful style

individualistic front view, extensive bonnet, large side
garnishing, stable side view, full-width rear combination lamp, and rear garnishing.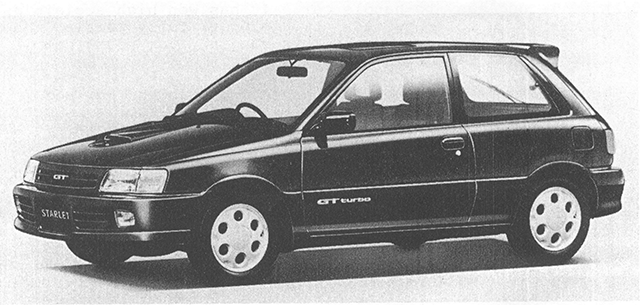 Starlet GT
Normal Type
The exterior combines the simplicity of smooth curves and an attractive, smart appearance with the following features: neat frontal aspect, smooth wedge-shaped side view, and unique curvilinear rear section. In addition, the "Pulpit Canvas Top" model is also available. (Note: Pulpit here refers to handrails installed in large cruisers.)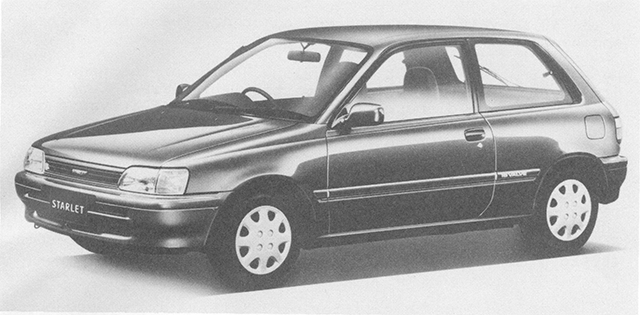 Starlet S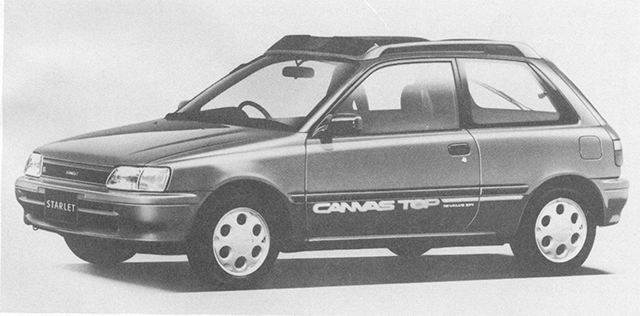 Starlet Canvas Top Si
Engine

Gasoline engine lineup expanded by adopting the new 4E 16-valve type
The 4E 16-valve type with turbocharger, the most powerful engine in the 1.3-liter class

By adopting the compact combustion chamber of the previous high-efficiency twin-cam engine, a vertical-type small-bore intake port, and large diameter intake valves, the 4E 16-valve engine is much more powerful and fuel efficient than the previous 2E 12-valve engine. There are three basic types of 4E engine: 4E-FTE, 4E-FE, and 4E-F.

The 4E-FTE is an in-line, 4-cylinder, 1.3-liter engine. Its power output has been greatly increased by, for example, adopting a new high-efficiency turbocharger, the CT9. Maximum output is 135ps at 6,400rpm, with a maximum torque exceeding 16.0kg-m at 4,800rpm, making it the highest-powered engine in its class.

The 4E-FE (in-line, 4-cylinder, 1.3-liter) is a sporty engine that employs electronic fuel injection, the EFI-D, to deliver a maximum power output of loops at 6,600rpm and a maximum torque of 11.8kg-m at 5,200rpm.

The 4E-F (in-line, 4-cylinder, 1.3-liter) is the base engine of the series, with a maximum power output of 82ps at 6,400rpm and a maximum torque of 11.2kg-m at 3,600rpm. This engine has achieved the highest fuel economy rating for its class―20.5km/l under 10-mode fuel consumption for Soleil E models in the lineup.

All three of these engines are equipped with eight-balance crankshafts to reduce vibration and noise.

Also available is the 1N, a highly-acclaimed diesel engine (inline, 4-cylinder, 1.5-liter) that provides low fuel consumption and a response rivaling that of gasoline engines.

Chassis

Employing MacPherson strut-type front suspension and trailing twist beam-type rear suspension

Superior handling characteristics, running stability, and riding comfort have been achieved by optimizing front suspension alignment, changing rear suspension alignment, altering lateral rod layout, and widening the front and rear tracks.

Additionally, to ensure positive braking on slippery roads, an electronically controlled ABS has been newly developed and adopted for the first time in vehicles of this class.

A standard item on the GT and Gi models and optional feature on the Si and Canvas Top Si models are 175/60R14-78H tires. The GT model is also equipped with four-wheel disk brakes.

Body

Lightweight, rigid body to ensure basic running performance
Enhanced quietness and improved corrosion resistance

The highly rigid, lightweight body is the result of thorough studies relating to body construction and effective use of high-tensile steel sheets.

Vibration and noise are reduced by effective application of vibration-and sound-absorbing materials and sound-shielding materials, as well as straightened exhaust pipes and increased muffler capacity.

Corrosion resistance has been greatly enhanced by the extensive use of corrosion-proof steel sheets for the body shell and stainless steel for the exhaust system.

Interior

High-quality interior surpassing that of similar class cars
Numerous innovative mechanisms and types of equipment

An interior radiating an aura of quality has been achieved by employing a rounded configuration.

An individualistic meter hood has been carefully designed to ensure a higher degree of instrument visibility. Frequently used switches are located close to the steering wheel, thus greatly improving operability.

The power window and door lock switches are integrated into the armrests, thus improving operability and enhancing the sense of quality.

As a high-quality sports item, a steering wheel made by Momo S.p.A. of Italy is installed on GT models.
Seats

Five varieties of seats are available. The GT model is equipped with Keiper Recaro GmbH and Co. (a West German seat specialist) seats, which have excellent holding characteristics, as well as sports seats. In the S model, inputting the position of the driver's seat into a memory device makes the seat revert to its original position after having been moved backward to allow the driver to exit the vehicle. For the quarter trim of the three-door Soleil L and higher-grade models, a molded trim is used to give a sense of continuity with the rear seat.
Audio System

The Starlet Live Sound System, comprising six speakers and six amplifiers, achieves sound reproduction ahead of the competition in the compact disc age. As a result of thorough acoustic analyses and unit settings, the bass is powerful, while the medium and high frequencies are clear and delicate.
New Mechanisms and Equipment

Depending on the model of the Starlet, the provision of the following new mechanisms and equipment create an interior surpassing that of other vehicles in the same class.
Adjustable shoulder belt anchor

According to physique, the shoulder belt anchor can be adjusted to five different positions.

Steering wheel monitor

The orientation of the front wheels and the reverse position of the shift lever are indicated on a meter, thus facilitating wheel handling when moving forward or reversing.

60/40 fold-down split rear seat backs

According to requirements, various uses can be made of the rear seat and trunk compartment.

Collapsible rear seat

To cope with commercial requirements, the rear seat cushion can be lifted up and the floor made flat by folding the backrest of the seat.

Push-type air conditioner control switches

Operability is enhanced by the adoption of push-type switches for air conditioner mode switching.