Sep. 21, 1994
Full-Model Changes For Toyota Tercel, Corsa, and Corolla II
Tokyo―TOYOTA MOTOR CORPORATION introduced today the fully remodeled Tercel, Corsa, and Corolla II models. These compact cars have earned high praise since their first introduction for agility, ease of handling, and the high level of quality and attention to detail for cars of their size.
The traditions of compactness and outstanding quality continue in the full-model changes launched today, with prices held down to realize high value-for-money. Moreover, utility and safety have been significantly improved.
The Tercel will be sold through Vista dealerships, the Corsa through Toyopet dealerships, and the Corolla II through Corolla dealerships. Monthly sales are expected to reach 2,500 units for the Tercel, 5,000 units for the Corsa, and 4,000 units for the Corolla II.
Tercel 1300 Joinus (with options)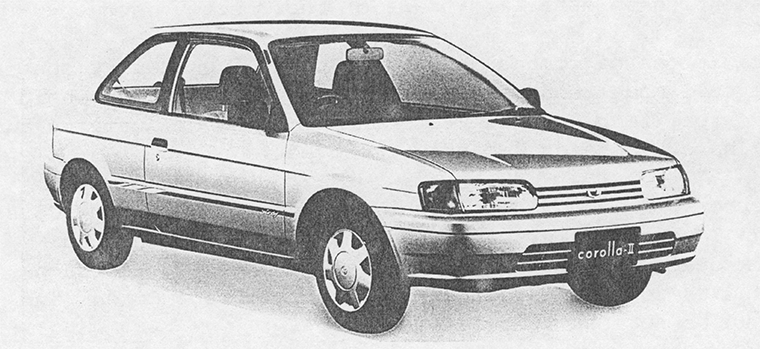 Corsa 1300 AX (with options)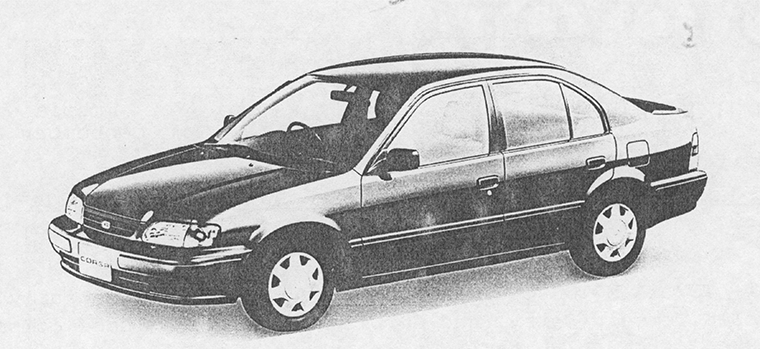 Corolla II 1300 Windy (with options)
Principal Features of the Three New Models
Refreshing and sharp exterior design allowing the edges of the vehicles to be more visible from the driver's seat.
Cabin space accentuating ease of use and comfort. UV-absorbent glass used for all models.
Equipped with the most suitable gasoline engines that provide improved fuel economy and torque performance.
High levels of safety, including improved side-collision protection.
Overview

Exterior―A New, Functional Design

All three models feature a completely new styling accentuated by sharp lines along firm body surfaces. The three-door hatchbacks now have a more fashionable look, and the four-door sedans have more apt and useful features.

The three-door hatchbacks (Tercel, Corsa, and Corolla II) feature a stylish front mask and simply-designed rear combination lamps, emphasizing the beauty of hatchback form.

The four-door sedan (Tercel and Corsa) has an edged rear end, giving improved aerodynamics as well as better rearward visibility. The trunk opening is lower and wider, allowing greater ease of use.

Minimal increase of exterior dimensions and the hood shape gives more frontward visibility for the driver, and the obstruction of view by the front pillars and hood has been minimized, thus creating an outstanding field of vision.

Interior―Pleasant and Driver Friendly

The instrument panel is shaped to enhance the spacious feel of the cabin.

New equipment has also been added. The world's first automotive UV-absorbent glass contains a film layer that reduces ultraviolet rays by 93%(ordinary glass provides 60% reduction). This glass is standard on the driver's side window on all models.

Infrared wireless door-lock remote control system, optional on some grades, provides a remote control system at a lower price than conventional devices using radio signals.

Outstanding utility is realized with larger meters for greater legibility, easier to reach audio controls, and a cup holder to the quarter trim pocket (in three-door models).

New seats optimize body-pressure distribution for reducing fatigue during lengthy drives.

Performance

Engines Emphasize Ease-of-Use and Economy

The new models can be mounted with the four-cylinder, in-line, 1.5-liter (5E-FE) gasoline engine, the four-cylinder, in-line, 1.3-liter (4E-FE) gasoline engine, or the four-cylinder, inline, 1.5-liter (1N-T) turbo-charged diesel engine.
To achieve greater torque in the normal engine-speed range from the two gasoline engines, improvements such as a knock control system and a longer intake manifold have been adopted. These engines also provide top-class fuel economy through design improvements.

Chassis and Body Provide Better Driving Stability

A MacPherson strut suspension is used up front, and either a trailing twist-beam suspension for front-engine front-drive (FF) variations, or a trailing link axle suspension for four-wheel drive (4WD) variations is used in the rear. The shape and characteristics of components in both the front and rear suspension systems have been improved to provide greater stability during running, turning, and stopping.

Power steering is standard on all models, and rigidity inside the steering gear box has been increased to achieve a steering feel with more linear responsiveness.

The fulcrum of the brake pedal has been repositioned and the master-cylinder diameter has been changed to provide better braking feel.

The 4WD models have had the shape of the blades in their rotary tri-blade couplings improved, thus raising torque-transmission responsiveness.

By adopting high-tension sheet steel, thoroughly rethinking the coupling structures, and designing a more rational layout of parts and materials, a light, rigid body has resulted, thus contributing to superior handling.

Safety and Environmental Features

Passive safety

The new models satisfy the latest Japanese safety standards and achieve levels comparable to the passenger protection performance levels of the most recent U.S. side-collision safety standards. This was accomplished by further refinement of the Crash Impact Absorbing Structure (CIAS), and adoption of high-strength cross members and energy-absorbing structures for the doors.

Supplemental restraint system (SRS) air bags are optional on the driver's side for all models.

Active safety

Besides exterior features that help provide a wide field of vision and excellent visibility, interior features, including a sound ergonomic design and seats that reduce fatigue, optimize the driver's ability to control the car.

Further refinement of the basic functions of running, turning, and stopping has realized increased running stability and superior evasive-action performance.

To provide a high level of safety, a four-wheel drive (4WD) system (for certain models), four-wheel antilock brake system (ABS), and high-mount brake lights (both optional on all models) have been adopted.

Environmental considerations

Improved fuel economy has been achieved in all gasoline-engine models by reducing the weight of the chassis and body, and by improving the engines themselves.

More thermoplastic resins are used to facilitate recycling. Toyota Super Olefin Polymer is used not only for the front and rear bumpers but also for interior items, including the instrument panel, and interior door trim. Furthermore, the use of resin combinations that are difficult to separate and thus difficult to recycle, were avoided wherever possible.