May. 24, 1993
TOYOTA LAUNCHES ALL-NEW SUPRA
Tokyo―TOYOTA MOTOR CORPORATION announced that the all-new, high-performance Supra will go on sale at Toyota Corolla dealers nationwide with a monthly sales target of 1,000 units.
The new Supra lineup includes the normally aspirated 3.0-liter Supra SZ, the sports-grade twin-turbo RZ, and the top-of-the-line twin-turbo GZ. The Supra SZ is offered with a five-speed manual or four-speed ECT-S automatic transmission, while turbo models are available with Toyota's first six-speed manual transmission or Toyota's first ECT-iS automatic transmission with manual-shift mode. The Supra can also be equipped with a removable aluminum sport roof.
"In developing the new Supra, our top priority was to ensure that each element of the car's performance was combined with a component of safety," said Supra chief designer Isao Tsuzuki.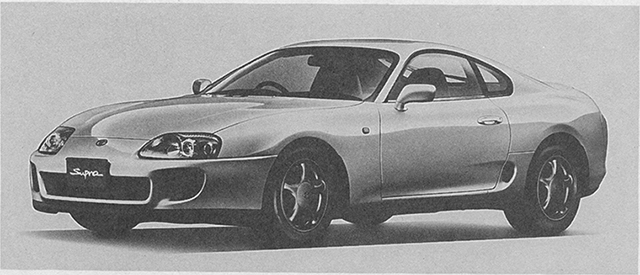 Supra GZ
Reflecting this philosophy, the completely remodeled sports car introduces optional driver-and passenger-side air bags to the Supra line. Additional new features include high-penetration headlamps, spiral brake ventilation cooling fins, and lateral G-sensing four-channel antilock brakes (ABS) for improving stopping distances during cornering (standard on the turbo models).
Despite the additional weight that these new features entail―as well as the larger wheels and tires―Tsuzuki's team was able to reduce the weight of the new Supra by more than 100kg over the previous model. "We focused our thoughts on the one key concept 'Less is more,'" said Tsuzuki.
Lightweight materials, such as an aluminum hood, plastic fuel tank, and a unique hollow-fiber carpet material, were used in the construction. Additional weight reduction was achieved by replacing the dual-exhaust system (which did not offer any performance benefit) with a single exhaust. To reduce the weight of the optional large rear spoiler, a revolutionary type of resin composed of hollow beads was employed.
Toyota Supra Product Highlights
Design

The aerodynamic shape of the Supra features smooth, flowing lines, which create a sense of movement even when the car is motionless. Elimination of the retractable front headlamps helps give the new Supra a greater sense of individuality. The headlamp layout of high, low, and fog (from inside to out) was designed for functionality.

The optional large rear spoiler is positioned high and achieves strong downforce without interfering with rear vision. A retractable front spoiler, operated at the touch of a button, is available on the turbo RZ and GZ grades. When its auto-function is engaged, the front spoiler automatically descends at speeds above 90km/h; it retracts when the car slows below 70km/h.

Prominent on the rear deck is a newly designed "Supra" script logo, an appropriate signature for the car's dynamic personality.

Chassis and Body

New four-wheel double-wishbone suspension system with light-alloy upper wishbones and front crossmember, and shock absorbers from Bilstein of Germany for the RZ grade
Differing front and rear tire sizes for turbo models (225/50ZR16 front tires and 245/50ZR16 rear tires) with tread patterned for minimal tire noise and harshness
Extensive use of lightweight materials, such as aluminum for the engine hood and optional removable sport roof, to reduce body weight

Power Train

2JZ-GE

3-liter, in-line, six-cylinder normally aspirated engine (225ps/6000rpm & 29.0kg-m/4800rpm)

2JZ-GTE

3-liter, in-line, six-cylinder two-way twin-turbo engine (280ps/5600rpm & 44.0kg-m/3600rpm)

Electronic throttle control system (ETCS) on turbo models
Toyota's first six-speed manual transmission developed jointly with Getrag of Germany (RZ grade)
Toyota's first ECT-iS "intelligent sports" electronically controlled automatic transmission with manual-shift mode (available on turbo models)

Safety

The new Supra has a crash impact-absorbing structure (CIAS), side-door beams, and is available with front-and passenger-side SRS air bags. Lateral G-sensing four-channel ABS for improved stopping during cornering are standard on the turbo models.

Environment

Ozone-friendly Rl34a refrigerant is used for the air-conditioning system. For easier sorting of parts after the vehicle has been scrapped, an international identification system has been adopted to indicate the resin content in plastic parts.