Jan. 09, 1996
TOYOTA INTRODUCES THE MEGA CRUISER
Tokyo―TOYOTA MOTOR CORPORATION announced today that it has launched the Mega Cruiser, a new four-wheel-drive (4WD) vehicle with outstanding capabilities for working in arduous conditions such as in rescue work during natural disasters. The new model goes on sale today at Toyota dealers nationwide.
The Mega Cruiser, with its advanced technology and small turning radius, provides outstanding performance in difficult driving conditions such as on rough-terrain and steep slopes. As an entirely new type of 4WD vehicle, the Mega Cruiser can perform rescue and reconstruction work in circumstances where other such vehicles would have difficulties. The vehicle is also suitable for research and exploration work under harsh conditions.
Major Features
Outstanding mobility in rough terrain and on steep slopes provided by such specifications as a 5.6m turning radius, four-wheel steering (4WS), full-time 4WD, two-speed transfer with center differential lock, a large approach and departure angle, and a high (420mm) ground clearance.
Large, functional cabin accommodating six people, a 2,050mm-wide luggage area with a load capacity of 600kg.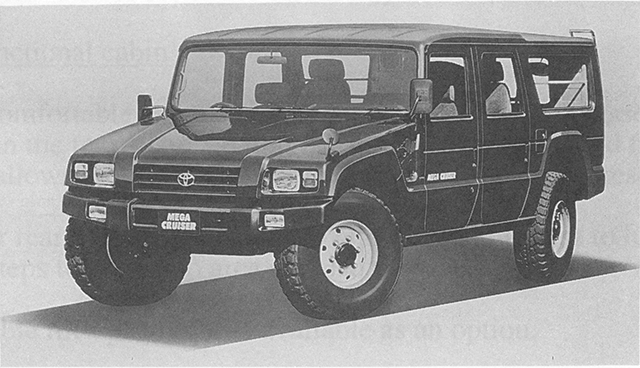 Mega Cruiser (with options)
Overview
Outstanding mobility

The two-speed transfer, that makes the vehicle suitable for either normal (high speed) or low-speed traversal of obstacle strewn or rough terrain, is equipped with a center differential lock. Front and rear differentials have a "Torsen" (torque-sensing) limited slip differential (LSD) and differential lock as standard equipment, enabling the vehicle to extract itself from the worst predicaments.
The Mega Cruiser boasts a turning radius of only 5.6m, despite its wide track and long (3,395mm) wheelbase, thanks to the reverse-phase 4WS that turns the rear wheels to a maximum angle of 12 degrees.
A hub reduction mechanism drives the hubs via gears enabling the drive shaft to be offset and in a high position. This, along with large-diameter (37-inch) tires, helps achieve a 420mm ground clearance. The high ground clearance and the large approach and departure angle produce unmatched rough-terrain driving performance.
The 4.1-liter 15B-FT diesel direct-injection turbo engine with intercooler produces an immense torque of 39.0kg-m at 1,800rpm, providing ample power.
A double-wishbone, four-wheel independent suspension has been adopted to provide controllability, running stability, and a high level of riding comfort, suitable for transporting accident or disaster victims.
The braking system consists of inboard-type ventilated disks―placed close to the differentials―on all four wheels to reduce unsprung weight.
A tire pressure control that reduces rear tire pressure during driving is available as an option. This is for better drivability in mud and snow.

Large, functional cabin

A large, comfortable cabin space creates seating for two passengers in the front and four in the rear. The 2,050mm-wide luggage space and 600kg load capacity allows the Mega Cruiser to haul large and heavy rescue equipment.
The center rear seat folds forward to allow greater access to luggage space. Folding steps to the cargo area are also provided.
A detachable tilt-up sunroof is available as an option.
Customized and special equipment will also be made available to meet different vehicle needs.