Oct. 13, 1993
TOYOTA TO EXHIBIT THE TOYOTA AXV-V AND OTHER MODELS AT
THE 1993 TOKYO MOTOR SHOW
Tokyo―TOYOTA MOTOR CORPORATION today released preview information on the vehicles and exhibits it will display at this year's Tokyo Motor Show. In addition to 50 vehicles representing 34 of the automakers' production models, Toyota will display 12 concept and special-exhibit vehicles, including passenger, commercial, and recreational vehicles.
The company will also hold special technical exhibits to show new development projects related to safety and the environment, its top priorities in product development. This year's show will run from Saturday, October 23 to Friday, November 5.
Toyota's theme for the coming show is "More Harmony," which conveys the company's vision of a harmonious relationship between automobiles, people, society, and the environment.
This theme is clearly evident in Toyota's concept vehicles, including the AXV-V, a next-generation inter-city tourer; the Raum, Raum-II, and EV-50 city cars; the RAV 4, a stylish 4WD recreational vehicle; and the Mega Cruiser, a 4WD vehicle with superior off-road capabilities.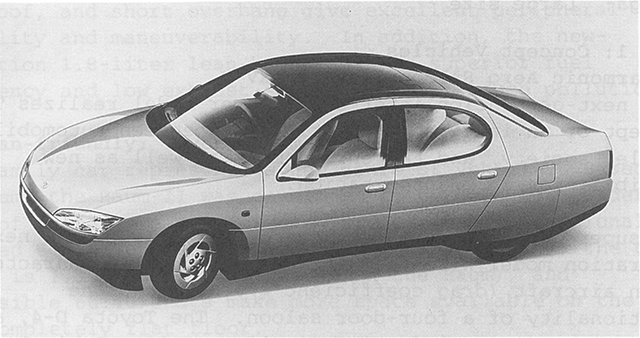 Toyota AXV-V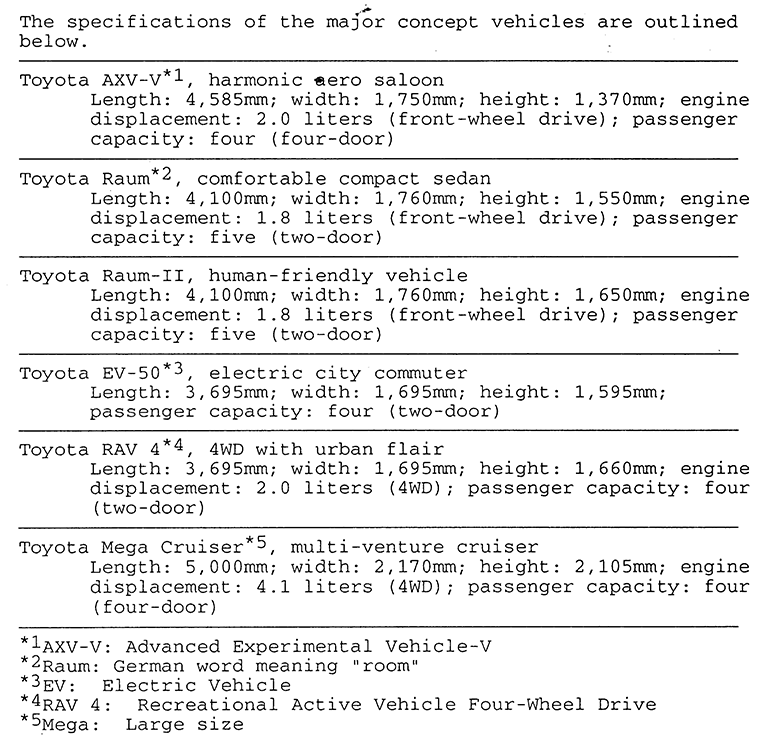 Part 1Concept Vehicles
Harmonic Aero SaloonToyota AXV-V

This next-generation inter-city tourer model realizes Toyota's concept of an integrated relationship between automobile, people, society, and the environment as well as new possibilities in transportation.

The super-aero form balances the graceful line of a next-generation model with the ultimate aerodynamic characteristics of an aircraft (drag coefficient = 0.20), and the functionality of a four-door saloon. The Toyota D-4, a next-generation, direct-injection gasoline engine, achieves both high fuel efficiency and outstanding response with a piezo-EFI
system and a new combustion control system.

Exhaustive ergonomic engineering has resulted in a number of special features in the cabin, such as adjustable accelerator, brake pedals, and seats to suit the reach and size of the driver and ensuring an optimum field of vision. Also featured are an automatic, electronically controlled (shift-by-wire system) shift-switching dial and control switches, clustered on the center console for greater operability; and a multidisplay system with thin-film transistor liquid-crystal displays (TFT-LCDs) for advanced information management.

Greater vehicle safety is achieved by a collision-avoidance (automatic braking) system, a tire pressure-warning system, and an active four-wheel steering system (4WS). In addition, a crash impact-absorbing structure (CIAS) and dual air bags help protect the driver and passenger in the event of a collision.

Comfortable Compact SedanToyota Raum

This is a futuristic car that achieves the goal of the next generation of family sedans―a compact exterior and wide cabin space.

The interior boasts high-level functionality and comfort. A completely flat floor eliminates unevenness inside the cabin, and a high roof provides ample head room. The seats are designed for maximum comfort, and a drive-by-wire system allows easy, electronically controlled gear shifting, as well as acceleration and braking. Large power sliding doors provide easy cabin access, and the Toyota Raum's compact form, high roof, and short overhang give excellent peripheral visibility and maneuverability. In addition, the new-generation 1.8-liter lean-burn engine's superior fuel efficiency and low exhaust emissions help reduce pollution.

Human-friendlyToyota Raum-II

This family car represents a new genre of vehicle. Based on the Raum, the Raum-II was developed to be used by a wider range of passengers and for even greater cabin functionality. Designed to let passengers move around more freely, the cabin height is 1,350mm (100mm higher than the Raum), and collapsible 60:40 seats make more space available on the Raum-II' s completely flat floor.

Various features make the Raum II more convenient to use, especially for the elderly, families with infants/ and people using wheelchairs. Cabin access is further improved by height-adjustable air suspension, which not only offers a smooth ride but is able to lower the vehicle 70mm, and a swivel, front-passenger seat. In addition, a specially designed new child seat doubles as a baby stroller.

Electric City CommuterToyota EV-50

This new-concept electric passenger model was developed for urban use. The EV-50's lightweight, compact AC-induction motor is integrated with the transmission, and maintenance-free sealed lead batteries provide high-energy density and have a long life. The regenerative brake system converts the mechanical energy used in braking to electricity and stores it in the batteries, thereby extending the vehicles' range.

The inverter air-conditioning system (heat-pump type) uses a wide register for efficient air flow, and the solar-powered ventilation system keeps the cabin temperature low when the vehicle is not in use. An on-board charger can recharge the batteries from ordinary household current.

4WD with Urban FlairToyota RAV 4

This is an innovative urban 4WD designed to match the lifestyle of city dwellers with a taste for the outdoor life.

A four-wheel independent suspension system with trailing-arm, double-wishbone rear suspension, four-wheel ABS with linear G sensor, and rear torque-sensing limited slip differential (LSD) provide outstanding drivability and stability both on and off the road. An aluminum twin sunroof that can be tilted and removed and a completely flat rear seat, which can be fully reclined, emphasize the RAV 4's outdoors appeal.

Multi-Venture CruiserToyota Mega Cruiser

This new off-road 4WD model provides excellent drivability on rough terrain, climbing ability, and maneuverability.

The newly developed 4.1-liter direct-injection intercooled diesel turbo engine with four-wheel double wishbone suspension, and in-board type four-wheel ventilated disk brakes offer outstanding off-road performance. A number of features provide the Mega Cruiser with advanced driving

capabilities on various road surfaces: tires with super-wide treads for greater stability (1,785mm for the front and 1,765mm for the rear); a two-level full-time transfer 4WD system; a rear-tire inflation pressure adjuster that can be operated from the driver's seat; 4WS; axles with hub reduction gear, which assures minimum ground clearance of 450mm; and torque-sensing LSD with front and rear locking mechanisms.

Celica Convertible

Based on the newly remodeled Celica, this new four-passenger convertible offers easy open-air touring with power top and power quarter window glass.

Motor Sports Cars

Toyota will exhibit its latest racing vehicles, which were entered in motor sports events in Japan and abroad.

Celica GT-Four, a Group A rally car
Toyota TS010, a Group C prototype car
Corona, a new touring specification car
Part 2Technical Exhibits
Safety

In addition to the latest safety technologies on its production vehicles, Toyota will also display some of the technologies employed in the innovative Toyota Advanced Safety Vehicle (ASV) currently under development to show the direction of automotive safety technology in the twenty-first century.

Passive and Active

Supra cut-away model, CIAS, etc.

Toyota ASV development system

Sleep warning system, which detects reduction in driver's alertness

Environment

Toyota's environmental projects concerning exhaust control, energy conservation, and resource conservation will be introduced.

Exhaust control

The Toyota D-4, a new direct-injection gasoline engine
Next-generation lean-burn engine
Direct-injection diesel engine and diesel particulate filter for improved fuel combustion
Swirl-chamber diesel engine and oxidation catalyst for improved fuel combustion
"Forest of Toyota" project

Alternative energy

Compressed natural gas (CNG) engine and new liquefied petroleum gas (LPG) engine for commercial vehicles
RaRa 10, a solar car

Recycling

Recycling technology for painted resin bumpers

Chlorofluorocarbon (CFC) control

CFC recovery and restoration equipment

Transportation System

Smooth flow of road traffic achieved by a sophisticated integration of motor vehicles, roads, and other infrastructure is expected to promote greater road safety and emission reduction. Toyota will show its activities in brief

Road traffic information system
Automatic toll collection system
Intelligent driving system
To Journalists

Toyota Motor Corporation will hold a press briefing at its passenger-car section on Wednesday, October 20, from 10:30 to 11:00 in the morning. Please feel free to use the press room during the show.
AttachmentList of Toyota Vehicles at Tokyo Motor Show
Passenger Cars and Recreational Vehicles

Toyota AXV-V (concept vehicle)
Toyota Raum (concept vehicle)
Toyota EV-50 (concept vehicle)
Celica GT-Four, Group A rally car (special exhibition)
Toyota TS010 (special exhibition)
Corona with new touring specifications (special exhibition)
RaRa 10 (special exhibition)
Celica Convertible (special exhibition)
Century L Type
Celsior with C specifications and F package
Crown Majesta C-Type I-Four, with active 4WS
Crown four-door hardtop Royal Saloon G
Aristo 3.0V
Windom 3.0G
Soarer 4.0GT Limited, with Electro Multivision with global positioning system (GPS)
Supra RZ
Mark II hardtop 2.5 Grande G Four
Chaser 2.5 Avante G Four
Cresta 2.5 Super Lucent G Four
Scepter station wagon 2.2G
Scepter coupe 2.2
Vista hardtop 2000VX
Camry 2000ZX with 4WS
Corona sedan 1.8 EX Saloon
Corona EXiV 2.0TR-G
Carina Sedan 1600 SX-i
Carina ED G Limited
Celica SS-II
MR2 GT T-bar roof model
Corolla Friendmatic
Corolla Levin GT APEX
Sprinter Sedan 1500SE-Limited
Sprinter Marino G Type
Sprinter Trueno GT APEX
Tercel three-door VZ 1500EFI-S
Corsa four-door VIT-X 1500EFI
Cynosβ
Starlet GT
Estima 4WD
Estima Lucida G Luxury Joyful Canopy with fulltime 4WD 2200 diesel turbo EFI specification
Estima Emina G Luxury with full-time 4WD 2200 diesel turbo EFI Joyful Canopy specification

Commercial Vehicles and Recreational Vehicles

Toyota RAV 4 (concept vehicle)
Toyota Raum-II (concept vehicle)
Toyota Mega Cruiser (concept vehicle)
Toyota Dyna next-generation dry van (concept vehicle)
Toyoace for mechanical medium-temperature refrigeration
Hiace wagon Super Custom Limited 4WD 3000 Diesel Turbo EFI specification
Hiace cruising cabin G (4WD)
Hiace Mighty
Townace wagon 4WD Super Extra Field Tourer and 2200 Diesel Turbo High Roof
Town Ace Charm
Liteace Charm
Liteace Handy Cab with skylight roof
Deliboy 202-2000 (diesel engine)
Hilux Surf SSR-X Limited (custom model)
Land Cruiser four-door Prado EX Wide
Land Cruiser 80 Wagon VX Limited
Land Cruiser 80 Active Vacation
Coaster camping saloon
Caldina wagon 4WD 2.0TZ Sky Canopy specification
Corolla high roof wagon
Springer Carib AV-II Touring Special