Oct. 14, 1997
Toyota Launches the Revolutionary PRIUS Hybrid Passenger Vehicle
Satisfying Both the Driver and the Environment for the Twenty-First Century
Tokyo―TOYOTA MOTOR CORPORATION (TMC) today announced that it has developed the Prius, a passenger vehicle powered by the highly advanced Toyota Hybrid System, and will put it on sale beginning December 10th through Toyota dealers nationwide.
The Prius is the result of the efforts of Toyota designers and engineers to create a harmonious balance between the costs and benefits of motorization for the individual, society, and the earth. The Prius, therefore, is part of the answer to global environmental concerns, such as CO2 reduction and energy conservation, while it still preserves the convenience and pleasure of driving.
The revolutionary Toyota Hybrid System (THS) that powers the Prius achieves outstanding fuel efficiency and cleaner emissions, while it provides highly responsive performance and smooth acceleration. Moreover, the Prius, with its futuristic packaging and design, ensures comfortable cabin space and a high level of active and passive safety features, thus epitomizing all that a twenty-first century car should and will be.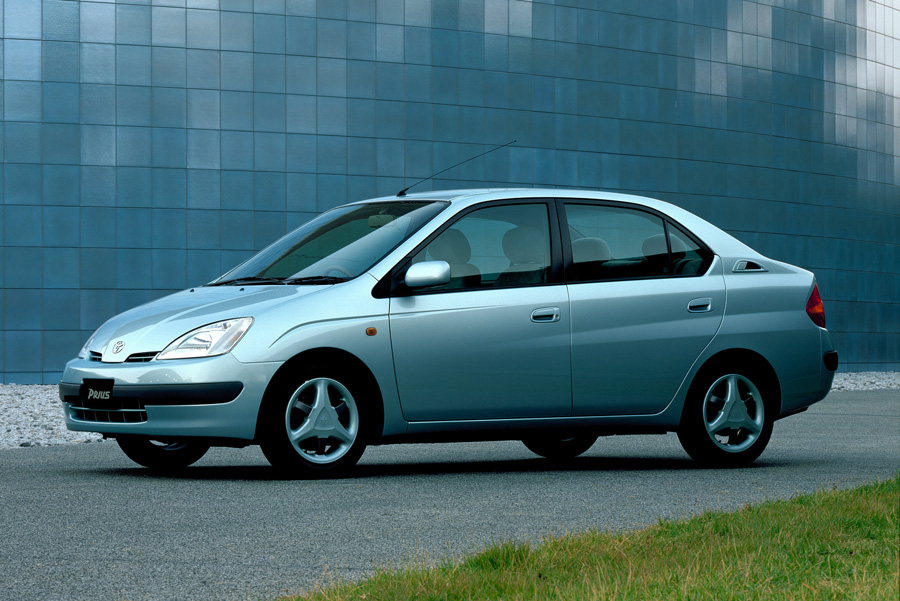 Prius (with options)
Ecological Design
By focusing on energy conservation and the reduction of CO2 emissions, which is blamed for global warming, the Prius achieves nearly twice the fuel efficiency of conventional gasoline engine cars and cuts HC, CO, and NOx emissions to about 1/10th of the amounts set by current pollution regulations.
TMC has designed the Prius with recyclability in mind in order to achieve a goal of 90% recyclability by weight by the year 2000, and has taken assertive steps to reduce environmentally harmful substances such as lead.
Outstanding Fuel Efficiency
The Toyota Hybrid System
The Toyota Hybrid System utilizes a gasoline engine and an electric motor as motive power sources. The engine, exclusively developed for the Prius, is the highly efficient 1.5-liter gasoline BEAMS*1 1NZ-FXE equipped with VVT-i*2. The permanent magnet synchronous electric motor is operated by state-of-the art controls and mechanisms.
*1Breakthrough Engine with Advanced Mechanism System
*2Variable Valve Timing-intelligent

A continuously variable valve mechanism.
Efficiency is maximized by combining motive power from the gasoline engine and the electric motor, which are proportionally engaged depending on driving conditions. In addition, to reduce energy loss, the engine automatically shuts off when the vehicle is at a standstill and energy is regenerated by converting the vehicle's kinetic energy into electrical energy during deceleration and braking. This results in ultra-efficient fuel consumption of 28 km/L (10.15 mode).
High-Efficiency Air-Conditioner and Insulated Body Structure
The high-efficiency automatic air-conditioner creates a double-layer of air, recirculating internal air only around the leg area, even in the fresh air mode. UV-cut green glass in the side and rear windows, and insulation materials in the roof and floor help to reduce air-conditioning energy consumption, while ensuring a comfortable cabin atmosphere.
Air Resistance Reduction
An upper body shape that ensures a smooth air flow combines with a flat underfloor to achieve a drag coefficient of only 0.30 despite the Prius' short length and tall height, greatly increasing fuel economy, especially during high-speed driving.
Other Fuel Economy Improvement Measures
Vehicle weight has been minimized by adopting a new body frame structure―made light through the use of leading-edge technology, optimum positioning of ultra-high tensile strength steel plates, and induction hardening of the center pillar―reducing the size of the THS, using lightweight aluminum wheels as standard equipment, etc.
The power-assist steering system does not depend on engine power, such as with conventional hydraulic designs, but runs off the electric motor and consumes power only during steering operation.
The newly designed low fuel consumption tires (165/65R15) minimize rolling resistance while maintaining riding comfort, maneuverability, driving stability, and braking performance.
Reduced Exhaust Emissions and Cleaner-Burning Engine
Doubling fuel efficiency reduces CO2 emissions by half.
Emissions of CO and NOx, which tend to occur more during acceleration, are reduced through the concurrent use of the electric motor, which lessens engine load. In addition, by operating the engine under a relatively constant load during both acceleration and deceleration, changes in the air-fuel ratio are minimized. Combined with the cleansing performance of the three-way catalyst, CO, HC, and NOx emissions are reduced to about 1/10th of the amounts set by current pollution regulations.
Recycling & Reduction of Environmentally Harmful Substances
Toyota Super Olefin Polymer (TSOP), which can be easily recycled, is used in many of the molded internal and external accessories. A "corner-molding" structure is used for the bumpers, allowing the replacement of just the comer areas of the bumpers, which are most prone to damage. In addition, the bumpers and lamps are separately configured, providing easy disassembly.
High-performance Recycled Sound-Proof Products (RSPP) made from recycled vehicle shredder residue are used in noise insulation for the dashboard and floor.
Lead has been eliminated from materials used in rust-proofing for the fuel tank, in wire harness coverings, and in window glass ceramic paints.
New-Generation Design and Packaging
Maximum Within the Minimum
By designing compact engine and luggage compartments and a long wheelbase of 2,550mm, the vehicle's overall length of only 4,275mm provides interior dimensions of 1,850mm (L) x 1,250mm (H), equal to those of a medium-class car.
The compact engine room was achieved by minimizing the size of, and optimally positioning, the Toyota Hybrid System powertrain. A newly developed rear suspension eliminates internal protrusions into the luggage compartment, providing space for the equivalent of four sets of golf bags while maintaining a compact exterior shape.
Styling of the Future
Exterior
The minimalist, sharp, compact silhouette, which coordinates the large cabin and short overhangs, looks ahead to the three-box style of the next millennium.
A slanted, short hood coupled with large, crystallic front combination lamps provides a bold look.
Sharp, sculpted character lines on a clean surface, combined with a sprightly pillar molding, give a light, dynamic side view.
A wide, stable feel is created by a rear window shape that improves vision to the rear and sides, and a trunk end that connects to wrap-around rear combination lamps.
Six-spoke, light-weight aluminum wheels, decorated with three-spoke resin covers, create a daring look.
Interior Design
Digital meters installed in the upper center of the instrument panel and multivision display functions concentrated in the upper area of the center cluster, redefine dashboard layout, while ensuring high visibility and excellent operability.
A bold two-tone instrument panel that extends from the center cluster to the front pillar creates an ultra-modem interior.
The gentle, soft design of the door trim, center console, and seats, bright interior colors, and an appropriate level of "surround-feel" combine to create a fresh and comfortable cabin space.
The control area molding and component designs have fresh shapes and surface finishes that are uniquely artistic for a mass-produced vehicle.
Superb Ride and Performance
Motive Power Performance
The THS, which functions as an electronically controlled continuously variable transmission and combines power from the gasoline engine and electric motor, provides highly responsive and smooth power.
The drive power of the electric motor is also fully utilized and added to that of the gas engine for passing acceleration, thus achieving better performance than existing vehicles with the same engine displacement.
Chassis Performance
The newly developed L-arm MacPherson strut front suspension, combined with an electric motor-driven power-assist steering system, provides a natural steering feel and smooth ride.
The rear suspension uses a new torsion beam-type eta beam suspension*3 with toe-control links to achieve superb steering performance and stability. The double-layer anti-vibration control of the links helps suppress road noise.
*3Eta beam suspension

So named because the beam axle has an "H" ("eta" in Greek) shape.
Passenger Comfort
The long wheelbase offers the ultimate riding comfort, and a large tire turning angle achieves a small turning radius of 4.7m, ensuring superior maneuverability.
A 5.8-inch wide monitor for the audio system, clock, warning information, etc., also displays energy usage and recovery status of the Toyota Hybrid System. The monitor also can accommodate a GPS voice navigation system for alternately displaying navigation information (option).
The slightly higher seating point provides an upright and comfortable driving posture.
A spacious, side-to-side walk-through front floor area is created by adopting an easily-operated, dash-mounted, pistol-grip gear shift lever and a foot-operated parking brake.
The automatic air-conditioner's air filter removes pollen and other dust particles during air intake.
High Level of Safety
Active Safety
By installing the digital meters on the upper center of the instrument panel, eye point movement during driving is minimized and visibility is improved. For example, it reduces reading time for senior drivers by about 25% compared with meters conventionally positioned behind the steering wheel.
The newly developed suspension, steering, and high-integrity body provide superb maneuverability and stability. An antilock brake system (ABS), which prevents wheel lock during braking, is a standard feature.
Passive Safety
The newly created platform is based on the Global Outstanding Assessment (GOA) impact-absorbing body and high-integrity cabin design.
By embedding ribs built of energy-absorbing materials inside the pillars and roof side rails, interior safety is at the level required by U.S. Head Impact Protection Standards (scheduled to go into effect in the U.S. in September 1998).
Improvements to the underbody and component installation restrain brake pedal protrusion into the cabin during a collision, therefore reducing injuries to the driver's legs.
The driver and front passenger seat belts are equipped with pretensioners and force-limiters for improving restraint response and lessening the force to the chest region in a collision. Three-point seat belts with Emergency Locking Retractors (ELR) are installed as standard equipment on all seats, including the rear center seat. All rear seats have anchor points for child seats.
Dual Supplemental Restraint System (SRS) airbags are installed as standard equipment.
New seats with a design based on the Whiplash Injury Lessening (WIL) concept, which lessens the impact on the neck during a collision, are used for both the driver and front passenger seats. An optional, built-in child seat in the left rear seat is available.
Sales Information
Monthly Sales Target

Initially 1,000 units
Dealerships

Toyota dealerships nationwide (Osaka Toyopet in the Osaka area)
Manufacturer's Suggested Retail Prices (prices differ in Hokkaido & Okinawa)

Prius w/ Navigation Package

¥2.27 million