Sep. 07, 1995
Toyota to Exhibit Next-Generation Sedan "Toyota Prius"
at Frankfurt Motor Show
Tokyo―TOYOTA MOTOR CORPORATION announced today that it will exhibit its Toyota Prius concept car at the Frankfurt Motor Show in Germany from Saturday, September 16, to Sunday, September 24.
Toyota plans to introduce its next-generation sedan as a new type of car―one that is friendly to both users and the environment and reflects Toyota's commitment to take the lead in offering such cars in the twenty-first century.
The model's compact "one-form three-box" package has been designed to provide ample space comfortably accommodating four 190cm-tall adults. It is also equipped with a variety of advanced technologies, including the Toyota Energy Management System (EMS), the world's first power train system enabling a car to operate with the minimum amount of necessary energy.
The Toyota EMS consists of a 1.5-liter direct-injection gasoline engine (the Toyota D-4), a belt-driven continuously variable transmission (CVT), an induction motor/generator, and a power capacitor that temporarily stores electrical energy. Besides improving the efficiency of the power train, the system enhances fuel efficiency by regenerating energy and stopping the engine while the car is stationary. Through this system, fuel economy close to double that of other vehicles in its class is targeted.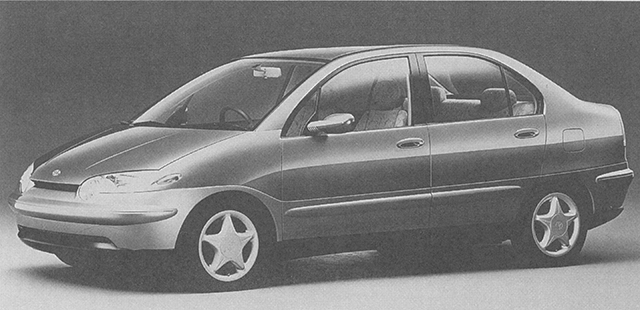 Toyota Prius
Full attention has been paid to both active and passive safety aspects to ensure the automobile's overall safety. The body structure of the Toyota Prius is designed to disperse, transmit, and absorb impact energy effectively in a collision. The model is fitted with an emergency brake assistance system, six air bags in the cabin (dual air bags and four side air bags), and a built-in child restraint system.
The new model is also equipped with multimedia functions for navigation, receiving traffic information, automatically paying tolls, and exchanging information with other cars.
Specifications
Overall length

4,150mm
Overall width

1,695mm
Overall height

1,490mm
Passenger capacity

5
Wheelbase

2,550mm
Front track

1,510mm
Rear track

1,470mm
Power train

Toyota EMS (including Toyota D-4 engine)
Engine displacement

1,498cc